Yes, this is going to be a bit retro.
To this observer the most impressive performance on the Belmont Stakes card was by a somewhat unheralded New York-bred by the name of Disco Partner. This gray 5-year-old scorched the inner turf course in the Jaipur Invitational Stakes (G3T) in a world-record 1:05.67 for six furlongs, clipping a full second off the previous course record. Granted, the Belmont Park turf courses can sometimes conjure up suspicions that the maintenance crew is the same that works on the Cross Island Parkway—no matter, that is flying.
Disco Partner is no stranger to fast fractions over that turf course: In last year's Jaipur he was beaten a neck by stablemate Pure Sensation, who set the previous course record in that race. This year Pure Sensation set a blistering pace but finished fourth.
What makes this race stand out for me is the blend of pedigree and biomechanical aspects of this son of Disco Rico out of Lulu's Number (by Numerous). It is a pedigree infused with sire brilliance in the first three generations and a hidden source of brilliance in what otherwise might appear to be a modest, regionally developed, distaff line.
Disco Rico is a perfect example of a racehorse, and stallion, whose name might elicit a "who's that?" raised eyebrow from many breeders. That's because his entire racing and stud career was Mid-Atlantic focused. Bred in Maryland by C. Oliver Goldsmith, Disco Rico was by Dixieland Band's very fast son Citidancer, who had a very decent career at stud in Maryland. Physically he resembled his sire in many respects. He was produced out of Round It Off, by champion 2-year-old Apalachee—arguably Round Table's fastest son— whose stud career was spotty at best. The next dam, Capp It Off, was a Maryland (and New York) stakes winner by excellent regional speed sire Double Zeus.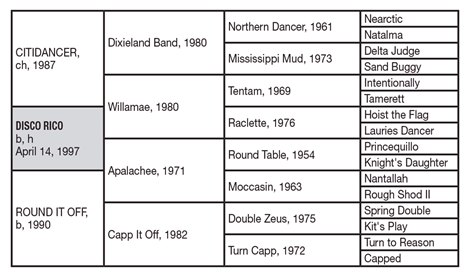 Purchased at the 1999 Ocala Breeders' Sales March 2-year-old sale for $82,000 by Alfred Di Rico (hence the name), Disco Rico won nine of 17 starts from 2 to 4, seven stakes, two of which were grade 3 Breeders' Cup sprints—the Maryland at Pimlico and the Jersey Shore at Monmouth—and retired with earnings of $532,244.
He entered stud at Murmur Farm in Maryland and stood six seasons before moving to New York in 2008 because of the state's incentive program. He accomplished what one would have expected of him with a dozen stakes winners led by At the Disco up until the Jaipur, which brings up the root of the matter here, so to speak.
You see, At the Disco was produced out of Mary Lou's Magic (by Concorde's Tune), who also happens to be the dam of Lulu's Number. Then there's the nicking fan's dream—fourth-leading earner by Disco Rico is Pure Disco, a stakes winner of nearly $500,000 whose dam was by Concorde's Tune, sire of the aforementioned Mary Lou's Magic.
There's no equine relationship beyond that, but when it comes to the human connection, Disco Partner, At the Disco, and Pure Disco were all bred by Patricia Generazio, who patronized Disco Rico heavily over the years and contributes mightily to the regional influence of the stallion: At the Disco and Pure Disco were conceived in Maryland and foaled in New Jersey while Disco Partner was conceived and foaled in New York. That's a lot of breeder and stallion awards.
However, the distaff side of Disco Partner would seem to be less than first-class when it comes to extraordinary achievements. His broodmare sire, Numerous, was a graded winner by Mr. Prospector, and Concorde's Tune was a serious sprint sire up and down the East Coast, and the next four dams (by Silver Buck, Secretariat, Tompion, and Native Dancer) produced little of note.
Of course, then you get to the seventh dam, a daughter of Case Ace by the name of Raise You, and it hits you over the head that maybe the dam of Raise a Native sent a zygote or two to the dance.