It's not time to auction our crystal ball yet, but you could say the result of the Preakness Stakes (G1) might have prompted us to rub it lovingly so as to have it reveal another prognostication for us to spring upon our readers sometime later this year. As it stands, the glass savant prompted us to announce in our Feb. 18 column that the freshman sire of 2016 who was likely to succeed in the long run was Maclean's Music , with Bodemeister in the top five.
You could have said at the time that our computing was somewhere in the clouds (um, as a matter of fact, it is), and as bloodstock consultants it is the dream that the genie will strike gold.
DataTrack hasn't combed through the archives to see whether the winners of the Kentucky Derby and Preakness in any other single year were each sired by a stallion with his first crop of 3-year-olds. That it happened this year is a remarkable occurrence.
The past two columns dealt extensively with the underpinnings of the sire line of Always Dreaming, who like Kentucky Derby Presented by Yum! Brands (G1) fourth-place finisher and Preakness runner-up Classic Empire , comes from the Empire Maker branch of the Unbridled sire line. But we've been quiet of late regarding prospects for the line from which Maclean's Music descends, that of Mr. Prospector's son Forty Niner who, prior to being exported to Japan, begat one of the most surprising (to most) stallions of the 21st century.
That would be Distorted Humor , a substantial chestnut specimen who not only sired a Kentucky Derby and Preakness winner in his first crop in Funny Cide (coincidentally defeating Classic Empire's grandsire Empire Maker), but also a Belmont Stakes (G1) winner in Drosselmeyer, a Travers Stakes (G1) winner in Flower Alley, and a Haskell Invitational Stakes (G1) winner in Any Given Saturday, making Distorted Humor one of the only stallions to have sired the winners of the five most important grade 1 events for 3-year-olds east of the Mississippi. He is also the leading active sire in percentage of stakes winners —9.3% from foals of racing age is almost unheard of in these days of chock-a-block full books.
And, yet.
Despite all this racetrack success, Distorted Humor has yet to score big time as a sire-of-sires. One reason is that a number of his good colts were gelded (Funny Cide, Commentator, etc.), reflecting the fact they may have had a touch of the sire's name in their personalities. Another is that he is so versatile a sire that the ones that received the most attention when they went to stud were his two-turn graded stakes winners. Most of them, while excellent racehorses, did not possess either on the track or biomechanically an essential factor that is needed from a stallion—first-class speed.
That could change. Maclean's Music was astonishingly brilliant in his only start, winning by daylight in 1:07.44. He is out of Forest Music, a grade 2 winner by Unbridled's Song (hello, Unbridled sire line). In addition, Maclean's Music is a powerful miler-type who closely resembles his sire physically and biomechanically. His offspring showed enough last year to hint the speed was coming through. He co-topped the year-end freshman sire list with 20 winners (tied with our pick to lead that division, Hansen), winners to starters (50%), and black-type earners (seven).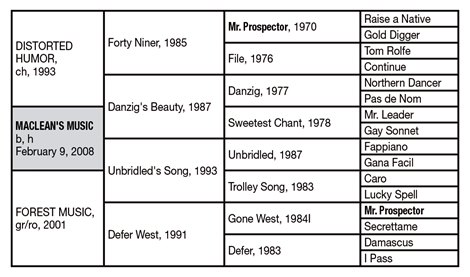 While a classic winner does not necessarily project the establishment of a sire-line, one must look at another factor on the horizon. Several of Distorted Humor's sons are right behind Maclean's Music in their careers, and demand seems to be picking up. Jimmy Creed was a star at the 2-year-old sales with his first crop, and Alternation also sent out some promising kids. Ironicus , Boisterous , and Brethren are being well supported in their initial seasons. So there could be a few more chuckles coming down the line from a sire whose name and performance have always raised eyebrows.