You won't have to grab your coat and get your hat to take this one in stride: A "hidden" sire-line story has emerged in two hemispheres bracketed by one daughter (Winx, in Australia) and one son (Street Boss , in Kentucky). They serve to remind us of how much influence the late Street Cry has exerted on the international breeding scene.
Bred in Ireland and raced in North America and Dubai by Sheikh Mohammed, Street Cry was sired by Mr. Prospector's French champion juvenile son Machiavellian and was produced by Helen Street (by Troy), a winner of the Gilltown Stud Irish Oaks (G1). Winner at 2 in California where he was second in the Norfolk Stakes and Del Mar Futurity (both grade 2) and third in the Breeders' Cup Juvenile (G1), Street Cry was shipped to Dubai where he won at the group 2 level and was also second in the UAE Derby (G3). Street Cry blossomed at 4 with resounding victories in the Dubai World Cup (G1) and Stephen Foster Handicap (G1), and retired to stud in 2003 at Darley in Kentucky.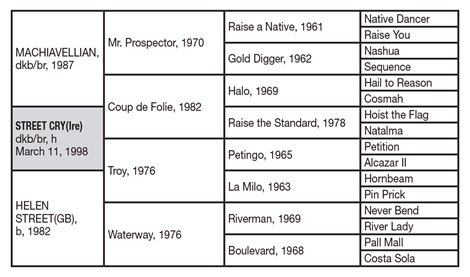 Few could have expected what he produced in his first crop but the record is there: Breeders' Cup Juvenile and Kentucky Derby Presented by Yum! Brands (G1) winner Street Sense ; and the incredible mare Zenyatta, who won 19 of 20 starts. That Street Cry now has the great Winx is quite remarkable.
In that same crop was a colt named Street Boss, who was on the opposite side of the aptitude spectrum from the two-turn specialists Street Sense and Zenyatta. After a nondescript sophomore campaign of one win in four starts, Street Boss came into his own at 4, setting track records for six furlongs in the Los Angeles Handicap (G1) and Bing Crosby Handicap (G1). He also took the Triple Bend Invitational Handicap (G1) and was third in the Sentient Flight Group Breeders' Cup Sprint (G1).
Street Cry's first Australian crop in 2005 was just as special: Whobegotyou was named champion at 3 and won eight stakes during his career while Shocking was named champion stayer after winning the Emirates Melbourne Cup (G1)—the country's top event—he is now doing well at stud in New Zealand.
Street Cry served nine seasons in Australia, where he was a hit, ranking among the top 10 sires in 2014-15, and then taking over the top spot last year as Winx exploded with all sorts of group successes. He is now in second place in the 2016-17 standings, and has group 1 winner Heavens Above.
Street Sense has done his share of shuttling as well. He has been successful in Kentucky and Australia (where he has three group winners this year; 2016-17) and has returned to Kentucky after several Northern Hemisphere seasons in Japan. He has been solid but has yet to come up with a son in any country to carry on for him.
The same could be said of Street Boss for a time, even though he was somewhat successful in his forays Down Under, getting group 1 winner The Quarterback among his group winners. Attention must be paid now in this hemisphere because he has had quite a run in the past couple of years with Cathryn Sophia (G1) among his 29 stakes winners. He also has a classic contender in Hence, winner of the March 26 Sunland Derby (G3).
Street Boss has three sons who are being given opportunities at stud. They retired in 2015 (Capo Bastone to Florida, now in Kentucky), 2016 (Danza in Kentucky), and 2017 (Metaboss in California).
What we find quite interesting is that Street Cry, Street Sense, and Street Boss, for however different they might appear to the eye, are quite close biomechanically, especially in phenotype—and it's a profile that has been quite successful in pointing out stallion potential over the years.
If these sons succeed, then life would be so sweet on the sunny side of the street.