An interesting cross-current of sire line survival is going on under the radar these days that has been sniffed out based on the exploits of Ghostzapper . That son of Awesome Again had the good fortune to have two major hopes for the classics emerge in McCraken and Iliad, who won graded stakes on the same weekend last month.
While pedigree pundits have pounced on this fortuitous circumstance, we note that impressive as it might be, the sire line from which Ghostzapper descends—that of Deputy Minister, through Awesome Again—is in peril of hanging on solely by this branch.
That's because the other branch that had a chance of expanding its influence—that of Silver Deputy—has suffered two blows recently via export. They would be Silver Deputy's son Posse, and Posse's son Kodiak Kowboy, now in Uruguay and Brazil, respectively. That leaves Caleb's Posse in Kentucky to carry on, and collectively this trio, plus two sons of Posse currently racing, brings us to this point.
Why worry, you might shrug? Posse had been a regional, not commercial, sire—albeit after moving to New York in 2010, he developed into a leading sire in that state. Speaking of fortuitous, that was just after Kodiak Kowboy was named Eclipse champion male sprinter of 2009. The following year Caleb's Posse won half of his 10 starts, including the Breeders' Cup Dirt Mile (G1). Welcome to New York, hombre.
In 2010 Posse was bred to the Cryptoclearance mare Struckbylightning, and in 2011 she produced Royal Posse, a bay colt for breeders Richard J. Troncone and his son, Richard Jr. Having been claimed from his breeders, and two other owners so far, he is now a winner of more than $1 million and 11 of 35 starts (with 10 seconds), including a slew of stakes for New York-breds. He has also become a fan favorite because he has won the past two Claiming Crown Jewel Stakes.
Another current fan favorite, also a New York-bred son of Posse, is Mind Your Biscuits, who finished third in the TwinSpires Breeders' Cup Sprint (G1) last year (before being placed second), and subsequently won the Malibu Stakes (G1), at seven furlongs.
Bred in Kentucky in 2000 by Missourians Robert and Lawana Low, Posse was a half brother to their grade 2 winner Green Fee, being out of the Rahy mare Raska who descended from a good, but not top-tier, family. Posse was sold at Keeneland's 2001 September yearling sale for $115,000 to Heiligbrodt Racing Stable.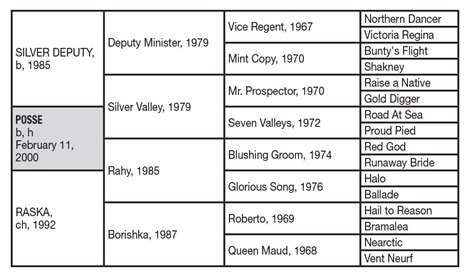 Brought out in April at Keeneland, Posse won his debut at 4 1/2 furlongs, the only time in his career he won wire-to-wire, although he was close to the pace when he drew off to win the Kentucky Breeders' Cup Stakes (G3) at Churchill Downs in May. After that, Posse stuck to a modus operandi defined by his biomechanical profile—a closing sprinter-miler. He is a bit short in his front legs and close to the ground fore and aft, but with exceptional power in his closing kick mechanism—this often results in a downhill trajectory through the stretch built on momentum but often at the expense of distance. This is a physical structure that in one or more respects Posse passes to many of his best runners, though Caleb's Posse did, and Royal Posse does, stretch out a bit.
Kodiak Kowboy made a useful start at stud, but like many other closing sprinter-milers, may not have satisfied commercial breeders with an ability to get early-maturing runners. So, he was sent off to Brazil. Posse, on the other hand, was not sent off to Uruguay as much as he was supposed to shuttle after being purchased by investors there. However, a disagreement between the parties has precluded Posse from returning to this country in 2017, or perhaps, in the future. That would be a shame because he gets so many good runners for the mid-level owner and breeder, and an occasional top horse.
Mostly, Posse really needs another son to come along, remain intact, and round up a lot of stakes to help preserve one of the two last remaining branches of a strong, racehorse-oriented, sire line.