Every time we return from Argentina, we dash to the bookshelf and open to Chapter 11 of Dr. Franco Varola's The Functional Development of the Thoroughbred. Titled "The Geographic Adaptation of Behaviour," the chapter sets forth Varola's thesis that the Thoroughbred reflects in form and function the cultural and economic dynamics of the country where it is raised and raced.
In the chapter Varola makes two essential points about the Argentine Thoroughbred—a country with almost equal representation of Spanish, English-Irish, German, and Italian descendants. Referring to the "Spanish/English ethos," he notes the racing scheme "performs strictly according to the English ritual of the Classic Races, but produces more often than not the leading horse of the matador type." Olé!
He also notes the Argentine horse is both blessed, as well as compromised, by the fact it "becomes subjected to enlargement of the bones after a few indigenous generations, due admittedly to the high mineral contents of their pastures."
This has always forced breeders to import more refined stallion specimens, at first from England, and more recently from the United States.
What we discovered on this trip as well is that the strength of the bone in Argentine racehorses is a good thing when it comes to competition—the racetracks are extremely hard (the dirt tracks are not harrowed on race day), and the turf courses are quite shallow. Combined with a training regimen that does not emphasize speed, the Argentine horse has always been known as sound.
During the past decade, however, the country's stallion profile has become overwhelmingly North American, with a paucity of indigenously bred stallions able to succeed as more refined specimens made their way to the Pampas. Eleven of the country's top 50 stallions last year were sons of Storm Cat, and two others grandsons. The leading sire, Irish-bred Catcher in the Rye, is by Danehill, whose dominance in Australia is of almost epic proportions—and Danehill's son seems to have carved a notch in the Pampas as well, helped by huge crops. Two others are also from the Danzig line, three by Galileo and one by Deputy Minister. That means 40% of the leading sires are from the Northern Dancer line.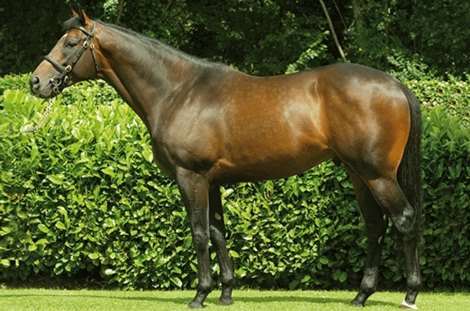 Irish-bred Catcher in the Rye, leading sire in Argentina - Courtesy Coolmore
Eight of the top 50 are from the Mr. Prospector line—but they are from several different branches, ranging from Fusaichi Pegasus to Unbridled to Kingmambo to Roy—hardly what one would call functionally similar. Interestingly, recently deceased Roman Ruler (by Fusaichi Pegasus) and his half brother El Corredor (by Mr. Greeley) are both on the list. There are three sons of A.P. Indy on the list, but not all that successful—and there isn't a son of Tapit among them, nor does it appear that there is any willingness to import any.
Thus, the conundrum: The breed is becoming more homogenous in its bloodlines, i.e., more North American. Even the three most prominent Argentine-bred stallions (all in the top 10), are drenched in North American genes: Not For Sale (by Parade Marshal, a son of Caro, out of a daughter of the Swaps son Laramie Trail); Equal Stripes (by Candy Stripes, a son of Blushing Groom, out of a daughter of Northern Jove's son Equalize); and Sebi Halo (by Southern Halo, a son of Halo, out of a daughter of Caro's son Ringaro).
One might note that a well-received group 1-winning newcomer, Il Campione, might have been bred and raced in Chile, but he is as American as apple pie: by Storm Cat's great-grandson Scat Daddy out of a Pleasant Tap mare that traces directly to La Troienne.
Thus, Argentina's breeders may be caught in the throes of further challenges that reflect current cultural and economic conditions. Argentina's economy is still in a shake-out period after a decade of chaos—hardly a harbinger of stability. It will be fascinating to watch both how the stallion population is impacted, and how it might impact racing fortunes, in the next few years.