In a series of columns last year, we undertook a review of the prospects of stallions with first 2-year-olds of 2016. The series focused on pedigree and biomechanical values as well as on our impressions of how the offspring of many of these stallions performed at the juvenile sales.
In September we looked at how the progeny of these stallions were doing on the racetrack midway through their first year of competition. We came up with two lists ranking which ones headed the crop—but not based on progeny earnings. The first list took into consideration those earnings but also percent of winners from starters and the percent of starters from foals. We retained those criteria in the second list, but added judgment of the potential of these stallions to succeed over the long run based on the biomechanical projections we had made when they went to stud.
The lists were somewhat similar, and in both cases the stallion that came out on top was Maclean's Music , whose lone career start was a blowout win but who'd not been considered among the leading prospects in the crop in most analyses. Eight others appeared on both lists in one position or another (Creative Cause , Dialed In , Dominus , Hansen, Mission Impazible , Stay Thirsty , Tapizar , and Union Rags ) while Astrology filled out the first group and Algorithms the second.
Now for our conclusions: We think by the end of 2018 half a dozen of these stallions will have become the most consistent in the crop for several reasons. There isn't one of them we think will be a breakout sire, but over time they should be more consistent in getting black-type horses as well as horses that can win in good company. (We eliminated Hansen who sired only one crop before being sent to Korea, and who we predicted would lead the pack in number of winners, which he did.) That said, here they are in the order we like them:
Maclean's Music (by Distorted Humor ): Tops the year-end list with 20 winners (tied with Hansen), to 40 starters (50%), black-type horses (seven), eighth in earnings. He is a bit short in numbers in his third crop, which could hurt in 2018. A powerful miler-type who is biomechanically similar to his sire and is showing it so far.
Creative Cause (by Giant's Causeway ): Seventh in earnings with 33% winners (17) from starters (51), and they are versatile. He is similar to his sire with excellent reach and versatility for surfaces and distances. We believe there's a big upside for his stock as they get more distance, maturity, and turf.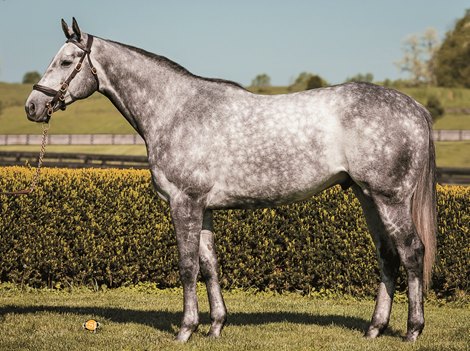 Creative Cause
Tapizar (by Tapit ): Fourth in earnings, 57 starters from 100 foals, but only 15 winners, which indicates late maturity, despite a show of precocity at 2-year-old sales. This is pretty much what you'll get from this two-turn galloper with exceptional extension and other biomechanical elements very much like his sire's.
Union Rags (by Dixie Union): Second in earnings with half his 106 foals starting and 34% of them winning with several nice runners. He was a one-paced closer and tends to get a very powerful type from a book with very high CI, which will sustain his record.
Bodemeister (by Empire Maker ): Finished a fast-closing third in earnings, got a very fast filly as one of two stakes winners but high earnings per starter—he has tons of foals from his next two crops. Solid middle-distance cruisier profile, similar to, but not as distance-oriented, as his sire's.
Gemologist (by Tiznow ): Fifth in earnings thanks to two high-class runners, but got less than 30% winners. He's very much like his sire in size and scope, and his runners will need to mature and relax.
There you go. See you on Jan. 1, 2019, and we'll either buy drinks for the house or crawl under the table.