The French language has words and phrases that roll off the tongue with more panache than English. But the headline—the more things change—brings up a point when it comes to the 2016 Eclipse Awards.
What is extraordinary is the number of pedigree interrelationships that bind most of the champions.
Though for bloodline hounds he was from the Mr. Prospector line, Unbridled was no Mr. Prospector in size and scope but more a copy of his sire, Fappiano, with a good deal of his damsire, Le Fabuleux, thrown in. However, all three were well balanced in terms of power, stride, and weight, and Unbridled passed that quality to (arguably) his three best racing sons, who also went on to become his (arguably again) best sons at stud: Unbridled's Song, Empire Maker , and Broken Vow .
Champion 3-year-old male Arrogate is by Unbridled's Song, and the new champion's second dam is by Northern Dancer's grandson Deputy Minister.
Champion 2-year-old male Classic Empire is by Empire Maker's son Pioneerof the Nile . His dam is by Cat Thief, whose sire is Northern Dancer's grandson Storm Cat.
Champion 2-year-old filly Champagne Room is by Broken Vow , and she is out of a mare by Storm Cat's son Bernstein.
Bernstein is the sire of champion turf female Tepin, who carries two crosses of turf kingpin and turf sire Round Table, a name you hardly ever see any longer in five-cross pedigrees but who appears in Tepin as the sire of Bernstein's second dam and as the sire of Apalachee, who got the second dam of Tepin.
Storm Cat is not finished here. His grandson, Henny Hughes, is the sire of the champion older dirt female Beholder, whose five-cross pedigree carries only one duplication—that of Northern Dancer as tail-male sire and as grandsire of Beholder's third dam through his son One for All. However, she is one for the nicking crowd—her half brother, Into Mischief , is by Harlan's Holiday, a grandson of Storm Cat.
To top it off, champion male sprinter Drefong is by Gio Ponti , whose sire, Tale of the Cat , has turned out to be one of Storm Cat's most versatile sons.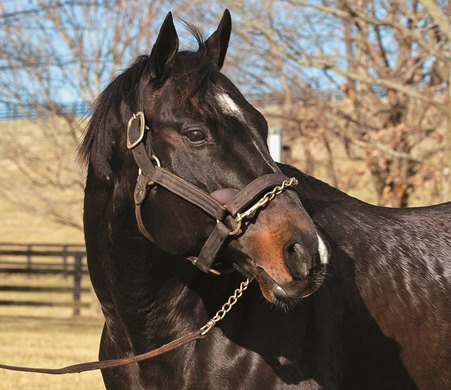 Storm Cat
Now for a curve: Drefong's dam is by Ghostzapper , who not only has aforementioned Deputy Minister as his paternal grandsire in his pedigree through his sire, Awesome Again , but is also a half brother to City Zip. That son of Carson City sired Finest City, the champion female sprinter. Both champion sprinters carried an important, and appropriately named, source: Baby Zip, a mare by Relaunch who is the dam of both Ghostzapper and City Zip (and was 2005 Kentucky Broodmare of the Year).
Deputy Minister appears again, this time as the sire of the second dam of Songbird, champion 3-year-old filly. Songbird is by Medaglia d'Oro , whose paternal grandsire is Sadler's Wells, the son of Northern Dancer who bestrides the European continent in more ways than just the exploits of his son Galileo.
Sadler's Wells also appears as the broodmare sire of Flintshire , who earned champion turf male honors and whose sire, Dansili, is one of the leading progenitors of the line now firmly established in two hemispheres by Danehill, a son of Danzig. That 4x3 cross to Northern Dancer is far more fashionable outside North America because it works. That Flintshire is also inbred 4x4 to Nijinsky II's son Ile de Bourbon is like icing on the cake.
Who's left? Here we are in the "age of A.P. Indy" and not a single one of the champions mentioned above has a cross of him, or his sire, Seattle Slew, in their first two generations. Which one would think would open the door for something special from his tribe to burst through.
There he is, Horse of the Year and champion older dirt male California Chrome , by A.P. Indy's grandson Lucky Pulpit out of Love the Chase, a daughter of Mr. Prospector's son Not For Love.
Plus c'est la meme chose (the more things stay the same), don't you know?