He kind of snuck up on us in 2002 when Neil Howard sent him out at Churchill Downs and Fair Grounds after a less-than-stellar run in England and France. He'd skipped his juvenile career in Europe and only broken his maiden and had not come all that close in his other six starts. After sweeping to easy wins in his first pair of stateside starts, he proceeded to post serious speed figures in three stakes in New Orleans, winning two and finishing second in the other.
"Who is this beast," many asked, looking at the past performances for Keeneland's Ben Ali Stakes (G3) in April 2003 after he had swept to a near track record in the New Orleans Handicap (G2)? Whoever he was, they sent him off at 3-10 and watched as he buried his rivals by nine lengths in another clock-testing time.
This was Mineshaft.
Who he really is, however, is a son of A.P. Indy, already one of the great American sires. He is out of two-time grade 1 winner Prospectors Delite, a daughter of Mr. Prospector who had only five foals, all of them stakes winners including grade 1 winner Tomisue's Delite. Her dam, Up the Flagpole, was one of the first major stakes winners bred by William S. Farish, one of Mineshaft's breeders and owners. This branch of the family traces back to Baby League, a daughter of the epochal La Troienne, and the dam of Busher, Mr. Busher, Harmonizing, and Striking. The last named, the sixth dam of Mineshaft, produced the likes of Batter Up, Hitting Away, My Boss Lady, Bases Full, and Glamour.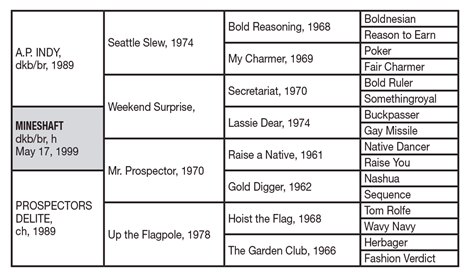 This is not a lineage to be sneezed at, and after the Ben Ali if Mineshaft sneezed, his rivals save one caught a serious chill at the eighth pole. The one that didn't was Perfect Drift, who caught Mineshaft late in the Stephen Foster Handicap (G1) at Churchill, the only one of five grade 1 races Mineshaft did not win that year. He was named champion older male and Horse of the Year despite missing the Breeders' Cup Classic (G1) won by Pleasantly Perfect.
When Mineshaft went to stud, he was considered the goods, and in all truth, he has done quite well—he has 44 stakes winners, and got grade 1 sprint winner Discreetly Mine from his third crop, grade 1 winners Dialed In and It's Tricky in his next crop, and has sprinkled his record with other graded winners such as Fly Down, Cool Coal Man, Casino Drive, and Juanita.
His biomechanical profile is wonderfully balanced all the way, but he has properties that give him size and scope similar to both power-types such as Forestry, Freud, and Macho Uno as well as two-turn types such as Lemon Drop Kid, Smart Strike, and Flatter. Sometimes such dichotomies add challenges as to the types of mares that work best, and that may be the case here.
Prior to 2016, Mineshaft had not really been given a place in the pantheon of sires that traced to his sire. That's because he never really had a "Big Horse" on the track, and despite having 10 crops to race, had yet to produce a son that could be pointed to as a possible leader of another branch. Both of those histories have now changed.
The racehorse problem was solved with two excellent runners in Clark Handicap (G1) winner Effinex, one of the best older males in the country, and Central Bank Ashland Stakes (G1) winner Weep No More, a major 3-year-old filly of 2016.
But when it came to sire-of-sires, it was almost a bolt from the blue that has many observers wondering "how did that happen?" Right at the top of the heap of North America's first-crop sire list for 2016 is the winner of the 2011 Florida Derby (G1), Dialed In.
We shall examine this occurrence on another day, hopefully before some other shot from this intrepid line comes hurtling toward us.