You could look it up (as Casey Stengel would say) in Wikipedia—come on now, you know you use the sometimes wildly unpredictable Internet encyclopedia. Wherein the introduction to one Sir Alfred James Munnings is, to wit: "one of England's finest painters of horses, and…outspoken critic of Modernism."
Well, that's for sure. Though his life crossed many eras, from 1878 to 1959, one thing you could always expect from a work by Munnings was how closely his paintings, as well as his horses, resembled the era in which he was born and raised. One wonders then how he might have portrayed his Thoroughbred namesake, a flashy chestnut with terrific speed who was born nearly a half-century after the artist passed away.
There was one thing Sir Alfred would have noticed immediately and would have likely brought a cheeky smile to his lips: This horse was not only something to look at, but he had a pedigree which was hardly what one would describe as defined by modernism.
Munnings the Thoroughbred was bred in the purple and is as traditional in that respect as any young stallion these days (fourth dam is Priceless Gem, perfect name for a royal family). No wonder he has emerged as the leading cumulative sire of an exceptionally contentious crop of third-year stallions—though at the time he retired at the less than princely fee of $12,500, he was considered something of a risk. That crop includes multiple G1 winner and 2016 leader Quality Road; the exported Eskendereya; classic winners Lookin At Lucky and Super Saver; champion Blame; the rapidly rising Temple City; and Kantharos.
Beyond Priceless Gem as Munnings' fourth dam, the prior three dams are Searching, Big Hurry, and a tidy French mare named La Troienne. Let's start with her and list only the stakes winners produced by her and her descendants in order directly to La Comete (by Holy Bull), the dam of Munnings: La Troienne, dam of Black Helen, Biologist, Bimelech, Bee Ann Mac; Big Hurry, dam of Be Fearless, Bridal Flower, The Admiral, Great Captain; Searching, dam of Affectionately, Admiring; Priceless Gem, dam of Allez France; Lady Winborne, dam of Al Mamoon, Lost Soldier, Born Wild, Lord of Warriors; La Gueriere, dam of Lasting Approval, Icon Project; La Comete, dam of Munnings and the stakes-winning Munnings Sister.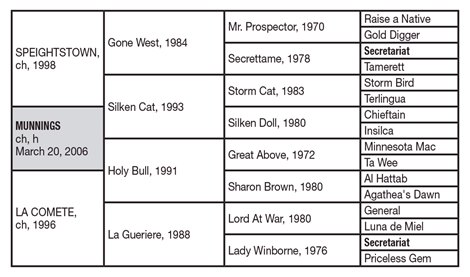 Munnings was from the first crop of Breeders' Cup Sprint (G1) winner Speightstown, a similarly hued and built son of Gone West who won 10 of 16 starts, including three G2 sprint stakes. As a son of an already established Mr. Prospector-line sire of sires (with Elusive Quality, Proud Citizen, and Grand Slam preceding him), Speightstown proved popular with breeders from the start.
Munnings was a sharp racehorse himself, spreading his speed over 14 starts in three seasons during which he won three G2 sprints and placed in six other stakes, all G1.
His record as a stallion to date is remarkable in several respects. First, he has 19 black type winners, which is more than 9% of named foals, well above every leading sire in his crop. His leading runner, I'm a Chatterbox, has earned more than $2 million. His next-best runner, Om, has won two G2 races around two turns. Other than those two, however, he is more consistent as to type—average winning distance is 6.4 furlongs, among the lowest in his crop (Kantharos and Majesticperfection have similar averages while Quality Road, Lookin At Lucky, and Blame, for example, average over seven furlongs).
If one studies the biomechanical profile of Munnings, he is almost an anomaly among stallions in that he is balanced in terms of power and stride factors, carries average body weight, and his mechanics and geometry are what one would expect from a high-level sprinter—a bit low to the ground with excellent gate and quickening speed through his quarters. He is of size and scope similar to Curlin and Henny Hughes, both of which are sires of versatile runners with lots of tactical speed—which is about as traditional as you can get.