Sometimes one must start in the middle and work forward and backward, looking for clues to get an answer to a head-scratcher. Which brings us to the task at hand that began with a simple observation of a Stallion Register photo of Into Mischief, whom we were examining as a subject for this column.
"Boing!" went the memory bell. In reference to his offspring, the thought continued: "They look like him, don't they?" There was a double "boing" because it appeared the offspring of Into Mischief also had a distinct resemblance to those of Majesticperfection, who, like Into Mischief, was sired by Harlan's Holiday—whose own offspring bore a distinct resemblance as well.
We went into an assortment of pedigree and biomechanical databases and zut alors, came up with some fascinating information.
By working backward, we got to the source of a lot of this. Harlan, a 1989 foal by Storm Cat out of Country Romance, started 30 times with moderate sprinting success until he won the grade I Vosburgh Stakes as a 5-year-old. Bred by W.T. Young's Overbrook Farm and Arthur Hancock III, Harlan entered stud in 1995 and in his second crop sired Menifee, a top horse for the classics off his victory in the Toyota Blue Grass Stakes (gr. I) who managed second-place finishes in both the Kentucky Derby and Preakness Stakes (both gr. I). Four years later Harlan passed away suddenly just about the time his second Triple Crown contender, Harlan's Holiday, was foaled. Out of Christmas in Aiken, by Affirmed, Harlan's Holiday also won the Blue Grass, as well as the Florida Derby (gr. I), but came a cropper in the Kentucky Derby where he finished seventh as the favorite behind War Emblem.
Harlan's Holiday lit up the boards from the beginning here and in Argentina where he did Southern Hemisphere time. Unfortunately, like his sire, he died early at 14. Of most interest is that he was physically somewhat atypical of the Storm Cat line. Our colleague Frank Mitchell notes his broodmare sire, Affirmed, might have been in play here, for his offspring: "are less heavy and show more souplesse than the typical Storm Cat." You could apply that to the offspring of both Into Mischief and Majesticperfection.
From a pedigree perspective, in examining first the Harlan's Holiday cluster and then the entire Harlan line, what struck us is they are all out of mares from different sires lines: Never Bend, Affirmed, Danzig, Orientate, Tricky Creek, Wavering Monarch, Banker's Gold, and one other quite interesting one.
We also did a bit of biomechanical canoodling here and came up with interesting findings and correlations that have resulted in another exciting "boing."
We looked at the eight stallions in the entire Harlan sire line as well as Storm Cat and Storm Bird and discovered that except for Storm Cat and one descendant of Harlan's Holiday (we won't tell you which one because he's still alive), this tribe rubs elbows very closely phenotypically.
The attached phenotype chart shows Storm Cat, Storm Bird, Harlan, and Menifee in blue, and Harlan's Holiday and his crowd in red. What is interesting here is that Menifee was sold to Korea in 2006 and has become a success there. Now, Harlan's Holiday's success is not quite phenomenal (yet), but it is also exceptional in that Harlan leaves us with just a bare thread that might be woven into a viable line.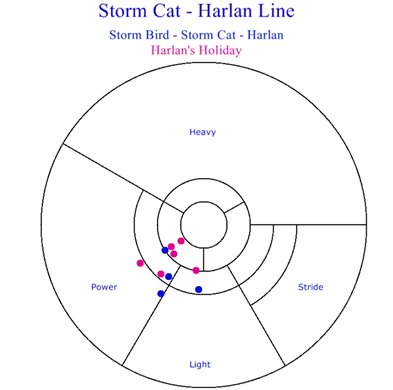 Why not? It's happened before, and one good example is the broodmare sire of Harlan. That would be the oft-overlooked Halo, whose international influence was detailed in our last column.
Zut alors, encore!