He was hardly a poster boy for the saintly nature of his name—willful on the track and a handful in the breeding shed. However, those who hold philosophical reasons that the breed should be shaped by stallions with worthy names can raise their eyebrows in some satisfaction to see that Halo is still exerting an influence on four continents through just two sons.
Born into Thoroughbred royalty, Halo was bred by John Gaines who in 1968 sent his mare Cosmah—a half sister to Natalma (dam of Northern Dancer)—to the exceptionally talented and versatile Hail to Reason. Gaines was rewarded with an almost black colt whose extended pedigree was infused with all-American crosses, one being that Hail to Reason's dam was by a son of Blue Larkspur and Cosmic Bomb, sire of Cosmah, was out of a daughter of Blue Larkspur.
Sold as a yearling for $100,000 to Charles Engelhard and sent to the esteemed Mack Miller, Halo turned out to be a workmanlike, if somewhat testy, racehorse. He won nine of 31 starts, taking four stakes, including the extremely important (at the time) United Nations Handicap (gr. IT). Halo also placed in six other stakes, including the Jim Dandy Stakes on the dirt and Bernard Baruch Handicap (gr. IIIT). He was considered a nicely prized stallion prospect when he retired to stud at E.P. Taylor's Windfields Farm, then later transferred to Arthur Hancock's Stone Farm.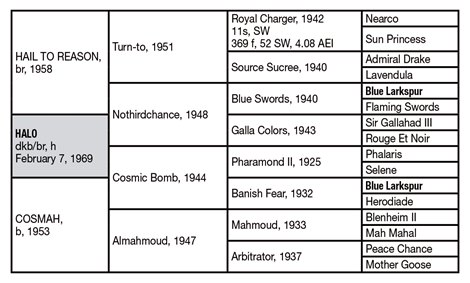 However, Halo was always a bit of a dichotomy in the breeding shed. When he got a good one, it was extraordinary: Kentucky Derby (gr. I) winners Sunday Silence (also Horse of the Year) and Sunny's Halo; champion 2-year-old male Devil's Bag, champion older mare Glorious Song, top-class sire Saint Ballado (sire of Horse of the Year Saint Liam), and seven-time grade I winner Goodbye Halo.
But it was grist for the mill from the start that he was also one of the most difficult horses to handle, especially in the breeding shed. Such was also the case—or the rumor—with many of his offspring, even though both Devil's Bag and Saint Ballado were well patronized. However, they simply have not carried on.
Thus, when time came for breeders to consider expanding his line, two specific opportunities arose for others not so shy—the export of Sunday Silence, a veritable pussycat, to Japan, and of Southern Halo, a non-stakes-winning tough customer, to Argentina. Breeders in North America were left with "what might have been," rather than "good riddance."
And that brings us to the present, where it appears Halo's influence may be about to be consolidated, if not expanded. Sunday Silence, who died in 2002, continues to dominate Japanese breeding through his Triple Crown-winning son Deep Impact, who is atop that country's sire list and has sired stakes winners in Asia and Europe. While Sunday Silence's imported sons Hat Trick and Silent Name have not set the North American world afire, we can be sure it will not be long before a son of Deep Impact finds his way to our shores.
It is because Southern Halo found his way back to the U.S. that Halo's orb is likely to continue to shine. Larger than his sire and the only one of his successful sons whose pedigree brought in a very close cross of Northern Dancer (sire of his dam Northern Sea), Southern Halo in America did not come close to matching his record in Argentina. To date, however, his son Sebi Halo is his only good sire, though not nearly on his level, on the Pampas. This hemisphere will soon see if that can be duplicated when the first runners of Sebi Halo's full brother Snapy Halo, a group I winner at a mile in his home country and almost a biomechanical clone of Sebi Halo, hit the track next year.
Southern Halo left behind one really good North American runner, and very good sire, in More Than Ready. He has yet to hit his stride as a consistent sire-of-sires in North America but that could change when the first foals of his best runner, Verrazano, run in 2018. There is precedent here because More Than Ready is a success in Australia, both as a sire and grandsire.
Could be this line is more than ready to keep glowing.