Passing almost unnoticed in early October was the death of Quiet American, one of the most intriguingly successful, yet somewhat overlooked, members of a tribe whose physical attributes have revolutionized racing and breeding in North America—but whose pedigree pattern is not likely to be reproduced in the foreseeable future.
A member of the third crop of Fappiano (by Mr. Prospector), Quiet American was bred in Florida by Tartan Farms. Tartan was the domain of the late John Nerud, who put the outfit on the map with the great miler Dr. Fager, who was the broodmare sire of Fappiano—and also the broodmare sire of Quiet American. Nerud bred and raced Fappiano.
That's not the only apparently insidious bit of incest Nerud slipped into this mating. That's because Quiet American's third dam, Cequillo (by Princequillo), was also the third dam of Fappiano.
Say what?
Anyone who'd ever been privileged to be in the middle of a conversation with Mr. Nerud (which usually turned out to be a fascinating and wide-ranging lecture) knows he had his own way of thinking. We are not quite sure from any of these encounters that he explained what was hidden in that truly remarkable pattern: Cequillo's fourth dam was Plucky Liege (by Teddy), the dam of the great international sires Sir Gallahad III and Bull Dog.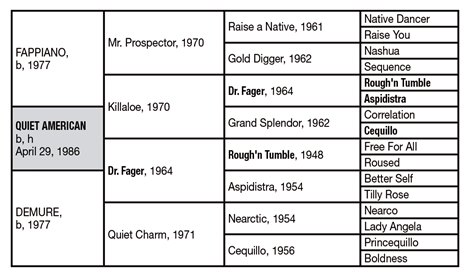 One supposes if you are going to inbreed closely, you try to emulate what kings and queens had done to preserve their lines: bring as much "royalty" as possible into the equation even if it means risking recessive revelations. On that score, Quiet American's genetics came through. He won the NYRA Mile Handicap (gr. I) emulating in a way Fappiano, who had won the Metropolitan Handicap (gr. I). In a racing career of 12 starts, Quiet American also won the San Diego Handicap (gr. III) and placed in both the Woodward Handicap (nine furlongs) and Strub Stakes (10 furlongs), both grade Is. He was not as distinctly brilliant as either of his ancestors, but more of a steady, grind-them-down professional whose physical ability was compounded by his courage.
Nerud may also have been looking to duplicate a Dr. Fager physical hallmark that he passed on to Fappiano—an extraordinary burst of speed that carried on strongly. Physically, that was embodied in a longer-than-average (for the era) rear cannon which provided the leverage and the huge quarters that provided the thrust.
When Quiet American went to stud in 1992, however, he was received more in a manner reflecting his name than in the way some other scions of the Mr. Prospector line might have been. The reason might have been that he, like his sire, was hardly what one would call a "Mr. Prospector type." Although Fappiano did have more refinement and a je-ne-c'est-quois impression that Mr. Prospector passed on, his size was all Dr. Fager. As seen in Unbridled, Cryptoclearance, and Ride the Rails, Fappiano's size enabled him to establish a sire line that must be regarded as separate and distinct from Mr. P.
Indeed, size is precisely what he passed on to Quiet American, and combined with that wild pedigree cross might have caused more eyebrows to be raised. Despite being coarser than his sire, Quiet American was almost his identical twin in terms of body measurements. In fact, of the more than three dozen measurements we have of both, the only marginal difference was in body weight—Fappiano was spot on, and Quiet American just a bit light.
This latter factor might have played a role in his overall record at stud because that inbreeding certainly did not. He sired 59 stakes winners, including near Triple Crown winner Real Quiet, who is smaller but whose son, Midnight Lute, is one of the largest horses in this sire line.
The vast majority of Quiet American's good ones have been fillies. He has a plethora of daughters who have produced 104 stakes winners, headed by Quiet Dance, dam of 2005 Horse of the Year Saint Liam; and Cara Rafaela, dam of champion and top-class sire Bernardini.
He has not gone quietly into the night.