The upcoming mixed sales in Kentucky will be the first time we will be able to see a cornucopia of weanlings from stallions that entered stud in 2015. There are 17 stallions that retired to stud in Kentucky that year and several others in New York, Florida, and Maryland that we have analyzed biomechanically. Nine of these stallions have 20 or more weanlings cataloged in the upcoming Fasig-Tipton Kentucky and Keeneland venues.
This is a bit of an unusual crop in two respects. First there aren't that many young stallions in Kentucky compared to most of the other 21st century crops of young sires, which have averaged more than 25 per year. Secondly, half of them resemble each other in biomechanical properties that place them close together in size and scope to a small group of established sires—and (without naming names, which might inspire casting of stones) that group is very inconsistent when it comes to success.
Four sires—Galileo, Into Mischief, Tapit, and Unbridled's Song—have two sons among those we have analyzed, including those outside Kentucky. How's that for market timing? Here are some observations about the sires in this crop.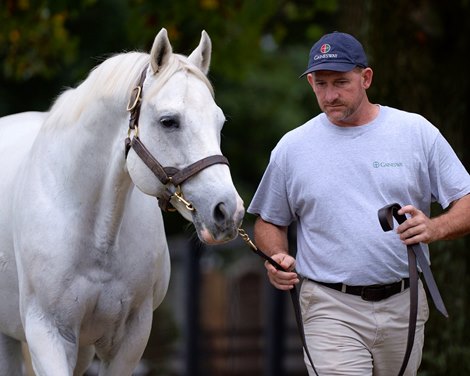 Tapit has 2 sons among those analyzed
Anne M. Eberhardt Photo
Stallions with 20 or more weanlings in the November sales (alphabetically):
Cairo Prince (by Pioneerof the Nile) was talented and has a stallion profile that can give some hope his sire might keep the line going. He is similar in some respects to his Airdrie stablemate Include, as well as to the versatile Ghostzapper.
Fed Biz (by Giant's Causeway) is a bit of a throwback phenotypically in that he has more stride elements than raw power. He fits into a category of stallions that have speed, such as Pomeroy and Cormorant, and others with more versatility, such as
Bernardini.
Flashback (by Tapit) has the overall balance and the average size to carry on for his sire. He has some properties that are similar to those of Henny Hughes and Scat Daddy, and that gives him an edge.
Goldencents (by Into Mischief) is smallish and will need some average-sized bulk in his mares. He does fit in with the likes of Round Table and Pollard's Vision on the comparable scale, as well as a complete opposite in D'wildcat. Likely to get early
runners.
Like his sire Galileo, Noble Mission does bring to the table a good deal of power to go with his obvious stamina. He is a bit like seeming polar opposites Round Table and Rock Talk in size and scope, but his foals are likely to want to be waited upon.
Revolutionary (by War Pass) has a very unusual double-dip of Hoist the Flag relatively close-up and has a lot more power than his race record might imply. He has similarities to Secretariat and Storm Cat, but also to During and Bandini. Over to you.
Like his sire Tiznow, Strong Mandate is hardly diminutive and as such will require special attention when matching mares of various sizes and scope. Still, he has some attractive qualities to pass on and has some resemblance to Medaglia d'Oro and Hard Spun in size and scope.
Verrazano (by More Than Ready) is poised to make up for his sire's modest career as a sire-of-sires thus far. This good-sized but not overly large individual has some resemblances to Scat Daddy, as well as to Elusive Quality and Street Sense, which is not a bad crowd to hang with. Not likely to get many early sprinters but more likely middle-distance types.
Will Take Charge (by Unbridled's Song) is good-sized but not as big as one might expect, and he will have every opportunity to be his sire's break-out son. He has some similarities not only to Indian Charlie but also to Silver Charm.
These stallions will get most of the play this autumn, but it would be wise to inspect those by Can the Man (by Into Mischief) and Itsmyluckyday (by Lawyer Ron) whose patrons are encouraged to wait until the foals are yearlings before selling them. Those looking for a regional sneaky play should pay attention to Honorable Dillon (by Tapit) in New York, who is similar to the exported Hansen.