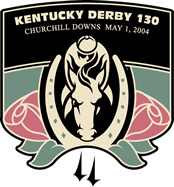 Rock OnAlthough the Santa Anita Derby will feature graded stakes winners Wimbledon, St Averil, and Imperialism, the one horse who will be on everyone's lips is Rock Hard Ten, even though the towering son of Kris S.. has had only two starts, a 1 1/4-length maiden victory and 1 3/4-length allowance score. From a handicapping standpoint, in his allowance score, the second-place finisher, Teton Forest, came back to finish sixth in the WinStar Derby as one of the choices, while the third-place finisher, Jimmy's Instinct, came back and finished fifth of six in the San Pedro Stakes at 8-5. In his maiden win, the second-place finisher, Storm Pilot, was beaten in his next start at 1-5. Third-place finisher, Point of Flight, did win his next start, but finished seventh in the WinStar Derby. But what everyone did take notice of right from the start was the time of his maiden win, which was a fraction faster than Imperialism's time in the San Vicente Stakes (gr. II) the same day.The question is, is this colt is as special as everyone who has seen him says he is? From a physical standpoint, he has scores of reputable horsemen tossing out almost mythical-like superlatives. His stride is something to behold, and you have to love the way he throws his ears up just as he hits the wire, as if he knows what it's all about. His exercise rider is Corey Black, who is amazed by his athleticism for such a big horse. There is an awe-inspiring winner's circle photo of him on one of the web sites, in which he looks like a cross between Black Beauty and Man o'War. If you're thinking of him as a potential Kentucky Derby winner, history, and logic, are against him. But until he shows a mortal side, he will remain a feast for the imagination.Which way to the front?One thing that looks fairly certain about the Santa Anita Derby at this point is that, whoever is in front early will not be used to being there. With Lion Heart skipping the race and heading for the Blue Grass, it looks like the lead is up for grabs. Quintons Gold Rush seems to have the most natural speed, breaking his maiden by running Wimbledon into the ground after a stirring battle on the front end. Those tactics are a thing of the past for Wimbledon, so don't expect to see a repeat of that. Quintons Gold Rush sat back off the pace in the San Rafael, made a move nearing the quarter pole before tiring a bit to finish fourth in only his third career start. He recently worked six furlongs in a bullet 1:11 2/5 at Hollywood Park and could be tough to catch if he's left alone on the lead. Perhaps Rock Hard Ten or Lucky Pulpit could find themselves right up there as well if the pace is slow enough. A key horse could be Mambo Train, who is 50-50 to run. He does have speed, fighting for the lead in suicidal fractions in the Bessemer Trust Breeders' Cup Juvenile (gr. I), and could be the one who takes it to them.Santa Anita officials are not happy about Lion Heart, Master David, and Borrego all skipping town for races back east on April 10. It was especially hard on them losing Lion Heart less than a week before the race, especially when it looked like he had a huge chance to wire the field with little or no pressure on the lead. After he put the speedy Hosco away after battling through fast fractions in the San Rafael, he held on tenaciously and was just nipped at the wire by Imperialism. With that race under him, and the others looking to earn a place in the Kentucky Derby field, it is highly unlikely anyone would have tackled him early. But trainer Patrick Biancone said he didn't have "that fire in his eye" when he worked Monday, and he's confident he'll get it back in another week. Now, it becomes more of a rider's race, and it'll be interesting to see how it plays out.Melting PotWith an evenly matched (on paper) group of horses from Florida, Northern California, New York, Arkansas, and Maryland shipping to Chicago for the Illinois Derby, it is very difficult to handicap the race with any conviction.One potential longshot, Pure American, has already been discussed in an earlier column, as has White Mountain Boy to a lesser degree. If there is one horse who can come out of this race with a big reputation it is the undefeated Song of the Sword, who was flattered by Lane's End winner Sinister G. after out-dueling him in the fog in an Aqueduct allowance test. He's now three-for-three, has won going long and short, on the lead and from off the pace, and on wet and dry tracks. And he has red-hot Richard Migliore in the saddle. He's by

Unbridled's Song

, out of a Crusader Sword mare, and is inbred 5x4 to In Reality.Not only is it difficult handicapping this race, it's difficult handicapping the three Northern California invaders, Kilgowan, O.K. Mikie, and Skipaslew. Kilgowan is just starting to get good, and he came from pretty far out in the middle of the track to win the El Camino Ready Derby (gr. III). He's a son of

Smoke Glacken

, out of a

Dynaformer

mare and has a solid female family.