Chicago Titan Russell Reineman Dies
by Lenny Shulman
Date Posted: 3/24/2004 2:14:34 PM
Last Updated: 3/25/2004 11:58:17 AM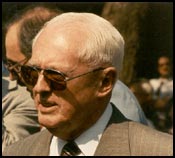 Russell Reineman, a titan in steel and Thoroughbred industries.
Photo: Anne M. Eberhardt

Russell Reineman, 86, a titan in both the steel and Thoroughbred industries, died at his home March 23 of natural causes. The Chicago industrialist was best known recently as the owner of War Emblem who sold 90% of the horse to Prince Ahmed Salman's The Thoroughbred Corp. just weeks before War Emblem won the Kentucky Derby (gr. I) and Preakness (gr. I) in 2002.But Reineman's love affair with racing began a long time before. He bought his first horse in 1950, and 10 years later moved his broodmare band to the farm of Charlie Nuckols Jr., beginning a long friendship and business association with the Midway, Ky. resident. Shortly thereafter, Nuckols, in whose name Reineman's horses were bred, bred Smart Deb, who was named co-champion 2-year-old filly in 1962. Smart Deb and her dam, Demree, became two of Reineman's foundation mares."You would need a bunch of big adjectives to describe him," Nuckols said of Reineman. "He was a great gentleman and a great friend. We never had a contract--our handshake was our bond."With Nuckols planning the matings, Reineman campaigned runners such as Wise Times, who in 1986 won the Travers Stakes and Super Derby (both gr. I); Hurry Up Blue, winner of the American Derby (gr. II); Sweetest Chant, who took the Arlington Matron (gr. II) and a division of the Orchid Handicap (gr. II); and Home At Last, who captured the 1990 Super Derby. Others who carried Reineman's red, white, and black silks include Go With the Times, Blue Buckaroo, Danzig's Beauty, Powerful Punch, and Mr. Importance.The only horse Reineman named after himself was Distorted Humor , the sire of 2003 Kentucky Derby victor Funny Cide. Reineman flashed his sense of humor, and enjoyed telling one or two on himself. "I lost a wife and daughter," he related recently, "they got so tired of me they went upstairs, and I can't figure out why neither of them has ever called. Maybe the phone bills are too high, or they're having too much fun up there."Although Reineman was portrayed as the poor soul who sold a Derby winner, that slant did not do him justice. The $900,000 he received from Salman eased the pain, as did his retaining 10% in the horse, good for another $150,000 off War Emblem's two classic victories. He also received 10% of the fee paid for War Emblem when the son of

Our Emblem

entered stud duty in Japan."People think I should be mad about this whole thing," he said at the time. "The horse had chips, so he could win a million dollars or he could fall and break a leg tomorrow. I'm satisfied I made a good deal and I'm rooting for him."Reineman began working at Crown Steel Corp. in Chicago in 1941, and has owned the company since 1955. He deplored the cheap imports that have hurt the steel business recently, and enjoyed his Thoroughbred operation more. "The horses give you a lot more interesting times," he said. "The enjoyment of it is the biggest asset, but it's not a business to make money in."Reineman is survived by a daughter, Lynne McCutcheon, who has taken more of a role in the family's horse business recently. Funeral arrangements are incomplete, but services will be held in Chicago March 27.



Copyright © 2015 The Blood-Horse, Inc. All Rights Reserved.