Come, take a seat on our couch. Your session will not last long, but hopefully we will be able to assuage some of the insecurities you have expressed in our other sessions concerning the behavior of you and your brother.
We find it ironic that you are named for the father of psychoanalysis, though you are referred to by his last name only—Freud. We have examined your life experience and parental legacy, as well as your brother's, and have come to some conclusions.
Thus might Mr. Ed, were he an equine psychologist, approach a session with the New York stallion Freud who, one might expect, would feel a bit put-out by the kudos heaped on his full brother, Giant's Causeway . Not that his brother isn't worth the praise but given their respective circumstances, it is quite appropriate at this point to lift the Rodney Dangerfield onus from his neck.
Let's start with the fact Freud is the most successful stallion to have entered stud in New York and stayed there by far. (Talc and Cormorant, the two who would come to mind as possible competitors for that title, actually moved to New York after entering stud elsewhere.) Standing at Sequel Stallions near Hudson, Freud has sired 49 stakes winners (seven of whom won graded events, two of whom won grade I races) in 13 Northern Hemisphere crops. That's good for 5% stakes winners from named foals. His Average Earnings Index of 1.60 is 25% higher than his Comparable AEI. In five crops conceived while shuttling to Argentina, he has sired six black-type winners and two champions.
By comparison, Giant's Causeway has sired 15 North American crops from his headquarters at Ashford Stud in Kentucky, of which 153 have won stakes (7.8% from foals, 85 of them graded stakes winners, including four champions). His AEI of 1.81 is 26.7% lower than his Comparable AEI—not unusual for a stallion whose vast majority of mares are quality achievers. His Southern Hemisphere stats are comparable, and include four champions from 29 stakes winners.
What is most remarkable is that these two sons of Storm Cat—Mariah's Storm, by Rahy, are almost peas in a pod biomechanically (not a common occurrence), with one exception which we shall get to. The 36 body measurements of each obtained at retirement were almost identical. Both computed as phenotypically well balanced in terms of stride, power, and body weight.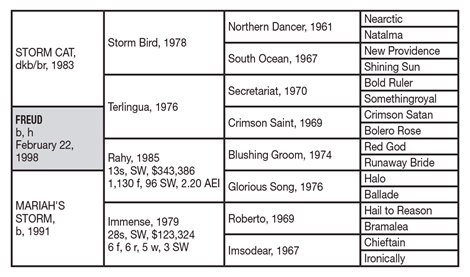 Their stallion profiles were quite similar on one of our tests, but another revealed that it was possible Freud might get a more precocious individual. An examination of the record shows this is probably true—but it is also important that the record be interpreted for circumstances and opportunity.
Freud's offspring tend to come to hand early and as a majority of them are eligible for the lucrative New York-bred program they have a substantial number of opportunities within a limited environment, especially in sprints and mile races. Not that the environment is to be denigrated. Freud has come along at precisely the time that New York-breds have become very serious contenders in graded races everywhere, and the myopia vanishes when his Southern Hemisphere record is examined.
Giant's Causeway, on the other hand…well, it really is another world in which he exists, a world in which his mates, as the indices show, are far higher in quality than those of other stallions. In addition, he is rarely considered a sire of precocity—if they come out as juveniles, it is likely a bit later than usual and at longer distances. And like his brother's offspring, they are adept at succeeding on all surfaces.
Retrospectively, it is not an overstatement to conjure that there hasn't been a couple of brothers to come along at the same time who were both biomechanically similar and successful as progenitors since Graustark and His Majesty over a half century ago.
So, you see, lad, you are in good company after all.