Nearly two years ago a yearling filly by Medaglia d'Oro carrying #28 on her hip was getting a great deal of action at the Hill 'n' Dale Sales Agency consignment on the sale grounds at Fasig-Tipton Saratoga. We thought she was an exceptional beauty, and her overall balance prompted us to analyze her biomechanically.
The analysis showed a filly with tremendous power through her gaskins, rear legs, hocks, and rear cannon—the versatile kind that can get a horse off to a fast start and build momentum during a race.
We also found, however, that she was a bit short in her back (apparent on sight) and when factored in with her overall length and height and front legs the projections showed some limitation in her extension, but would improve as she grew. Besides, she had a long humerus that would be useful in extending her reach and conserving her energy. Combined with a very good cardio score, the filly made our "best in sale" list and was the kind of horse you looked at in the ring as she brought $400,000 and thought to yourself, "Let's hope they give her a good name."
Well, Rick Porter did on behalf of his Fox Hill Farm, and Songbird it is.
But there was another factor we considered when analyzing this filly and that was her pedigree—or, at least what showed on the catalog page and what might lie deep behind that. As it turned out, what you see on the page is good, to a certain extent—there was only enough room for the first two dams. But if your brain can sniff out what you remember about the third dam Torsion Belle, whose four black-type horses appear as siblings to Songbird's second dam Beaty Sark (by Deputy Minister), a few bells might have started to ring.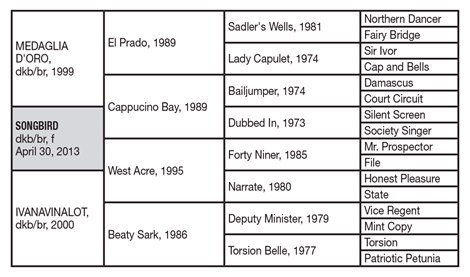 Not that there weren't bells and whistles on the page to begin with. Ivanavinalot, the cheekily named dam of Songbird, was a heck of a good racehorse, mostly at 2 when she won five of six races, including two of the three Florida Stallion Stakes for fillies. She came back at 3 to win the Bonnie Miss Stakes (gr. II) at Gulfstream and placed in two other graded events. She won six of 18 career starts and $647,300.
Her sire, West Acre, an unraced son of Forty Niner and a half brother to Preach, the dam of Pulpit, was given a shot at stud at Florida where he did quite well as a regional sire.
Beaty Sark established herself as a prodigious producer of fast stakes winners and passed it on to her daughters. However, there isn't any North American graded black type on that page other than Ivanavinalot. Nor is there any in the first-generation produce records of the next dam, Torsion Belle (by Torsion) or Patriotic Petunia (by National), though there is in Japan, Australia, and Italy.
However, it's the dam of that charmingly named Patriotic Petunia that catches the eye—Floral Park, a stakes-winning 1953 foal by Alibhai out of Flower Bed, by Beau Pere, out of Boudoir II. That makes her a full sister to Flower Bowl. There isn't much sniffing you have to do when you reach that point because the scent of racing memories is in the air from this family's accomplishments. They range from Flower Bowl's sons His Majesty and Graustark (both by Ribot) to her exceptional daughter Bowl of Flowers (by Sailor), whose presence herein provides somewhat of an historic peaceful garden ying to the yang we are now enjoying through the exploits of Songbird.