These are jaw-dropping times when it comes to reviewing major stakes results from Europe, and occasionally North America, because it seems that no matter the class level, Galileo is always there and usually as the sire of the winner. This has been going on for such a long time that it has entered into some cheeky minds that it's merely a five century-delayed cosmic revenge on the memory of what European religious leaders perpetrated on the namesake of the son of Sadler's Wells.
Though North America has not experienced a similar Galilean restoration, there is a suddenly emerging parallel plot involving another son of Sadler's Wells that may not be as obvious but that is getting to be just as potent. That would be the legacy of El Prado, whose impact in the first generation was very good as a sire of stakes winners, but who has emerged as a serious sire-line contender through two sons whose race records and stud accomplishments could not be more diverse.
We are talking about the major commercial sire Medaglia d'Oro , whose offspring love all surfaces, and the increasingly scorching Kitten's Joy , whose offspring have been rolling through the nation's turf courses like combines on high-test.
Our purpose is to examine what the late El Prado has added to the gene pool, and it's a cluster of genetic influences that were artfully synthesized by his dam, Lady Capulet, a daughter of Sir Ivor who bridged several generations of racing and breeding excellence on both sides of the Atlantic. Produced by the Tom Fool mare Cap and Bells, she entered life as a year-younger full sister to Sir Wimborne, who as a 2-year-old took the Curragh's National Stakes (Ire-II). A refined, well-balanced horse in the mold of Sir Ivor, Sir Wimborne became one of the first decent stallions in the modern day New York breeding program after retiring to stud at John Hettinger's Akindale Farm.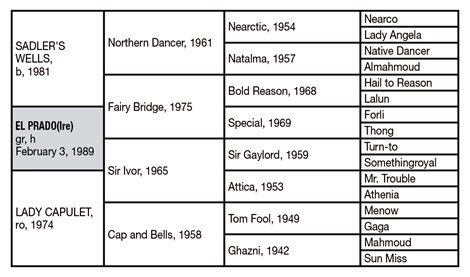 Cap and Bells also produced an undefeated racehorse and eventual very good sire in Drone, a gray son of Sir Ivor's sire Sir Gaylord who was considered a major classics contender until he (like his sire) broke down before the Kentucky Derby. Despite having never won a stakes in his four starts, Drone was retired to stud at breeder/owner Claiborne Farm where he proved their instincts right.
After being sold for $70,000 as a yearling at Keeneland's July sale in 1975 and shipped to Europe, Lady Capulet flattered her family form as a 3-year-old by winning the Irish One Thousand Guineas (Ire-I) and placing in both the Coronation Stakes (Eng-II) and Pretty Polly Stakes (Ire-II). That same year, Turkish Treasure, a daughter of Sir Ivor produced by Lady Capulet's half sister Turban (by Bagdad) won the Cherry Hinton Stakes (Eng-III) and Park Stakes (Ire-III). It would seem that the cross of Sir Gaylord/Sir Ivor on this family did quite well, indeed.
Three years after Lady Capulet was foaled, Cap and Bells produced her last foal, Mobcap (by Tom Rolfe), an unraced filly whose son Notebook became one of the first New York-breds of the modern era to win more than one graded stakes and later became a successful sire in Florida.
Retired to broodmare duty in Ireland, Lady Capulet produced three unsuccessful daughters before foaling Entitled, a son of Mill Reef who won the Tara Sires Desmond Stakes (Ire-III) and placed in the Airlie Coolmore Irish Two Thousand Guineas (Ire-I), Dunnes Stores St. Bernard Phoenix Championship Stakes (Ire-I), and Budweiser Irish Derby (Ire-I). Five years later El Prado (bred by Lyonstown Stud) came along and won four of his five starts at 2 in Ireland, including the National, which Sir Wimborne had taken, but since then had been elevated to a group I.
With racing credentials such as those and a powerful international family to boot close up in his pedigree, it was perhaps not so surprising he was given a chance at stud. At that task he succeeded so splendidly as to have set himself up as a potential centerpiece in any wing that might be created for illustrious Thoroughbreds in the museum from which he takes his name.