In honor of the timeworn cliché "half empty or half full," we present Kantharos, whose name translates from the ancient Greek to mean a two-handled pottery vessel usually filled with—and assumingly then emptied of—wine.
We first encountered this colt at the 2010 Ocala Breeders' Sales Co.'s March 2-year-old sale where he scooted to a :21 2/5 time for the quarter-mile, employing a 23.83-foot stride length that was about average for colts that day at a quarter-mile. Our slow-motion video analysis showed decent low-to-the-ground action with just a slight paddle in his left fore. He warranted a closer look and passed our physical inspection, earning good grades for both his cardio score and biomechanical properties that indicated a miler with very good tactical speed.
At the time, Lion Heart, a grade I winner at 2 (Hollywood Futurity) and 3 (Haskell Invitational Handicap), was a Tale of the Cat stallion on his way to a current total of 43 stakes winners from eight crops to race. Although Lion Heart was a sire of solid runners who could come to hand early and stay sound, he was never all that commercial and ended up in Turkey.
Kantharos' dam, Contessa Halo, by Argentine super sire Southern Halo, was a winner and had already produced grade III winner Ikigai (by Whywhywhy) and Bonifacio (by Even the Score), a stakes winner who was grade III-placed. She came from a versatile, hard-knocking but not exactly top-class family, with her dam by Conquistador Cielo, and the next two by Codex and Reviewer. Kantharos' combination of pedigree and an impressive breeze show performance attracted a bid of $250,000 for consignor Eddie Woods from Jess Jackson's Stonestreet Stables, which sent the colt to trainer Steve Asmussen at Churchill Downs.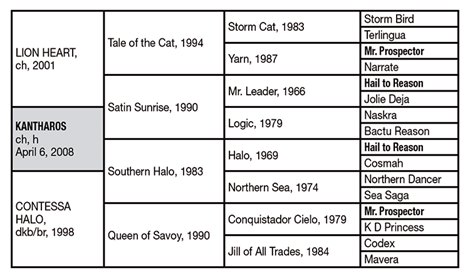 Asmussen turned Kantharos loose in a five-furlong maiden race May 13 in the slop at Churchill that the colt swept by 11 3/4 lengths. Kantharos came back at the same track in July to take the grade III Bashford Manor Stakes at six furlongs by 9 1/2 lengths, and six weeks later caught a muddy track in the grade II Saratoga Special Stakes at 6 1/2 furlongs and cruised to victory by 7 1/4 lengths. All of his times were good, and it looked like the cup was about to overflow.
And then he was gone from the track and the cup seemed empty.
Kantharos had shown enough to merit a shot at stud, and the colt was sent to Vinery Florida in 2011 to begin his stallion career at 3. We did another biomechanical analysis that showed Kantharos had decent potential of getting efficient runners from a variety of mares that also have been analyzed biomechanically.
When compared with all the other stallions that retired to Kentucky and several other states in 2011, we got a bit of a surprise. Kantharos came out on top on our weighted average projections in a very tight fit with a number of other pricier individuals. What surprised us most was that his predicted average earnings index (AEI) was higher than all the others. What did not surprise us was that he is similar in size and in scope to stallions that were more successful with sprinters or milers than middle-distance or two-turn specialists.
Five years later here he is, now the leading sire in Florida and ranked a close third on the third-crop sire list with half the runners of No. 1 Quality Road and No. 2 Munnings. His first good runner was Mr. Jordan, who won four of his first six starts, five of them stakes, one graded, and has shown an ability to get up to 1 1/16 miles. From that same crop is X Y Jet, who strung together five sprint wins before getting pipped by Muarrab in the Dubai Golden Shaheen Sponsored by Gulf News (UAE-I) March 26 on World Cup Day in Dubai. Katie's Kiss, also from the first crop (and owned by Stonestreet) has won and placed in stakes, and 12 of her 17 races have been at five furlongs.
The broodmare sires of these three (Cloud Hopping, Lost Soldier, Boston Harbor, respectively) are from completely different sire lines, and show this guy has some potency to mix it up. His current AEI is 44% higher than the Comparable Index of his mates, and his book this year is almost three times bigger than it was in his first year at stud.
That cup looks to be filling up again.