By Robert D. Fierro
In the weeks since our column's prognosticating how the freshman sires of 2016 reflected breed and market trends as exemplified in the Fasig-Tipton Florida March 2-year-old sale, that sale has come and gone as well as the Ocala Breeders' Sales Co.'s March venue. These two sales are arguably the ones that attract the higher-quality prospects. As such, the combined results present a decent opportunity to identify where horsemen and breeders might place their bets when it comes to this crop.
We forecast that the line-up would likely continue the trend of the A.P. Indy and Unbridled sire lines emerging as the more cohesive and dominant. The results so far, in terms of data we will detail below, prove that.
We approach this prognostication in three ways:
Of the more than two dozen stallions that retired to stud in 2013, about half a dozen have world-class pedigrees top and bottom. One, however, is by a superstar sire but has a paucity of stakes producers in his bottom line.

We use proprietary biomechanical programs that include physical measurements to project the potential of stallions to sire well-balanced racing machines. That same stallion referred to in the pedigree paragraph with the super sire and weak family came out on top by this test.

The final test are the under tack results from 2-year-old sales. We use digital video programs to establish a proprietary speed figure called BreezeFigs™ as well as stride lengths and other factors. The results show six freshman sires that are clustered in several of those categories, with another just missing the boat. Six of those seven are pedigreed to the nines, but the one who finished on top was that same stallion who came up on top in every other test.
That would be Hansen…who, of course, is no longer with us, having been sold to Korea after siring only one U.S. crop. Judging by how they looked at Gulfstream and Ocala, the seven by Hansen left little doubt that he will help establish Tapit as an emerging sire-of-sires. We believe he has an excellent chance of topping the freshman chart by winners and may top the progeny earnings charts as well.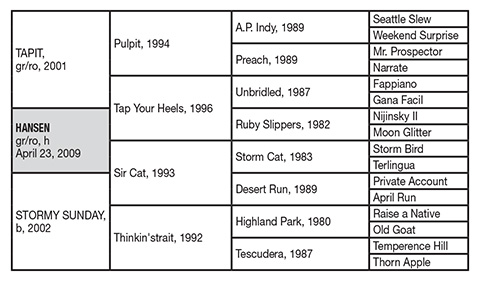 On the other end of the scale, but in keeping with the surge in fortunes of "anything Tapit," the 10 by his son Tapizar showed good speed and good action to indicate they may have more scope than the Hansens to get the job done around two turns—but Tapizar is more likely to challenge for leading second-crop sire next year rather than leading freshman sire this year.
If Hansen doesn't come through, both The Factor and Bodemeister have better-than-even shots at taking the freshman sire prize. The 14 by The Factor gave every indication they will be precocious, but they may also be limited in scope to his own aptitude, which was as a seven- to eight-furlong specialist. Though some might expect more from a son of the turf specialist War Front, one can't complain about having good milers in the barn.
Bodemeister showed a bit more flexibility in his 18 representatives. This is a hallmark of his sire, Empire Maker , who is imparting a somewhat split aptitude with power to gain early positioning and cruising mechanics to maintain momentum. If the Bodemeisters have his guts, they will be tough
to handle.
The final two of the six that stood out are Gemologist (by Tiznow ) and Union Rags (by Dixie Union) who topped the charts in numbers that breezed—19 and 23, respectively. These two are big horses, and they tend to show the same in their offspring, but with different biomechanical profiles.
The Gemologists will need some time to gather themselves, it appears, and they are long-striding beasts—but they are also big; so they'd better have long strides. Union Rags, on the other hand, is getting a lot of look-a-likes that are very powerful but a bit closer coupled. They are also quite mixed as to type and may take a while to settle in.
These six look like they will continue to dominate the next three sales although more regional freshmen will be showing up in Ocala and in Maryland. The one who has all the pedigree but just missed cracking the top half-dozen may also have more coming out. That would be Algorithms , a son of Bernardini with a superior pedigree whose seven at the first two sales showed that they may benefit from waiting on them.