By Robert D. Fierro
Regardless of the other contenders for the classics to emerge from this weekend's stakes, we have a unique opportunity to examine both the completely opposite pedigree patterns and remarkably similar biomechanical structures of the three leading candidates. They would be the 2015 Eclipse Award champion 2-year-olds Nyquist and Songbird, and the generally agreed upon current favorite for the Kentucky Derby Presented by Yum! Brands (gr. I), Mohaymen .
On one hand, you have three completely different sire lines in play.
Nyquist is by the upstart leading 2015 freshman sire (and leading sire of 2-year-olds), Uncle Mo , whose own sire Indian Charlie was a bit of an upstart on the track and in the breeding shed, having single-handedly preserved the speed-orientated Grey Sovereign branch of Nasrullah through his sire, In Excess, a grandson of the flexible Caro.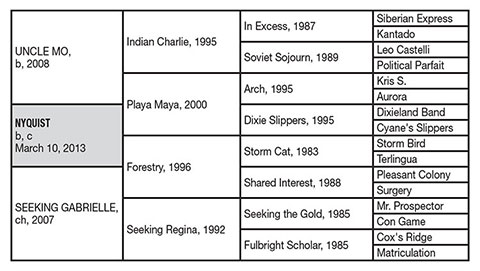 Songbird is by one of only two serious representatives of the Sadler's Wells line in North America, Medaglia d'Oro , whose sire El Prado is also sire of the other serious one, Kitten's Joy . Both are now trying to establish their own branches.
Mohaymen, on the other hand, is by the current all-conquering, ubiquitous Tapit , whose branch of A.P. Indy (through the latter's son Pulpit) is flooding the market through a wide variety of sons whose first foals are about ready to run, if not run wild.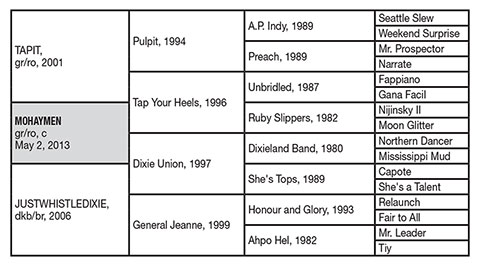 At first glance, these three have very respectable catalog-style pages to please those interested in quality up close. Nyquist's dam, Seeking Gabrielle, was a modest winner, but she is out of grade II-winning sprinter Seeking Regina and is a half sister to grade III-winning sprinter/miler Seeking the Sky, who produced Metropolitan Handicap (gr. I) winner Sahara Sky.
Songbird was produced by Ivanavinalot, certainly the best runner by her sire, West Acre (by Forty Niner), and though the second dam, Beaty Sark, generated a lot of black type to fill a page, at first glance it's not as classy as one might want in such a quality racehorse. However, dig a little deeper and this family traces right back to Boudoir II, a 1938 foal by Mahmoud who established the family that produced Graustark, His Majesty, Your Host, and Bowl of Flowers. Neat.
Mohaymen, on the other hand, was produced by multiple grade II winner Justwhistledixie (by Dixie Union) who'd already produced Breeders' Cup Juvenile (gr. I) winner New Year's Day (by Street Cry), who was steady but not sturdy. On the page appears the third dam, the nifty producer Ahpo Hel, by Mr. Leader, whose heritage through her granddam, Leix (by Turn-to), traces to Bold Irish, a 1948 foal by Fighting Fox who produced Shenanigans, dam of Ruffian and Icecapade.
That's a wide cross-section of sires and female families that somehow passed on physical properties over the generations so that our three specimens came out almost exactly alike. Each of them has a much longer than average stride length: Nyquist (25.4 feet at the Fasig-Tipton Florida March sale last year and 25 feet in the San Vicente Stakes, gr. II); Songbird (24.4 feet in the Santa Ysabel Stakes, gr. III); Mohaymen (25.125 in the Xpressbet.com Fountain of Youth Stakes, gr. II). Each has a solid cardio (Ejection Fraction) profile.
But what is really remarkable is the way they are built. Except for Nyquist, who is a bit short in his front legs (giving him a downhill trajectory) and who doesn't quite have the leverage through his hocks as the other two, all three have exceptional power through their quarters that are geared for quickening. Each has a short tibia, which is a hallmark of that function, especially for the turf.
Watch how Nyquist holds back and then quickens around the turn and starts rolling downhill; watch how Songbird quickens out of the gate to insurmountable leads at will early on; watch how Mohaymen starts to power up at the three-eighths pole and then sprints off after changing leads. It is very rare to see such a similar biomechanical structure in horses that are top contenders in this country for the classics. Connections of nice turf horses should be thankful these three will probably stay on the dirt.