By Charlie McCarthy
Living a dream doesn't just happen. It usually requires a combination of happenstance, hard work, good fortune, and resilience.
Kiaran McLaughlin's story is no different. Plot twists have included working for a Hall of Fame trainer, traveling half-way across the globe to resume a career, and battling multiple sclerosis.
For the 55-year-old son of Irish immigrants, the journey has been well worth it. Today he has such outstanding horses as TwinSpires.com Wood Memorial (gr. I) winner Frosted , who recently won his first outing in Dubai as a 4-year-old and is gearing up for a run in the Dubai World Cup (UAE-I); and the undefeated 3-year-old Mohaymen , on top of many lists for this year's Kentucky Derby Presented by Yum! Brands (gr. I).
ANGST: Easy Win for Frosted in First Meydan Start
"In seventh grade I wrote a paper, 'What do you want to be when you grow up?' " McLaughlin said recently on a rainy morning at Palm Meadows Training Center near Boynton Beach, Fla. "I wrote that I wanted to be a horse trainer like Charlie Whittingham. I didn't know Wayne Lukas then, 'cause he hadn't been in the (Kentucky) Derby.
"So, I really am living my dream."
McLaughlin unknowingly began down his career path as a 9-year-old when he met Greg Burchell on the south side of Lexington. They went to school together. Played Little League baseball together. And later, went to work for Greg's dad Jim, who traded in a career as an insurance salesman for life as a Thoroughbred trainer.
"My dad became a trainer when we were 13, so we started going to Ellis Park during the summertime when we weren't around Keeneland," said Greg Burchell, who then added with a laugh, "We'd skip school, hitchhike to Keeneland, and try to get a show parlay or something going."
Having graduated high school, McLaughlin briefly attended the University of Kentucky while Burchell followed his father to Hot Springs, Ark.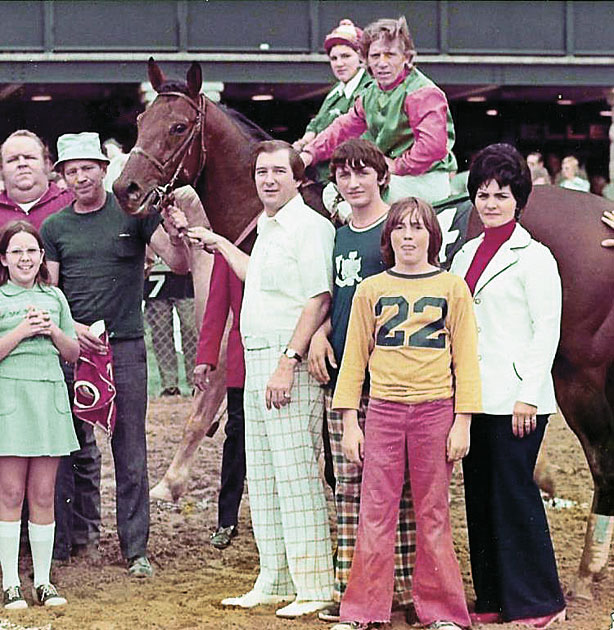 "Lexington is about University of Kentucky basketball and horse racing, and I wasn't good enough to be a basketball player," said McLaughlin, who then made a reference to the Wildcats' basketball program that has seen talented players bolt early for the pros. "I was one and done before (coach John) Calipari made it fashionable."
He left Lexington to join the Burchells and embark on life as a horseman. While working at Churchill Downs, McLaughlin set his eyes on a special filly—Letty Hennig, daughter of a trainer and Kiaran's wife for the past 32 years.
McLaughlin then went to work for future father-in-law John Hennig, for whom he advanced from walking horses to foreman to assistant. He also worked for trainers such as Mark Casse, Tim Muckler, and Dave Kassen.
All fine men, indeed, though eventually McLaughlin received an offer he couldn't refuse.
"I met Wayne Lukas in Chicago. He came into Tim Muckler's barn," said McLaughlin, who was in South Florida when offered a job by the man called "Coach."
"My wife and I drove all the way to California to work for him in February 1985."
As a foreman for D. Wayne Lukas at Santa Anita Park and then Hollywood Park, McLaughlin worked for the boss and the trainer's son, Jeff.
"Wayne told me, 'As long as you can get up every day, you'll be fine,' " McLaughlin recalled. "I did oversleep one day—the alarm didn't go off. It was a plug-in and the electricity went out. I was only 20 minutes late, but you didn't want to do it a second time. So, I went out and got three alarms."
When Jeff Lukas went to New York in the summer, Kiaran moved up to assistant trainer.
At the time McLaughlin joined Team Lukas, the Hall of Famer had secured just one of his 14 Triple Crown victories—Codex in the 1980 Preakness Stakes (gr. I). During Kiaran's seven years with Lukas, there was another when Tank's Prospect won the 1985 Preakness.
"I never had any trouble with Wayne," McLaughlin said. "Seven years, he was great to work for. He was a great coach, a great teacher, and a mentor on and off the racetrack. My wife and I were very young. It was a great time in life to go to work for him. It was a great education."
McLaughlin, himself, helped tutor others while with Lukas.
"Kiaran's a terrific guy, a great guy to learn from, a great communicator," said trainer Todd Pletcher, who spent four years working with McLaughlin. "I think I learned a lot about how to deal with people. He has great people skills. I learned how to deal with Wayne and Jeff—a lot of that I learned through Kiaran. He's got a great personality. Just a good guy."
After the birth of daughter Erin in 1991, McLaughlin began entertaining a more normal work schedule. A year later he received two job offers within a two-week span.
"Someone said they wanted to hire me as a semi-private trainer. I wanted to do it; I loved the opportunity," he said. "Then that fizzled out because the guy changed his mind, didn't have enough cash flow, or enough horses.
"Then (jockey) Chris Antley asked me to take his book. He offered me 30%—most agents get 20 to 30%. It was a big payday. I just had my daughter, and I was thinking instead of all this moving around maybe I could stay put."
McLaughlin became Antley's agent for a year and a half but realized he missed his dream job.
Enter Helen Alexander, owner of Middlebrook Farm near Lexington. John Hennig has been breaking her horses for nearly 30 years.
"I had dinner with Helen Alexander, and I asked her if she still had any involvement with Sheikh Mohammed," McLaughlin remembered. "She said, 'Yes, they're always looking for Kentucky Derby horses. Maybe you can help find a Derby horse for them?'
"I said, what about a trainer? She said, 'Aren't you happy doing what you're doing?' I said, "I'm happy, but I miss the training.' "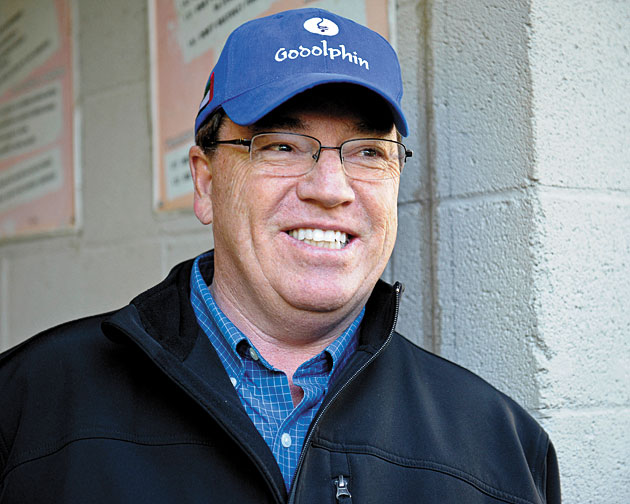 Kiaran and Letty were familiar with the Maktoum family, but knowledge of Dubai? Not so much.
"I said, 'Where the hell is Dubai?' " Kiaran said with a laugh. "I said I'd go to the North Pole for the Maktoum family."
In the pre-Google era, the McLaughlins discovered by visiting the library that Dubai was located on the Persian Gulf coast of the United Arab Emirates.
"I just remember there wasn't the Internet like there is now," Letty McLaughlin said. "We were going to the library, studying up on it. It seemed so far away, especially since I was pregnant at the time."
Any fears were assuaged knowing that Dubai was fairly Westernized. The children, Erin and brother Ryan, attended American schools, the family belonged to a beach club, went to the movies, and Kiaran played golf and fished.
"It would be like Miami but with no taxes and no crime," Kiaran said of Dubai. "It's very safe. I watched Dubai go from just sand to all the modern buildings, even the tallest building in the world. We had no negatives in Dubai. If I said we're going to relocate there next year, my wife and children would all be happy to go back. They loved it."
And the best part, McLaughlin knew he would have quality Thoroughbreds to train. He brought six people with him—younger brother Neal, exercise riders, and Art Magnuson, who was his assistant for 22 years until last September.
"They could trust me and I could trust them," the trainer said.
For 10 years the McLaughlins took the 14-hour flight to Dubai in November/December and returned to New York in April.
"You think about how long the trip is for yourself, but I still can't even think about how I did it so many times, back and forth, with two little kids," Letty McLaughlin said. "You're in business class trying to keep them quiet. And with no iPad!"
A desire to be closer to family—especially his parents and his six siblings—prompted Kiaran and family to move back to the U.S. full-time in 2003.
"My daughter was in middle school and it just felt like a choice to stay in Dubai or come back to America," he said. "My first job in life is to be a parent. My wife and I made that decision, and it was a hard decision. It just worked out great because the Maktoums have continued to support me."
Sheikh Mohammed, prime minister of the UAE and Emir of Dubai, owns Godolphin and Darley. His brother, Sheikh Hamdan, owns Shadwell Stables and the Shadwell Estate Co.
"The best job in the world," McLaughlin said of being employed by his two primary clients. "They're great to work for because they're both great horsemen, and they understand the game so well."
The respect is mutual.
"Sheikh Hamdan just absolutely loves Kiaran," said Rick Nichols, Shadwell Stables' vice president and general manager. "He's been so loyal, so honest, and such a good horseman."
While at home in Garden City, N.Y., one evening in late 1998, McLaughlin's life changed permanently. A neck pain that forced a middle-of-the-night trip to the hospital eventually resulted in Kiaran's being diagnosed with MS.
Immediately upon getting the news, he spent a month on the couch with depression. He snapped out of it by returning to Dubai that winter but then suffered a major attack in early 1999. He spent time in a wheelchair and began taking daily injections for 15 years. Those shots gave way to monthly infusions in late 2014.
"I actually asked the Man upstairs for five good years thinking I could save, get the mortgage payment down, and have the money for college funds," McLaughlin said. "I'm on my fourth five-year contract."
Already widely respected and admired within the racing world, how he's fought the battle with MS hasn't gone unnoticed.
"You could call it 'grace under fire,' " Alexander said. "He just doesn't let it get him down. He keeps pushing forward."
"I'm sure being a trainer is a struggle—stressful, up early, long days," Nichols said, "but to do it with multiple sclerosis just tells you what kind of heart the man's got."
McLaughlin's banner year as a trainer so far came in 2006, when Invasor won the Breeders' Cup Classic Powered by Dodge (gr. I) en route to being named Horse of the Year, and Jazil captured the Belmont Stakes (gr. I). Invasor also won the 2007 Dubai World Cup.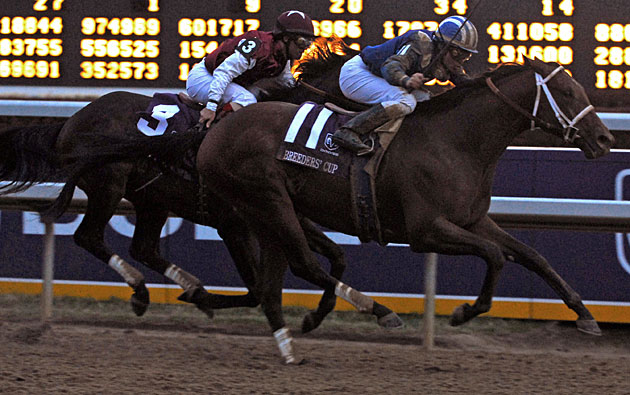 Today, Mohaymen gives McLaughlin and Shadwell Racing reason to think this year also will be especially gratifying. Still, the trainer and his team understand nothing is guaranteed. Just two years ago Cairo Prince was an early favorite for the Kentucky Derby after winning the Holy Bull Stakes (gr. II) but was retired due to injury after finishing fourth in the Besilu Stables Florida Derby (gr. I).
"Out of 25,000 foals, you have 20 who get there," McLaughlin said. "We're lucky that we're dealing with quality animals who are well-bred, and excellent owners who provide us with the horses.
"You still have to get lucky with post positions, racetracks, trips, but he's doing very well and we hope he continues to run and be undefeated."
More than 30 years after forming a friendship, McLaughlin and Greg Burchell are hoping to enjoy a special Kentucky Derby this year.
Mohaymen rates as the East Coast's top Derby contender after winning the Holy Bull Jan. 30 at Gulfstream Park. He has won all four starts, including grade II victories in the Nashua and Remsen stakes.
BALAN: Fountain of Youth Mohaymen's 'Toughest' Test
Late last year Burchell thought he also had a horse that might find the Triple Crown trail.
Sticksstatelydude, a son of First Dude , was headed to the Sentient Jet Breeders' Cup Juvenile (gr. I) until being withdrawn due to injury.
"I actually told Kiaran if that colt of mine got to that point where he was gonna make it to the Triple Crown (races)," Burchell said, "Kiaran was going to train him. I consider myself a world-class horseman, but he's a world-class trainer. So when you get to those games, you want the best guy coaching."
Instead, Burchell plans to be working the Kentucky Derby starting gate for the 20th straight year.
"I told Kiaran I would work the starting gate until one of us wins it," Burchell said. "I just hope and pray that the horse stays healthy and we get there on the first Saturday in May. That way I can retire from the starting gate. I'm getting a little too old to be climbing up in there."