By Robert D. Fierro
Guess what's coming up on the calendar in another two weeks. That's right, the first sale for 2-year-olds in training, at Gulfstream Park, where Fasig-Tipton will roll out a bit fewer, no doubt, than the 151 selected juveniles it has cataloged for its March 2 venue that follows a one-day breeze show Feb. 29, Leap Year Day.
Whether you attach any superstitions to that date, there are some interesting discoveries the catalog presents that buyers might want to keep in mind, and most of them involve the freshman class of 2016—sires with their first 2-year-olds. Of the approximately 30 of these young stallions scattered across the land, 14 of them will have at least one in the Fasig-Tipton sale—22.6% of the 62 stallions that have offspring cataloged.
Even though one of the axioms of 2-year-old sales is that pedigree means much less than performance, i.e., time of a horse's breeze, it would pay to delve a bit into where this crop of sires comes from, and how that reflects on the way the breed has developed in the 21st century.
Six of those stallions are male-line descendants of A.P. Indy. Astrology is a son, two are byBernardini (Algorithms and Stay Thirsty ), one by Mineshaft (Dialed In ), two by grandson Tapit (Hansen and Tapizar ). That's about half the freshman sires in the book.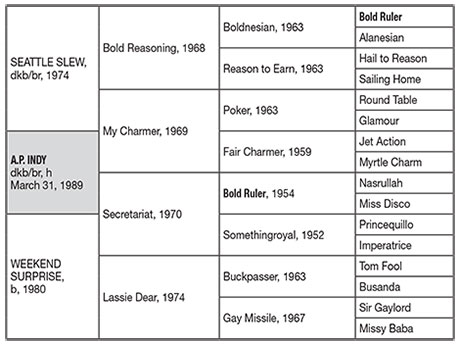 One of the others, Union Rags (by Dixie Union), has seven cataloged while two other freshmen sires have six in the sale: Bodemeister (by Empire Maker ) and The Factor (by War Front , who has one himself). The other freshmen are Gemologist (by Tiznow ) with three; Shackleford (by Forestry) with two; and one each for Creative Cause (by Giant's Causeway ), Maclean's Music (by Distorted Humor ), and Mission Impazible (by Unbridled's Song).
Taken as a whole, the class of 2016 appears to be somewhat varied in sire lines and racing experience, but what really stands out is this: If you include them among the 62 stallions represented in the book—that tells a tale that might rock a few concepts about sire lines in the 21st century. That's because 38 of the 151 entries (25%) are from the A.P. Indy sire line; 20 (13%) are from the Unbridled line; and 20 (13%) are from the Storm Cat line. That's better than 50% of the catalog tied up in three sire lines.However, the Storm Cat line is really a misnomer as he is represented by five branches; for example, 11 of these juvenile are either sons of Harlan's Holiday or his son Into Mischief . Except for Discreet Cat and Shackleford , who are by Forestry, they really aren't what would come to mind when defining what a Storm Cat is.
However, all of the A.P. Indy- and Unbridled-line stallions sharply represent their founders and tell us that these two are the dominant lines right now and may continue in the future. As such, they are in position to define functionality, or aptitude, generation to generation.
This is a critical fact that was expounded upon by Dr. Franco Varola in his groundbreaking books, The Typology of the Racehorse (1974) and The Functional Development of the Thoroughbred (1980). However, it is often overlooked in our "snapshot era" by the desire to set criteria for various pedigree affinities and goes against fundamental concepts of how the Thoroughbred has developed as a distinctive breed.
The bottom line in this freshman crop, then, is that the past may be past, but much of the best of it looks to be the immediate future. We will examine this further in our next installment in two weeks.