By Robert D. Fierro
In our previous column we used the catalog of the first 2-year-old sale of the year to postulate that when it comes to today's effective sire lines that are likely to keep or expand their influence in the foreseeable future, the signs all point to A.P. Indy and Unbridled.
We hypothesized this conclusion by drawing attention to the high percentage of freshman sires of 2016 from those two lines that are present in the Fasig-Tipton sale at Gulfstream this week, along with the overall profile of all of the other stallions in the catalog. This opinion is not meant to minimize the effectiveness of the other stallions or sire lines represented in the catalog but is drawn from the sometimes overlooked link between pedigree and functionality, which was synthesized more than 40 years ago by Dr. Franco Varola.
In his books The Typology of the Racehorse (1974) and The Functional Development of the Thoroughbred (1980), Varola blended the study of bloodlines with the functionality of performance of stallion progeny to give birth to the dosage system. That system has come down to us these days in what is perhaps an obsolete expression of functionality in the guise of simple indices. As we stated last time, it is often overlooked in our "snapshot era" that the desire to develop data sets for various pedigree affinities goes against fundamental concepts of how the Thoroughbred has developed as a distinctive breed—and that's coming from a guy whose business functionality is to develop data sets.
No one ever said this game was not ironic.
Back on point: All of the A.P. Indy and Unbridled-line stallions represented in the catalog (and therefore reflecting the breed at this time) sharply represent their founders and as such, define functionality, or aptitude, generation to generation, to wit:
A.P. Indy's functionality as a racehorse and sire is defined by his sire and his maternal grandsire, Seattle Slew and Secretariat, respectively—arguably the two most charismatic and accomplished racehorses of the 1970s. Seattle Slew gave him the speed needed to gain position and to allow him to sire Pulpit, who resembled his maternal grandsire Mr. Prospector, more than his sire in form and function—and continued to do so in the breeding shed, primarily through Sky Mesa and Tapit . (That Myrtlewood was the fifth and fourth dam, respectively, of Seattle Slew and Mr. Prospector brings much of this into clearer focus, n'est ce pas?)
A.P. Indy's other sons, such as Bernardini , Malibu Moon , full brothers Congrats and Flatter , and his grandson First Dude, are more expressive of Secretariat—stalkers who roll you over rather than pounce.
The one consistency this line seems to produce is average-sized horses, i.e., the type that has long dominated the breed despite occasional first-generation outliers who shake it up (e.g., polar-opposites in size Northern Dancer and Dynaformer). Lesson: All species must survive through those individuals that can pass on consistency of type through more than one generation.
Unbridled, on the other hand, was the product of a rather atypical son of Mr. Prospector in Fappiano, whose size and length and driving power came from his broodmare sire, Dr. Fager. Unbridled's dam was by a very sizable galloper in Le Fabuleux who rarely, if ever, was found in the pedigrees of the diminutive.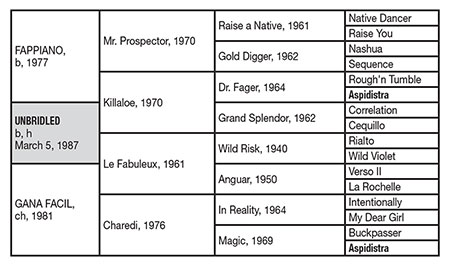 Through his sons Empire Maker and Unbridled's Song, Unbridled has consistently supplied the demand of many horsemen for larger and, therefore, but not necessarily, stronger individuals who would be able to run the more average-sized competition into the ground. Ironically, that has been accomplished through distance specialist Empire Maker, whose sons include early-maturing Pioneerof the Nile , fast miler-type Bodemeister , as well as many sons of Unbridled's Song, whose progeny's functions are much more diverse, until, of course, they meet up with the A.P. Indy crowd. And that, dear reader, is horse racing.