Sometimes it's the intangibles that draw a person to a horse; characteristics that can't be found in their pedigree page, or in the perfect slope of their shoulder.
Such was the case when Annette Bacola laid on eyes on a yearling filly from the first crop of grade I winner First Dude at the 2014 Fasig-Tipton Select Sale in Saratoga Springs, N.Y.
"Her conformation was great and her pedigree was good, but I was really drawn to her attitude," said Bacola, who owns the 3-year-old filly with her husband, Bob Cummings, and races her in the name of their Coffee Pot Stables. "She seemed relaxed, composed, and in charge. The auctions are really stressful on young fillies and when you see a filly that had that composure, it really stands out."
Coffee Pot Stables acquired Donald Dizney's Florida-bred filly, whose dam Aidan, a daughter of Dixieland Band, won one race in 11 career starts, for earnings of $87,000.
Already a two-time stakes winner with earnings topping $400,000, Flora Dora has proven to be quite the bargain. By winning the Busanda Stakes at Aqueduct Racetrack Jan. 31, the filly earned 10 qualifying points for the $1 million Longines Kentucky Oaks (gr. I) May 6, a race her connections are keen to target. Flora Dora's next step in reaching that goal is the $125,000 Busher Stakes at Aqueduct Feb. 27. The Busher carries points worth 50-20-10-5 to the top four finishers on the Road to the Kentucky Oaks.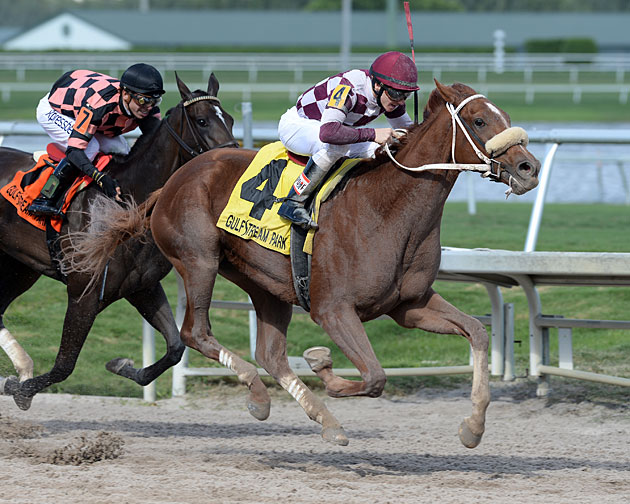 Marialice Coffey, Flora Dora's trainer, earned the first stakes win of her 23-year career when the filly kicked in late to win the Busanda by a length. It was Flora Dora's second stakes score, following her upset in the $500,000 Florida Sire My Dear Girl Stakes at Gulfstream Park in October.
The composure that Bacola first detected in Flora Dora as a yearling stayed with the filly when she was introduced to the rigors of racetrack life, and was key in her connections' decision to ship the maiden to Florida for a stakes in just her second career start.
"She always been poised—that's why we took the trip to Florida," said Coffey, who is the private trainer for Coffee Pot's division of approximately nine horses currently stabled at Belmont Park. "I've never seen such a laid-back 2-year-old. She was a 5-year-old in a 2-year-old's body. We shipped her by van to Florida for her second start. There wouldn't be another horse that I would have tried that with. She went into a big, open-boxed stall, and she was like, 'Ok. What do you want to do next?' She's just one of those horses who takes it all in and focuses on what the job is."
It was a brainstorming session between Bacola and her husband that led to Flora Dora's name.
My dad used to work for Flora Bernice Smith in Syracuse—her family (invented) Smith Corona typewriters—and I always wanted to name a horse after her," Bacola explained. "Flora Dora is also a Royal Doulton china pattern, and I collect antique china. There were a few different elements to her name, and they all converged. We thought it had a nice ring to it."
What definitely has a pleasant sound to it, Bacola said, is having a starter in the Kentucky Oaks. She and her husband have bred and owned horses since the 1990s, but never had a starter in the Oaks. Last year Carpe Diem , who they bred and sold as a yearling, finished 10th in the Kentucky Derby Presented by Yum! Brands (gr. I). Carpe Diem was their first grade I winner as breeders.
"We would love to see Flora Dora run in the Oaks," Bacola said. "This is very exciting for us. We're a family operation and we are small, and the horses are all like our family, whether we bred them or not."
Coffey admits to first thinking about the Oaks after Flora Dora's initial stakes win. The trainer is confident the filly will relish the 1 1/8-mile distance of the Oaks. Coffey, however, is trying to keep her feet on the ground, and not get ahead of herself.
"I try not to think about big things like that... but she's the kind of filly that might get us there," the trainer said.