To fans enthralled by American Pharoah's heroics in the 2015 Triple Crown series, it would seem nearly unthinkable that a Triple Crown winner should not be hailed as a superhorse. But when Rock Sand swept the English Triple Crown series in 1903, many thought him lucky not to have faced Zinfandel, a colt who gave his backers' opinions credence after beating Rock Sand soundly in the 1904 Coronation Cup over the Derby Stakes course and distance.
The critics were not much kinder to Rock Sand as a stallion, and if he is judged purely on his sire rankings, he was only a moderate success. But if judged on what he accomplished in spite of small numbers and difficult circumstances, his early death at the age of 14 was a great loss to the Thoroughbred.
Rock Sand entered stud in England in April 1905 and was sold to August Belmont II in 1906. He left 22 named foals in England including Liverpool Cup winner Coastwise and Newbury Spring Cup winner Rochester, a horse with some influence on steeplechase and warmblood breeding.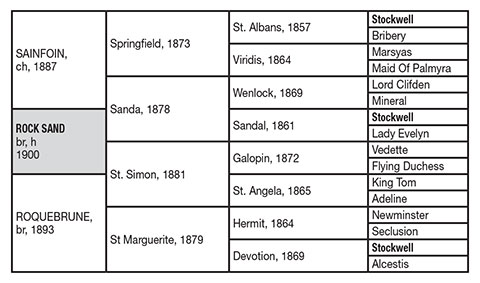 At Belmont's Nursery Stud in Kentucky, Rock Sand was competing for Belmont's mares with Hastings, already a leading sire; Octagon, sire of Belmont's brilliant filly Beldame; and Henry of Navarre, one of the greatest American runners of the 1890s. He had little access to mares owned by other breeders, and his opportunities to get winners were further reduced by Belmont's policy of racing his fillies little or not at all. Those daughters that did race proved as able as his colts, with Qu'elle Est Belle II winning the 1912 Prix de Diane (French Oaks) and Malachite winning the 1916 Alabama Stakes.
Rock Sand sired 1912 English champion 3-year-old male Tracery, 1916 American champion 3-year-old male Friar Rock, and 1913 American champion 3-year-old male Rock View. The first two proved influential sires. Tracery sired 1923 Epsom Derby Stakes winner Papyrus, the broodmare sire of Princequillo, and is the paternal grandsire of the great Argentine sire and sire of sires Congreve. Tracery also sired 1924 Goodwood Cup winner Teresina, dam of the fine American-based stallion Alibhai, and the great steeplechase sire Cottage. As for Friar Rock, he sired Pilate, whose son Eight Thirty was a notable sire and broodmare sire. Friar Rock also sired several important broodmares, including Friar's Carse. The champion juvenile filly of 1925, Friar's Carse produced War Relic, the son of Man o' War who continued the great horse's male line.
Produced from Rock Sand's daughter Mahubah, Man o' War was a result of the famous nick between Belmont's stallion Fair Play and the daughters and granddaughters of Rock Sand. Of Fair Play's 81 foals bred on these lines, 25 became stakes winners (30.8%). Besides Man o' War, the cross produced champions Chance Play (a two-time leading sire) and Mad Hatter, Belmont Stakes winners Chance Shot and Mad Play, 1932 leading sire Chatterton, and Coaching Club American Oaks winner How Fair.
Rock Sand's daughters did well when bred to other sires as well. They include the aforementioned Malachite, third dam of Count Fleet; Hour Glass II, dam of 1917 American co-champion 3-year-old male Hourless and second dam of both 1933 Belmont Stakes winner Hurryoff and Unbreakable, grandsire of the great Native Dancer; Epine Blanche, dam of multiple French champion Epinard; Sun Queen, dam of 1925 Preakness Stakes winner Coventry; and Needle Rock, dam of 1930 English Two Thousand Guineas winner and three-time Japanese champion sire Diolite. Rock Sand also got the useful sires Vulcain and Trap Rock as well as 1916 Preakness Stakes winner Damrosch.
Rock Sand's tenure in Nursery Stud was not a long one. Following the 1912 breeding season, Belmont sold the stallion to a French syndicate, and Rock Sand stood in France for two seasons before dying July 20, 1914. The foals he left behind in France had limited opportunities to show their merit due to the ravages wrought by World War I, but they included the aforementioned Needle Rock. It seems fair to say that while the times he lived in were not kind to Rock Sand, his merits have withstood the test of time nonetheless.