By Anne Peters
The unpredictable nature of this business is illustrated by Colonel John, a top-class runner whose fee dropped to $7,500 for 2016 and suddenly has a pair of colts on the Derby Trail. He could be one of the best comeback stories of the year.
Colonel John is by Tiznow , a tremendous sire with 64 stakes winners, including 13 grade I winners. A tall, ruggedly handsome horse, Tiznow tends to throw his own type, and Colonel John fits that mold. Also a robust 16.3 hands, he's even better-looking than his sire, with loads of quality.
Some of this refinement must come from his dam, Sweet Damsel, a daughter of champion Turkoman, out of the stakes winner Grande Dame by Zen. Turkoman has been a better broodmare sire than sire and besides Colonel John, he's also the dam's sire of Point Given and Hard Spun . The year after producing Colonel John, Sweet Damsel had another Tiznow colt, Mr. Hot Stuff, who ran third in the Sham Stakes (gr. III) and Santa Anita Derby (gr. I) before becoming a top-flight steeplechaser (winner of the A.P. Smithwick Memorial Steeplechase Stakes, NSA-I, and the Temple Gwathmey Hurdle Handicap, NSA-III).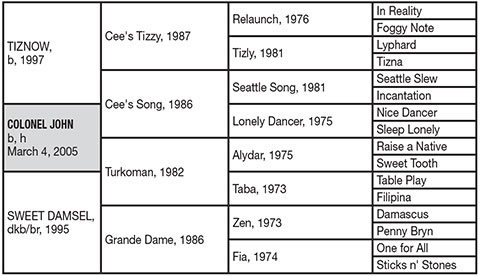 Bred and raced by WinStar Farm, Colonel John was good enough at 2 to win the Real Quiet Stakes and run second to Into Mischief in the CashCall Futurity (gr. I). The next spring he won the Sham Stakes and the Santa Anita Derby, but in the Kentucky Derby Presented by Yum! Brands (gr. I), he got stuck in traffic to finish sixth behind Big Brown. Running third in the Swaps Stakes (gr. II), he then won the 10-furlong Travers Stakes (gr. I) at Saratoga. Few races have been as good a predictor of sire success in recent years as the Travers.
In the Breeders' Cup Classic (gr. I) at Santa Anita Park, Colonel John was sixth behind Raven's Pass and then fourth in the Malibu Stakes (gr. I). He scored in the Wickerr Stakes on turf in his 4-year-old debut, then was fifth in the Pacific Classic Stakes (gr. I), second in the Goodwood Stakes (gr. I), and fifth in Zenyatta's Breeders' Cup Classic (gr. I).
Colonel John retired to stud at WinStar in 2010 at a fee of $15,000 and his first yearlings averaged a strong $83,419. His first 2-year-olds included the filly Concave, winner of the Sorrento Stakes (gr. II). That was encouraging, but he had no big colt winners, so his second batch of yearlings slipped to $62,072. In 2014 he had two more stakes winners from that first crop, the filly Southern Honey (gr. III) and gelding Here's Johnny, but Concave didn't come back and there were still no big colts to spur the market. His yearling average dropped and his 2015 fee dipped to $10,000.
Going into the 2015 yearling sales, Colonel John had a glimmer of hope, as his juvenile son Cocked and Loaded won the Tremont Stakes in June and the Iroquois Stakes (gr. III) during the Keeneland September yearling sales. At the Keeneland October meet his 2-year-old son Airoforce dominated the Dixiana Bourbon Stakes (gr. IIIT), then ran second, beaten a neck, in the Breeders' Cup Juvenile Turf (gr. IT). Airoforce ended his year with a win in the Kentucky Jockey Club Stakes (gr. II) on the dirt at Churchill to show he was Derby material. A third juvenile colt, Little Nick V., won the Juvenile Turf Stakes at Gulfstream Park West in November. By then, however, Colonel John's yearlings averaged just $21,207.
WinStar responded by dropping his fee to $7,500 for 2016 which now seems like a good deal. So far Colonel John has six stakes winners, four of whom are graded winners. An outcross himself and from a Raise a Native-line mare, his offspring Airoforce and Southern Honey are also from Raise a Native-line mares, by Cuvee and his sire, Carson City respectively. Concave and Here's Johnny are from Northern Dancer-line mares by Ascot Knight and Bon Point.
Cocked and Loaded and Little Nick V. are both from A.P. Indy-line mares, which is also a strong cross with Tiznow and features linebreeding to A.P. Indy's sire Seattle Slew, another common theme with Tiznow. Southern Honey's second dam is by Slew's son Houston, so three of six stakes winners have returns of Seattle Slew.
Colonel John is one of several sons of Tiznow making it as sires. Tiz Wonderful has 19 stakes winners, including the grade I winner Condo Commando, and has now moved on to Korea. Tizdejavu sired the stakes winner Tizgorgeous in his first crop. Bullsbay has a stakes winner, Miss Bullistic, from his first crop. Tizway is also off to a good start, with a pair of first-crop stakes winners, Tiz Imaginary and Away We Go, in 2015.
Colonel John was once flying under the radar. Not anymore.