Someone once said that the time to evaluate a stallion's stud career is at least 60 years after he is dead. Mares, too, can have a long-term impact far different than what might have been expected from their immediate produce records. Such is the case with Almahmoud, a fairly successful producer in her own lifetime who has become one of the great influences on the modern Thoroughbred.
A.B. "Bull" Hancock probably would have loved Almahmoud's pedigree, which was a classic example of the "international outcross" that he championed so vigorously. Sired by 1936 Derby Stakes winner Mahmoud, a product of the Aga Khan's breeding program, she was produced from Arbitrator, a Whitney mare whose pedigree united the old American strains of Ben Brush, Domino, and Fair Play.
The resulting foal was a nervous chestnut filly with crooked hind legs, but she had enough talent to be a stakes winner at 2 and 3. Her produce record was fairly similar to her race record in merit. From eight foals, Almahmoud threw six winners, including 1955 Astarita Stakes winner Cosmah (by Cosmic Bomb), a good juvenile, and the minor stakes winner Folk Dancer (by Native Dancer). She also produced Folk Dancer's sister, Natalma, a stakes-placed filly who was disqualified from a victory in the Spinaway Stakes.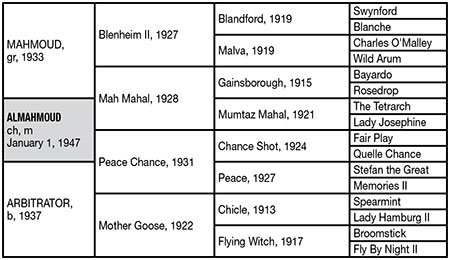 The year 1961 was a pivotal one in Almahmoud's story. That spring Cosmah produced a bay filly by Tim Tam, while Natalma produced a bay colt by Nearctic. Under the names of Tosmah and Northern Dancer, they accounted for six official championships between them on the racetrack. Tosmah, unfortunately, did not receive the breeding opportunities her racing class deserved, but Northern Dancer went on to become one of the epochal sires of the breed. He was followed in 1969 by Cosmah's son Halo (by Hail to Reason), who led the general sire list in 1983 and 1989 and was also a successful sire of sires.
In between Tosmah and Halo, Cosmah threw the stakes-winning colts Maribeau (by Ribot) and Fathers Image (by Swaps) as well as the excellent producer Queen Sucree (by Ribot), dam of four stakes winners including 1974 Kentucky Derby (gr. I) winner Cannonade (by Bold Bidder) and second dam of grade I winners Stephan's Odyssey and Lotka. The 1974 Kentucky Broodmare of the Year, Cosmah added to her legacy with her fine producing daughter La Dame Du Lac (by Round Table), dam of five stakes winners and second dam of two-time champion turf female Flawlessly.
Natalma did not rest on her laurels either after the birth of Northern Dancer. She produced three more stakes winners, and her stakes-placed daughter Arctic Dancer (a full sister to Northern Dancer) produced 1972 Canadian Horse of the Year La Prevoyante (by Buckpasser). Even more importantly, Natalma produced Spring Adieu (by Buckpasser), second dam of the great international sire Danehill (a grandson of Northern Dancer), and Raise the Standard (by Hoist the Flag), second dam of the important European sire Machiavellian and founder of the most important branch of Natalma's family.
Not to be left out, Almahmoud's third daughter, Bubbling Beauty (by Hasty Road), also got into the act by producing 1977 Prix Ganay (Fr-I) winner Arctic Tern (by Sea-Bird), a good sire.
For fans of the Rasmussen factor, Almahmoud has been a gem, as her descendants have crossed and recrossed with great success. Although both Danehill and Machiavellian have pedigrees featuring doublings of Almahmoud or Natalma, both have been quite effective crossed to other bloodlines descended from Almahmoud. Halo's male line has depended on similar breeding patterns; his great sire son Sunday Silence built his career in Japan on foals produced from granddaughters and great-granddaughters of Northern Dancer, and his other great son, 10-time Argentine champion sire Southern Halo, was inbred 3x4 to Almahmoud as his dam was a daughter of Northern Dancer.
That Almahmoud's story is far from over can be seen in the pedigree of Street Fancy, who won the Dec. 12 Starlet Stakes (gr. I) at Los Alamitos. Sired by the Machiavellian grandson Street Sense, Street Fancy is inbred 4x5x5 to Northern Dancer and 5x5 to Halo, giving her six crosses to Almahmoud within the first seven generations of her pedigree. How much of Street Fancy's talent is directly traceable to Almahmoud is debatable, but her pedigree does illustrate the ongoing influence of one of Thoroughbred breeding's more unlikely matriarchs.