By Rev. Eddie Donnally
Retired jockey Randy Romero is to racehorses what Evel Knievel was to motorcycles and Nik Wallenda to high wires. Skill, injuries, and courage are imbedded like bone screws in his career and life.
Romero was the leading rider at 10 tracks on 21 separate occasions. From 1985 through 1989 alone, his mounts earned more than $35 million. For those five consecutive years he ranked among the top 14 money-winning jockeys. In two of those years he ranked eighth, and he was sixth in another. He retired with 4,294 victories and earnings of over $75 million, and now has a plaque in the National Museum of Racing and Hall of Fame.
Yet success for the jockey once known as "The Ragin Cajun" came at a huge price. The permanent damage to his body during a career filled with often life-threatening injuries now has him perilously close to death at only 57 years old.
-----
Having only one kidney, Romero has undergone dialysis for years. Hepatitis C has damaged his liver, and doctors say without a liver and kidney transplant, he may not survive another year. Complicating his already dire condition is a cancerous tumor recently discovered on his small intestine, which doctors have said is risky to remove. Should a scalpel nick the intestinal wall during surgery, Romero could easily get sepsis, an often-lethal blood infection.
Surgeons at Ochsner Medical Center in New Orleans have deemed Romero strong enough for what they estimate will be an 11-hour surgery to remove the tumor and transplant a kidney and liver. The seriousness of his condition puts him near the top of the list for a donor transplant. When the time comes, an ambulance will drive him some 144 miles to the hospital. "Doctors tell me that once removed (from a donor), a liver only lasts four hours," Romero said. "So there's not much time to spare."
In the meantime, Romero waits and continues fighting. In September, he spent 10 days in Our Lady of Lourdes Hospital in Lafayette, La. He had become weak, disoriented, and had lapsed into a coma.
Although he is home now and trying to resume a regimen of swimming, he's weak and has trouble concentrating. "When your liver goes, your mind goes with it, " he said. "It's simple. If I don't get a (donated) liver soon, I'm going to die. "
-----
Romero's life today, living in perpetual uncertainty about the future, could not contrast more sharply with the glory days of the 1980s when success seemed never-ending.
By 1983, 10 years into his career, the jockey won nearly 1,400 races with mounts earning more than $12.5 million. He had won several major stakes races and was riding regularly at such big league tracks as Santa Anita Park in California and Belmont Park in New York. All the sacrifices and hard work were finally paying off for Romero. Yet, like Joe Btfsplk from Al Capp's cartoon "Lil Abner," he couldn't shake the dark cloud of misfortune that has dogged him since his early riding days.
Romero's romance with racing began at local bush tracks in the fourth grade. He lives today in the same home he left each Sunday at age 10 to ride in match races at tracks whose "regulations" included, as the old track saying goes, "hop 'em, block 'em and shock 'em." At 69 pounds, he was popular with local trainers. Yet, at times his rival jockeys were far lighter—squawking, wing-flapping chickens. He remembers one track where the straightaway opened to a field where he'd guide his mounts after a race, riding in wide circles until they were tired enough for him to pull up. He suffered his first injury at 12 when a mount, likely juiced by God knows what, ran off before the race and threw him. He broke a knee.
As soon as he turned 16 in 1973, the legal age to ride in recognized races, his mother drove him the 22 miles each way to Evangeline Downs near Lafayette, La every night. While still attending high school, Romero got an early introduction to just how dangerous race riding can be. One night during a stretch drive he drove his mount through a hole, clipped heels, and fell. He broke his pelvis, several ribs, and punctured his lung, kidney, and spleen. The spleen was removed—something that complicated later injuries and makes him more susceptible now to pneumonia. "The worst part was waiting six months to again ride," he said.
At the same track a year later, a horse in front of him bolted to the outside, causing his mount to once again clip heels and fall. This time he broke his cheekbone so badly, he says an eye came out of its socket and he remembers lying on the track wondering if he was going to be permanently blind.
In spite it all, Romero continually fought through the setbacks, determined to succeed. Ahead, however, lay an accident that would not only alter his career but change his life forever.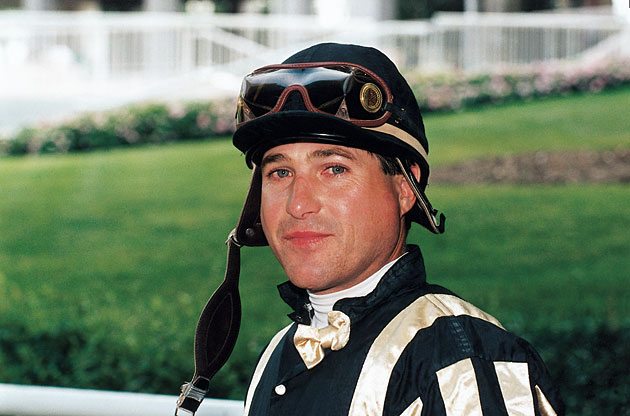 In April 1983, Romero flew to Oaklawn Park in Arkansas for the $100,000 Count Fleet Stakes. He had just finished fifth in Santa Anita's rider standings and his mount was owned by the famed Phipps stable and trained by future Hall of Famer Claude "Shug" McGaughey, who would later play a huge roll in Romero's success.
Like many jockeys, Romero constantly battled his weight, fighting day by day through "heaving" or regurgitating food and stays of an hour or longer in the 160-degree dry and wet-heated rooms inside jockey quarters called "hotboxes." In those days Oaklawn had a white metal cabinet large enough to crawl inside, heated by rows of internal light bulbs. Once inside the hotbox, jockeys would sit on a tiny stool and sweat. One day Romero doused himself with rubbing alcohol to open his pores, sat inside, and closed the front door. Somehow, one of the bulbs broke and ignited him.
Screaming and running ablaze, he was spotted by fellow jockey Don Pettinger who steered him into the adjoining shower and turned on the water—an act, Romero maintains, that saved his life. With second- and third-degree burns over 60% of his 112-pound body, he was flown by air ambulance to the John Sealy Burn Center in Galveston, Texas. He arrived unconscious, in critical condition, and reportedly given a 40% chance of surviving.
"All the injuries I had put together at the time didn't hurt like the burn," he told this writer for a Dallas Morning News article the following year. "It hurt like hell. I just had to learn to cope with the pain. I never thought anything could hurt like that. There were many days in the hospital when I laid there scared of dying. Then when I'd think about racing, I'd start crying. I didn't think I'd live... no way I thought I'd ride again."
At his bedside was Cindy, better known as "Cricket," who he married when he was 17 and she 16. Their infant son, Randy II, was left with relatives. Released after six weeks, doctors told him riding races was at least a year away. Fourteen weeks later he was back in the saddle. In an emotional scene belonging on a Hollywood set, he returned to Louisiana Downs to ride Pepperrera for his brother, Gerald. The horse won. With tears streaming down cheekbones made more prominent by metal plates, he said, "I feel like I won the Kentucky Derby. I'm lucky to be alive."
-----
By March 23, 1984, Romero had broken the record for wins at Fair Grounds Race Course & Slots, an amazing 141 victories, and led the national standings by some 50 wins. That night he flew in a small plane to Delta Downs to ride the Quarter Horse trials for the Jean Lafayette Futurity. One young filly went straight in the turn, heading for the outside fence. For the second time in his career, he jumped off, this time breaking his femur. The next day when doctors inserted a rod into his thigh two of his scheduled mounts won major races.
Complicating his recovery and return, the leg became painful and doctors discovered a wire wrapped around the rod had unraveled. Another surgery grounded him until June 20. "I sat down and figured it out once," he said. "I lost six years out of my (26-year) career getting well from all the injuries."
Undaunted, he also had surgery to sever scar tissue from his burns that inhibited an arm. The non-sweating scar tissue over much of his torso caused his body heat to soar during warm days of racing. Nonetheless, his career escalated.
In what remains one of racing's most exciting moments, he guided Personal Ensign to a stunning come-from-behind nose victory over Kentucky Derby (gr. I)-winning filly Winning Colors in the 1988 Breeders' Cup Distaff (gr. I). The race ushered the year's champion older mare into retirement, undefeated in 13 starts.
"God was on my side that day and He's still on my side," he said from the family home in tiny Erath, La., where he returned last year to live with his mother, Joyce. "I wouldn't be here today if it wasn't for God. I went through some serious, serious accidents. I always had an angel on my shoulder."
After winning the Breeders' Cup Distaff on Sacahuista in 1987 and on Personal Ensign in '88, he took the 1989 Juvenile Fillies (gr. I) aboard Go for Wand. In the Distaff the following year, a Belmont Park crowd of 51,000 watched as Romero and the previous year's champion juvenile filly dueled with Bayakoa through the stretch. Go for Wand seemed to have the older champion measured as she stubbornly held a neck lead nearing the wire, and Romero seemed to have clinched his third Distaff victory in four years.
But like a tree limb snapping from a lightning strike, Go for Wand suddenly broke down in her right front ankle. Tumbling over her head and into the dirt, Romero rolled down the track, knowing the great filly's fate was sealed. Moments later, Go for Wand was euthanized. Posthumously awarded the 3-year-old filly championship, she today lies buried in the infield at Saratoga Race Course.
"I knew she was special the first time I breezed her," Romero said. "The best day I had riding was when Personal Ensign won the (Breeders Cup) Distaff, and the worse day was when Go for Wand died. It broke my heart."
His adrenaline gushing like a newly tapped oil well, Romero thought he was uninjured. Two hours later he rode Canadian Triple Crown winner Izvestia in the $3 million Breeders' Cup Classic (gr. I), finishing sixth. Despite chest pain he continued riding, but when still sore went for an x-ray. The results? Eight broken ribs—one snapped in two places—and a hairline shoulder fracture. In a single spill, Romero had broken 10 bones, yet continued to ride for four days.
Nearly three months later the jockey returned to racing at Gulfstream Park and in late February 1991, less than a month into his comeback, tragedy again struck. A rival bolted to the outside during a turf race and hit Romero's mount so hard he was hurled to the grass, forcing him to the sidelines with a broken jaw (for the second time), and elbow. After all his injuries, the broken elbow seemed mundane. It wasn't.
Florida doctors inserted three screws to stabilize the broken elbow and speed the healing. In mid-May, Romero returned to Belmont in New York where he said track doctors approved his return to racing.
"My arm was hurting and the track doctor told me the pain was there because I was breaking the adhesions that had formed after the injury," he said. "I thought I just had to gut it out."
He rode a week, and when the pain persisted, went to New York doctors who said the screws were too large, removed them and put the arm in a cast for some three months. He returned to racing in September and from then until the following May, Romero "gutted it out." He raced with pain, he termed "absolutely brutal."
During this time Romero said he "took bottles" of prescribed pain medication, rubbed Dimethyl sulfoxide (DMSO) on his arm each day he raced, and then tightly wrapped his elbow in an elastic Ace bandage. DMSO is a solvent byproduct of producing paper known to aid the absorption of other pain medications, but it is highly controversial with damaging side effects. Reportedly, selling it as a medical treatment (except for the bladder disorder interstitial cystitis) is illegal in all but three states. Romero now says the DMSO damaged his kidneys.
To keep the job he loved, the jockey made further sacrifices of himself. He continued to throw up several times each day and spend at least an hour each racing day inside jockeys' room hot boxes. He was constantly dehydrated. At one point he was hospitalized with pneumonia, likely the result of having no spleen.
Though he led the jockey standing in wins in 1985 with 415, he won only 153 in 1990 and the next year rode 154 races, winning 12. "The pain in my elbow was worse than the pain from the burn," he said. "Basically, my career was over." he said, "I just didn't know it at the time."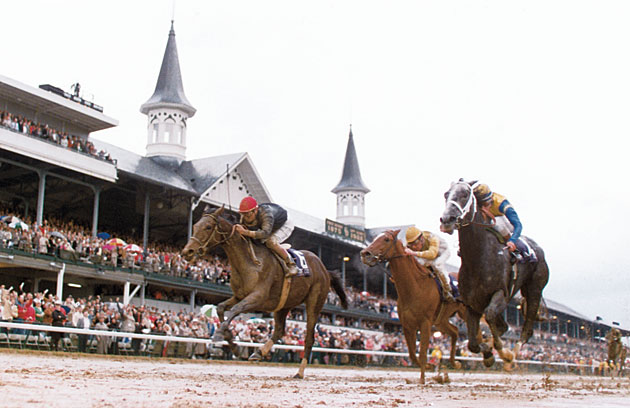 By the time Romero arrived in Louisville in May 1992 to ride Sir Pinder to a 15th-place finish in the Kentucky Derby, the pain was so bad Hall of Famer Laffit Pincay Jr. saw tears in his eyes when they met in the airport following the race. "I told him my career was gone," Romero recalled. "I took my shirt off and showed him. I told him I couldn't deal with the pain anymore."
"It looked like it was deformed... like it belonged on a mannequin," said Pincay. "I don't know how he could ride that way. I admire this guy so much. Some riders look for an excuse not to ride, but he kept looking for an excuse to ride. Accident after accident, he kept coming back. He was as tough as he was good. Some guys give their lives for this game and he is one who did."
Pincay referred him to Dr. Robert Kerlan, a well-known California sports medicine specialist. In Los Angeles a week later, Romero said doctors at the Kerlan-Jobe Orthopaedic Clinic told him the break in his elbow had never healed. "They told me it was possible I could lose my arm during surgery," he said. "The break had become my elbow and every time I used my arm it was the break that bent."
Not ready to give up¸ Romero agreed to surgery. A few days later, clinic surgeons performed an operation at the famous Cedar Sinai Hospital placing three inches of his hip bone into his arm. While the injury didn't keep him out of the saddle, he managed to win only 30 races in 1992. "It (the surgery) probably saved my arm and the pain went away," he said. "But it left my left arm three inches shorter than the other. My arm just didn't have the strength I needed to compete at the top level any longer. It (the elbow injury) ruined my career."
Selling his homes in Garden City, N.Y., near Belmont and in South Florida near Gulfstream, Romero spent the next winter riding at Fair Grounds. He won his first five races as well as the 1993 Louisiana Derby (gr. III) with Dixieland Heat, and led the jockey standings.
Eventually, a partially disabled arm, scar tissue over much of his torso, at least 20 broken bones and what he estimates were 30 surgeries took their toll. Romero went from being a great jockey to merely a very good one. During the final four years of his career which ended in 1999, his combined win total was 386, 29 less than he won in 1985 alone.
-----
Remaining in the sport he loved, Romero became a Kentucky-based jockey's agent, working for a time for the successful Fernando Jara. But even in a new career, the black cloud continued to plague him. In 1993 he was diagnosed with hepatitis C, a serious liver disease doctors say he contracted through unfiltered blood transfusions received while being treated for his burns back in 1983. In 2007, he developed renal disease, and the following year doctors remove a kidney.
While living with one kidney is not particularly rare, Romero's remaining kidney also had been damaged. Three times each week since 2001, he makes his way to a dialysis clinic, where nurses insert a giant needle into his arm. He sits or naps while a machine whirs, cleaning all the blood in his 135-pound body. As an agent, he undergoes this extremely debilitating procedure at night, so he can be at the track early the next morning to perform his duties as a jock's agent.
Two hours before being inducted into the National Museum of Racing and Hall of Fame at Saratoga in 2010, Romero sat in a local clinic, undergoing dialysis. With a far too common kidney infection, he was urinating blood and fighting the urge to throw up. "I was so sick, I had trouble standing," he remembers.
Injuries were not Romero's only turmoil. Two years ago, he and Cricket divorced after being married 34 years. He said they are still friends and he often sees his 34-year-old son, Randy II and two grandchildren, Mia, 14 and Mason, 4.
There have long been reports that his relationship with his father Lloyd was tenuous at best. The former Marine and Louisiana State trooper turned to training and became the long-time president of the state's Horsemen's Benevolent and Protective Association affiliate. He died in April after being married to Romero's mother for 60 years. "The whole family got together at the end, and I reconciled with him," he said. "It was a load off my shoulders."
And still the drama is being played out. Despite his recent hospitalization, the former jockey still battles low blood pressure and says doctors are now injecting a steroid medicine into his spinal area to relieve acute pain in his back and hip and keep him walking; a condition he said was caused by the pelvis he broke at 16. This has kept him from swimming or walking long distances, two practices he said helped keep him well enough for what he hopes is a soon-to-come surgery to replace his kidney and liver and remove the tumor in his stomach. He is third on the list.
"Doctors say about a third of my liver is functioning," he said. "All I can do is help mom with the wash and water the flowers. Life is pretty boring and depressing right now."
Romero is usually positive and upbeat, but he also takes prescribed medications to keep the darkness at bay.
"I should have been dead a lot of times, so I'm not going to complain. But I'm tired of being sick. Some days I just sit down and cry. I say to myself, 'how much can a man take?' I've had to make a lot of adjustments. I've been hurt most of my life. I'm beat up, but I tell myself at least I didn't get AIDs (from the blood transfusions).
"And there's no guarantee I'll even make it through the surgery. But I'm determined to stay alive. I pray God will give me another 10 years. I want to see my grandchildren grow up and maybe get married again."
Each Sunday, he and his mother attend mass at Erath's Our Lady of Lourdes, a Catholic church he and his four siblings attended growing up. A recent request on Facebook for prayer resulted in some 500 written prayers for Romero. Fellow Hall of Fame jockey Pat Day has visited and calls regularly to encourage and pray.
"It's hard to put into context all that he's been through and the courage he's shown and is still showing," Day said. "I've never met anyone like him, inside or outside of racing. And it's special to see his faith renewed. I believe God will answer our prayers for him."
"My faith has become stronger lately," said Romero. "I've come to realize that persevering has made me stronger. I think God put me through this trial to show how much a person can go through and still love God. I know He wants me to keep on fighting and I'm not giving up." He was silent for a moment and laughed softly. "Hey, it was an act of God that got me this far. I still got that angel."
Eddie Donnally is the only former jockey to win an Eclipse Award (1984) for Newspaper Feature writing. His recently published bio, "Ride the White Horse: A Checkered Jockey's Story of Racing, Rage and Redemption." He and four other former jockeys formed "Jockeys and Jeans," a fundraising event for the Permanently Disabled Jockeys Fund. He lives in Clearwater, Fla.,with his wife, Sandi and serves as a professional chaplain for hospitals and a hospice.