As the first Triple Crown winner in 37 years it is only natural that American Pharoah is retiring to stud as the most-hyped stallion prospect in recent memory. On his race record he has earned the hype. His pedigree, however, is a bit more modest, especially on the dam's side, leading to a question: Does he have the genetics to be a top sire?
In Triple Crown history, the same question could have been asked of American Pharoah's immediate predecessor, Affirmed. Sired by Exclusive Native, considered a good but not stellar sire prior to Affirmed's emergence, Affirmed was out of Won't Tell You (Crafty Admiral—Scarlet Ribbon, by Volcanic), a mare that had produced five winners from five previous named foals of racing age but nothing of any exceptional merit.
Won't Tell You did not produce anything of exceptional merit after Affirmed, either, though she did throw stakes winners Love You Dear (grade III-placed, by Bold Native) and Won't She Tell (by Banner Sport) and is the second dam of five stakes winners including 1989 Futurity Stakes (gr. I) winner Senor Pete. In later years, Affirmed's immediate female family also came up with 1991 Santa Ana Handicap (gr. IT) winner Noble and Nice and 2006 Prix de Diane Hermes (French Oaks, Fr-I) winner Confidential Lady, and Chocolate Candy, a grade III winner and runner-up to Pioneerof the Nile in the 2009 Santa Anita Derby (gr. I), but at the time Affirmed retired, he pretty much had to make his own pedigree.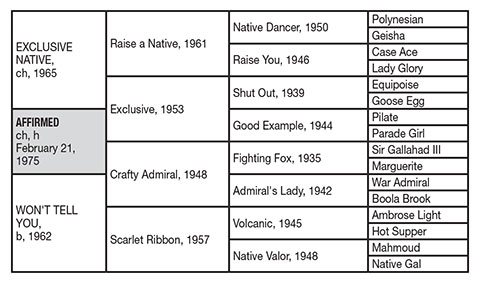 In spite of his tremendous accomplishments as a racehorse, Affirmed went to stud in 1980 with modest expectations compared to those being heaped on American Pharoah. Not only was he competing with fellow Triple Crown winners Secretariat and Seattle Slew, but many horsemen considered his rival Alydar much likelier to make a top sire given his deep female family. In addition, Affirmed's own sire (who died in 1983) and his paternal grandsire Raise a Native were still active, and Spectacular Bid followed him into stud in 1981.
While horsemen were right that Alydar would prove the better sire, Affirmed actually did well in spite of his doubters. A versatile and often underappreciated sire, he sired 86 stakes winners from 869 named foals and amassed progeny earnings of nearly $55.8 million.
Affirmed's first crop revealed an unsuspected bent for turf, as the star of the crop was Claude Monet, winner of the 1984 Mecca-Dante Stakes (Eng-II). Later crops confirmed Affirmed's ability to get runners suited to European conditions, as he sired Zoman, Tibullo, Trusted Partner, Regal State, Affidavit, Medi Flash, Easy to Copy, and Bint Pasha, all champions, highweights, or group I winners in Europe.
Europe was not the only beneficiary of Affirmed's prowess as a turf sire. His daughter Flawlessly was probably the best horse he sired, winning Eclipse Awards as champion turf female in 1992 and 1993.
Charlie Barley and Quiet Resolve were also North American turf champions for their sire, winning Sovereign Awards as the best Canadian turf male of 1989 and 2000, respectively, with Quiet Resolve also being named Canada's Horse of the Year in 2000. Affirmed also sired the popular gelding The Tin Man, a four-time grade I winner on turf.
Affirmed's success was not limited to turf, either. His son Peteski, 1993 Canadian Horse of the Year, demonstrated high-class form on dirt as well as turf by sweeping the Canadian Triple Crown, and his daughter Affluent proved equally versatile, winning grade I events on both surfaces. Affirmed is also the sire of 1987 Canadian champion 3-year-old filly One From Heaven and of grade I winners Buy the Firm, Mossflower, and Affirmed Success, all of whom earned their primary laurels on dirt.
No review of Affirmed's stud career would be complete without touching on some of his successes as a broodmare sire. Among the 126 stakes winners produced by his daughters are 1994 Energizer Epsom Oaks (Eng-I) and Budweiser Irish Derby (Ire-I) Balanchine, 2003 Breeders' Cup Classic (gr. I), and 2004 Emirates Airline Dubai World Cup (UAE-I) winner Pleasantly Perfect, and multiple grade I winner Harlan's Holiday, the leading juvenile sire of 2012.
For all his accomplishments, Affirmed is generally viewed as a good sire rather than a great one. He never led a sire list, and he failed to get a son capable of assuming his mantle. Nonetheless, if American Pharoah does no more at stud than to equal Affirmed's achievements, there are far worse hoof prints to follow in.