By Anne Peters
The history of the Buford family is deeply entwined with horse breeding in Kentucky. While Gen. Abe Buford was the most famous member of the clan, his cousin William "Scott Billy" Buford, left a more significant legacy through the sisters Idlewild and Aerolite.
Scott Billy owned the mare Florine, a daughter of Glencoe out of Melody, by Medoc, from four generations of Buford family breeding. Florine, a foal of 1854, lived at the Edgewood Farm of Scott Billy's son-in-law, Willis Jones, on the Versailles-Lexington Road in Woodford County. Part of the property is now a huge grocery store, but the Jones house still stands nearby. In 1859, Florine foaled a filly by Lexington, who stood at neighboring Woodburn Stud. The filly went blind in her left eye due to an early injury, but it didn't stop her from racing.
Trained by Capt. T.G. Moore, and still unnamed, the Florine filly made her debut at 3, in June 1860, at the Lexington Association track. She won the first heat but placed third overall. She ran twice more that year, winning the Walker Stakes at Memphis and the Grant Stakes at Mobile. She was making a name for herself, figuratively and literally, as she won the last race under the name "Idlewild."
The following year Idlewild continued her streak with seven more victories, in New Orleans, Louisville, and Lexington. In her last start of the year, at Woodlawn in Louisville, she won the "Challenge Vase," a four-mile "dash," establishing herself as one of the nation's top runners. Moore took home the enormous silver trophy known as the Woodlawn Vase, now awarded to the winner of the Preakness Stakes (gr. I).
At 5, Idlewild won two races in Kentucky before going East, winning in Philadelphia, Boston, and Jamesburg (New Jersey). At 6, she scored at Paterson, N.J.; and won a momentous race at the Centreville Course on Long Island, eclipsing the four-mile record set by Fashion in 1842 (7:32 1/2), winning in 7:26 1/4.
Robert Alexander of Woodburn Stud purchased Idlewild in 1865, but she was no longer performing at the highest level. The next spring she was bred, probably to Alexander's other premier stallion Australian, and was finally retired with 15 wins and a powerful reputation.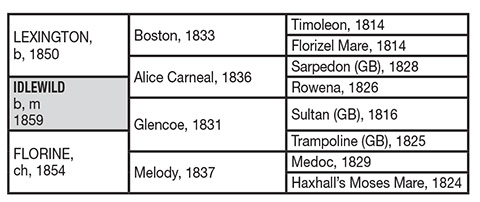 Unfortunately, Idlewild was not a very sure broodmare. She lost her first foal in 1867, and produced only three foals before her death in 1883, but two of those won stakes, the filly Fanchon (1868) and the colt Wildidle (1870), both by Australian.
Fanchon became the ancestress of stakes winners Satirist, Kinglet, Runyon, and Queenlike, the latter of whom became the dam of Kentucky Oaks winners King's Daughter (1906) and Ellen-a-Dale (1908).
Wildidle was a stakes winner in New York and shipped to California at 5 for a much-anticipated $30,000 four-mile race in San Francisco. He prepped in the Wise Plate at the Bay District Course, setting a new California record, running four miles in 7:25 1/2. Wildidle was injured before the main event and went to stud in California where he became an important sire.
Wildidle's sons and daughters appear in some of the best California pedigrees. Wildidle's son Flambeau was a sire for Leland Stanford's Palo Alto Stock Farm, and his descendants include the top runners Sweepida and Morvich. The first Cal-bred Kentucky Derby winner, Morvich was out of Hymir, who was inbred 4x4 to Wildidle.
Back at Woodburn, Idlewild was joined by her sister, Aerolite (1861), also by Lexington. Aerolite never raced, probably due to the Civil War which ravaged through Kentucky, but Alexander added her to his stud at Woodburn. While Idlewild had just three foals, Aerolite produced enough for both, foaling 16, five of which won stakes, all sired by Australian.
The first of these stakes winners was Mozart (1867); then came Fellowcraft (1870), who set an American record for four miles (7:19 1/2). Fellowcraft was a good sire, and his stakes winner, Lady Reel, was the dam of Hamburg, a great runner and sire. Next for Aerolite was Rutherford (1871), who also became a top sire in California.
Aerolite's best was Spendthrift (1876), champion of his crop and sire of Kingston and Hastings (sire of Fair Play and grandsire of Man o' War). The famous Spendthrift Farm was named for him, but few remember his year-younger stakes-winning brother, Miser (1877), who sired the champion filly Yorkville Belle. Miser appears in the pedigrees of Swoon's Son, Hilarious, Airman's Guide, Tour d'Or, Eillo, Glitter Woman, and many others.
The story of these sisters gives encouragement to breeders who perhaps can't buy a top racemare like Idlewild, but might come across an unraced sister, like Aerolite.