By Keith McCalmont
Amidst the controlled chaos that is a morning at Mike DePaulo's Barn 8 on the Woodbine backstretch—hotwalkers marching horses along the shed row, exercise riders getting legged up, stalls being mucked—lives a familiar routine: a simple game of call and answer that breaks the monotony of the day.
"Pennn-dahhh," comes the call from the end of the barn, affected, for reasons unknown, with a Boston accent. And somewhere, down the shed row inside a stall and from underneath a horse comes the answer, "Hah-bahhh!"
Here, at Barn 8, Pender Harbour is known as "The King." The champion chestnut, who surveys his vast kingdom from stall 53, has reigned for six long seasons.
A $17,000 purchase at the 2009 Canadian Thoroughbred Horse Society's 2009 Canadian-Bred Yearling Sale, Pender Harbour's numbers are staggering. The Philanthropist gelding has hit the board in 29 of a remarkable 40 career starts, while banking in excess of $1.9 million in the process.
In 2011, he captured two-thirds of the Canadian Triple Crown with decisive scores in the Prince of Wales and Breeders' Stakes en route to Sovereign Award honors as the nation's outstanding sophomore.

SHINAR: Pender Harbour Home Safely in Prince of Wales
SHINAR: Contreras Wins Breeders' to Complete Sweep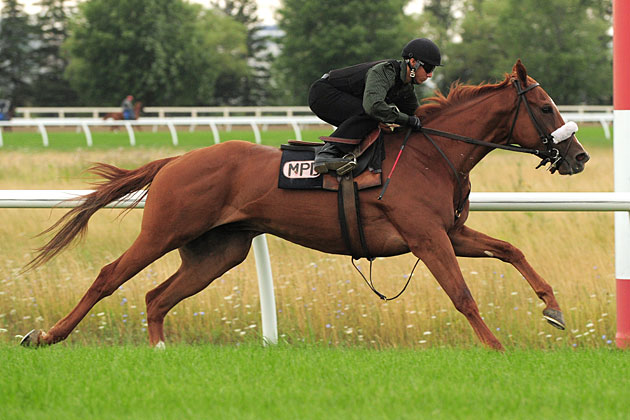 At the age of seven, "Pender" continues to thrive while winning stakes and placing in graded events. He's special. And don't think he doesn't know it.
His groom, Howie Pottins, and assistant trainer Josie DePaulo, spend their mornings with pockets weighed down by peppermints. It's the only way to keep the traffic flowing as hot walkers cool out horses along the shed row.
Of course, when you're "The King," all subjects must serve you.
"'Pender' will stop at my locker, Josie's locker and at every person he knows along the way that will give him a mint," smiles Melissa Williams, one of the many hardworking grooms at Barn 8. "If you don't give him the set amount of mints he thinks he should get, it backs up. 'Pender' runs the barn. He's our warrior, our champion and everything you could want a horse to be."
Grooms are typically assigned up to five horses to rub, and the bond they develop with their charge involves a lot of caring, love, and trust. At times, especially when their horses aren't winning, it can be tough on morale.
And yet, for some reason, "Pender" has the ability to lift that weight for everyone in the barn.
"You want the ones you rub to do well, but a horse like 'Pender' in the barn keeps everyone happy and gives them hope that one day they could have a horse like that," Josie explains. "Even if you're not the one rubbing them, when your barn is doing well, everyone is happy."
And so, busy mornings at Barn 8 are filled with all the typical hard work one comes to expect, but every once in a while you have to stop and smell the roses—and feed 'Pender' a mint or two ... or three.
"He's such a character," Josie laughed. "He's so spoiled and you can't say 'no' to him. When you see a horse with that much class, that much heart and that tries that hard, it's impossible not to love him."
On Nov. 29, with a final run in the $150,000 Valedictory Stakes (Can-III), Pender Harbour's reign as one of the top Ontario-sired horses of all time comes to an end. His owners, Denny Andrews, Sandra Lazaruk, and Robert and Roberta Giffin, have graciously donated $15,000, in Pender Harbour's name to LongRun Thoroughbred Retirement Society to celebrate the end of his grand run at the races and the start of his new life and career as a riding horse in Western Canada.
-----
Bred by Gardiner Farms Limited out of the Hail the Ruckus mare Uproar, 2-year-old Pender Harbour arrived at Woodbine for the 2010 meet as something of a raw talent.
"He wasn't the sharpest tool in the shed, but he figured it out quick enough," said Mike DePaulo. "He's just one of those old throwback horses; the more you threw at him, the tougher he got."
"Pender" made his debut on Oct. 17, 2010. Fittingly, sent to post as a 39-1 long shot, he outran his odds to finish fourth, defeated just two lengths.
He graduated next time out, on Nov. 13, romping to a 5 3/4-length victory in a seven-furlong maiden allowance. His juvenile season came to an end with a 2 1/4-length victory over Hippolytus in the Kingarvie Stakes, which tipped the chestnut's chances as a potential Queen's Plate prospect.
Unfortunately, an ill-timed injury put a wrench in the works.
"We took a chip out of his knee in December," explained DePaulo. "The owners wanted to get him to the Plate, but I never thought he could make it so we ended up supplementing."
Pender Harbour recovered from surgery quicker than expected and posted his first work back at Woodbine on April 8, 2011. Even though the Plate, slated for June 26, was months away, Pender Harbour lagged far behind his fellow sophomores who spent their winter months conditioning south of the border for the 1 1/4-mile test.
DePaulo, admittedly behind the eight ball, mapped out a plan to get "Pender" to the Plate that started with an underwhelming 10th-place run in a six-furlong allowance sprint on May 13.
Next time out, on June 12, Pender Harbour stretched out to 1 1/8-miles against open company in the Victoria Park Stakes. With Luis Contreras up for the first of 27 mounts on the gallant gelding, Pender Harbour tracked the front-running winner, Moonshine Mullin, from fourth position, kept in touch through the final turn, and closed along the rail to finish fourth by two lengths again.
It may seem like nothing special, but the Victoria Park became a key race. In his next start, Moonshine Mullin would finish second in the Jim Dandy (gr. II) at Saratoga Race Course. And to add perspective, in 2014, Moonshine Mullin completed his career with a score in the Stephen Foster Handicap (gr. I) at Churchill Downs, while the second and third place finishers, Alpha Bettor and Newsdad, both went on to become multiple graded stakes winners.
For DePaulo, the race was simply a means to an end.
"First start, he got in trouble. The next start was the Victoria Park and he ran a huge race," the trainer said.
With Contreras committed to ride Woodbine Oaks winner Inglorious in the Plate, Chantal Sutherland was signed on to ride Pender Harbour.
Pender Harbour broke outward in the Plate, but settled comfortably in 10th position in a field of 17 as Curgone and Oh Canada set the early pace. Contreras, racing well off the pace with Inglorious, gave the filly her cue into the final turn and swept four-wide to a memorable score. Pender Harbour, gaining gradually through the turn, kicked into gear late for Sutherland and closed gamely to finish third behind old rival Hippolytus.
It was an incredible bit of training by DePaulo to have the horse ready on such short shrift against horses that were winter trained and raced, and that Pender Harbour didn't regress from the rigours of that 10-fulong test is a testament to his mettle.
"After the Plate, I thought well, that'll knock him out," said DePaulo. "And then he came back and won the Prince of Wales. When he won that, I knew he'd win the Breeders' Stakes. He's just so tough."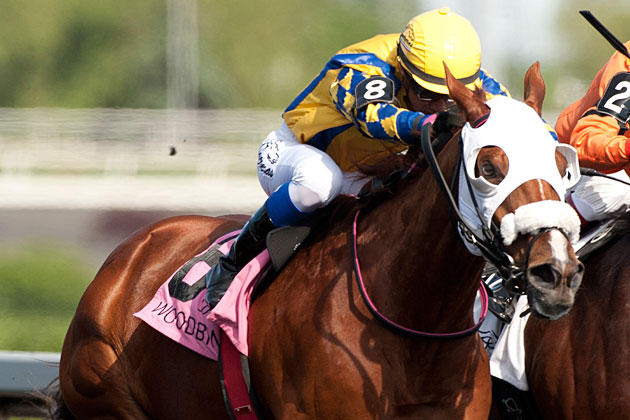 -----
Pender Harbour may be tough on the racetrack, but he's a gentle giant at the barn.
Pottins, who has groomed the mint-munching millionaire from the beginning, has a special relationship with the equine monarch.
"He expects his breakfast in the morning. I don't do much different with him than I do with the others," offered Pottins, while taking a rare break.
"Did you say you don't do anything special with him?" called out an incredulous Josie DePaulo from across the shed row. "You sit in his stall and let him lick you for 20 minutes every morning!"
"That's only if he wants to. The others don't want to," the shy Pottins said.
"But, you let him do it!" laughed Josie.
Pottins ends the exchange by bowing his head and feeding Pender Harbour another mint.
No one has spent more time with Pender Harbour over the past six years than Pottins. From 4:30 a.m. each morning until the walk over to the racetrack in the afternoon, the veteran groom is a comforting and stabilizing factor in the champion's life.
"He knows when he's running. He gets his game face on," said Pottins of the typical race day. "It's hard to put a bridle on him to take him over. He's so anxious to go; it's hard to get him to keep still. He just wants to go."
For all the success that Pender Harbour has enjoyed, winning 12 of 40 starts, there have also been a few bumps and bruises along the way. Pottins tends not to get too emotional about counting up the wins and losses.
For others in the barn, it's not that easy.
"Howie will tell you that I take 'Pender's' losses worse than he does," said Williams. "And not because I'm greedy or because I expect him to win every race, but he just has so much heart and he gets so mad when he loses.
"We see him after when the cameras go away and he's mad," she continued. "I don't want him to ever feel like he didn't try 110 percent, because he always does."
Often times, the cameras are on Pender Harbour, even when he is back at the barn.
In addition to being a top racehorse, having made 39 of what will be 41 career starts at Woodbine, Pender Harbour is also an ambassador for the Toronto track.
A visit to the DePaulo barn, a fixture on Woodbine's annual backstretch tour, offers racing fans a chance to rub shoulders with a millionaire at the affordable cost of a peppermint. Pender Harbour's kind nature, and that of his surrounding caretakers, has provided countless fans, and media members, an insight into life at the track.
"He's constantly being visited here and always getting attention. I think he's going to miss that," said Josie.
Pottins is hopeful that Pender Harbour's life away from the track will continue to be filled with purpose.
"I'd like him to have a job. I think he'd make a great pony, but whatever they want him to do, he'll learn," said Pottins. "He has an even temperament, strong as an ox, there's pretty much nothing he can't do."
-----
For Mike and Josie DePaulo, the husband and wife team that heads up Barn 8, letting go of Pender Harbour following Sunday's test will not be easy.
"The owner is doing a very classy thing," said Josie. "He's perfectly sound, and most people would continue on considering how good he's doing, but it's a wonderful thing to be able to retire him sound and happy."
"He's a tough horse. He's got some miles left in the tank, but it's time," agreed Mike. "We're going to miss him. It's going to be a hard stall to replace."
Past inhabitants of Stall 53 include multiple graded stakes winner Shillelagh Slew, champion 3-year-old colt in 2006, and Krz Ruckus, a stakes-winning millionaire.
The trainer reflects proudly on Pender Harbour's accomplishments, and he's hopeful of a fairy tale ending in Sunday's 1 5/8-mile stamina test for a horse that has lifted his barn and flown a flag for graduates of the CTHS Sale.
"A win on Sunday would put us up over $2 million in earnings. Krz Ruckus made $1.1 million, but this guy is in a different stratosphere as far as Ontario-sired horses go." said DePaulo.
An omni-surface star, with stakes wins on Polytrack, dirt, and turf, Pender Harbour has danced every dance along the way, winning races from seven furlongs out to a mile and a half.
"He outlasted a bunch of them," nodded DePaulo. "The Triple Crown is hard on horses, running three races in a short period of time on three different surfaces. A lot of them don't recover from that, but he seemed to thrive on it. He just got better and better."
On Sunday, DePaulo will leg Contreras up on Pender Harbour one last time.
"He's going to miss running. He's like a rock star in our barn," said DePaulo. "I think he'll miss the limelight, but I hope he enjoys his retirement."
And win or lose this Sunday, DePaulo knows he can count on Pender Harbour leaving it all out on the track.
"You never think, Gee, 'Pender' you didn't try," DePaulo said. "He always gives his best and that's usually enough to come home with some bacon. People say to me, 'You've done a great job with that horse,' and we've done a pretty good job with him, but if it was up to me I'd have 50 Pender Harbours. It was all him. He's tough as nails."