Lukas: Young's Death 'A Major, Major Loss to Racing'
by Ray Paulick
Date Posted: 1/13/2004 9:36:32 AM
Last Updated: 1/15/2004 4:07:38 PM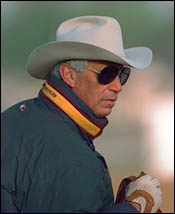 Trainer D. Wayne Lukas.
Photo: Associated Press

"This is a major, major loss to racing," trainer D. Wayne Lukas said upon learning of the death of W. T. Young, his longtime friend and business associate. "but his influence reaches far beyond the racing community. Far beyond it. I've always said that you could mail a post card to Bill Young, Kentucky, and it would probably get to him. He has touched so many people's lives. "He meant so much to me. I don't know that anyone has had a bigger influence on my life. We were very, very close. We would talk in the evenings, and every time he'd hang up, he'd say, 'I love you.' He let his emotions show, his kindness, generosity..." Lukas said his relationship with Young began around 1982. "My father-in-law had Crimson Saint, and I was involved with her development," he said. "I trained her first foal, Terlingua, who was by Secretariat. Terlingua eventually wound up in his broodmare band and of course she produced Storm Cat. "His faith in Storm Cat, his faith in what he wanted to do at Overbrook Farm, is unparalleled. He had a master plan for the farm and stayed with it. When Storm Cat first went to stud no one wanted to breed to the horse, so he called people who had mares that he thought crossed well with the horse, and he gave away seasons because he believed in him. He had such a feel for business, he just seemed to know what to do. And he always had a great feel for the racing industry. "He loved to let everybody express themselves. We'd do that in our meetings. He'd sit at the end of the table and just listen, and sometimes it would get pretty heated among us. Then after a while he'd look up and say, 'Well, here's what we're going to do.' "The Kentucky Derby is a race that somehow rewards great people, but I don't think there's ever been a more special time than when he won it with Grindstone. It was a great, great thing for him. He always said, 'Wayne that was a lot of fun. Let's do that again.' I really wish I could have gotten another one for him. The Derby had to be his greatest win, but he said the most enjoyable wins he ever had were the ones with Tabasco Cat that he was able to share with his good friend, David Reynolds. "He was a great stabilizer for me. I remember when I was a little fed up about the Hall of Fame, I'd say that if I ever did get inducted, I might not show up for the ceremony. Mr. Young said, "Wayne, you're going to get in, and you're going to go there, and you're going to accept it.' It was like my father telling me. He didn't say I'm asking you to do this. He was such a model and set such a standard for all of us. "He has helped so many people. He was such a giving person. I don't think we have any idea the magnitude of how many people he's helped." Lukas said he spoke to Young shortly after he visited the yearlings and 2-year-olds at Brian Rice's farm near Ocala, Fla. "He told me, 'We've got some good ones, according to the boys. We're in for some big years. I'm looking forward to 2004.'"



Copyright © 2015 The Blood-Horse, Inc. All Rights Reserved.