Rejuvenated from a six-month winter/spring Florida vacation, The Pizza Man has come back remarkably strong this season and is now on-track to face Europe's best runner in the Longines Breeders' Cup Turf (gr. IT).
Richard and Karen Papiese's homebred 6-year-old gelded son of English Channel had already proved himself in stakes company at 3, 4, and 5, but he's upped his game to a new level in 2015.
"This year he has filled out a lot more," said Richard Papiese, who races and breeds under the name Midwest Thoroughbreds. "It wasn't a matter of the light coming on; the light has always been on. It was more about him growing into himself. Right now he's training the best he ever has."
The Pizza Man started the season with a 2 1/2-length win in the Opening Verse Stakes May 30 at Churchill Downs, following up with a second consecutive win in the grade III Stars and Stripes Stakes at Arlington International Racecourse. He parlayed those victories into the biggest victory of his career in the Aug. 15 Arlington Million XXXIII Stakes, his first grade I and the first time an Illinois-bred had won Arlington's premier event.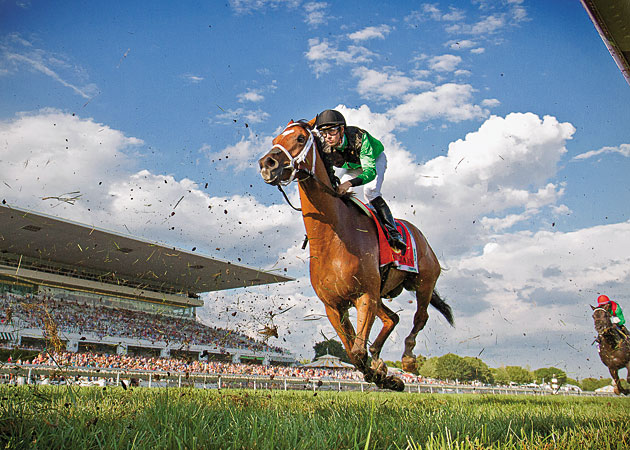 NOVAK: The Pizza Man Scores in Arlington Million
The Arlington Million also earned The Pizza Man a spot in the Breeders' Cup Turf, which could be one of the toughest races at Keeneland Oct. 31, with the entry of Europe's star, Golden Horn, who is trained by John Gosden and owned by Anthony Oppenheimer. The 3-year-old son of Cape Cross recently added the Qatar Prix de l'Arc de Triomphe (Fr-I) to his impressive résumé, which includes three other group I wins this year—the Investec Derby, Coral-Eclipse Stakes, and the QIPCO Irish Champion Stakes. The colt also finished second in the Juddmonte International Stakes (Eng-I).
LAMARRA: Golden Horn Impressive in Arc de Triomphe
Golden Horn has been ranked first or second on the Longines World's Best Racehorse Rankings since July and is currently a close second with a 130 rating to Triple Crown winner American Pharoah 's 131.
"If you want to be the best, you have to run against the best," Papiese said. "I like our chances."
The tail end of the 2014 season certainly didn't provide many clues that The Pizza Man would come back so strong. After winning three consecutive stakes from June through August, which included the 1 1 1/16-mile American St. Leger, the gelding hit a rough patch attributed largely to the stress of shipping. Following the St. Leger, The Pizza Man traveled to Woodbine for the 1 1/2-mile Northern Dancer Turf Stakes (Can-IT) and did not settle in well.
"He freaked out and didn't eat for four or five days before the race," remembered Papiese. "He ate a little snack the night before and started to settle down. Physically there was nothing wrong with him, and he looked great, but if you were going to run a marathon and hadn't eaten in three or four days, what do you think is going to happen? Probably not good things."
The Pizza Man finished fifth in the Northern Dancer. A month later trainer Roger Brueggemann shipped the gelding back to Woodbine but this time a week earlier for the Pattison Canadian International Stakes (Can-IT) to give The Pizza Man more time to adjust. He finished a respectable fourth, beaten 2 3/4 lengths by favorite Hillstar, grade I winner Big Blue Kitten (who entered in the Breeders' Cup Turf), and grade III winner Dynamic Sky .
After consecutive trips to Woodbine, The Pizza Man was next sent to Del Mar, where he finished third in the 1 1/2-mile Hollywood Turf Cup Stakes (gr. IIT), only 1 1/4 lengths behind winner Finnegans Wake .
"He learned to ship better, but I think we had one tired horse by the end of the year," Papiese said. The Papieses typically give their runners long breaks anyway, but The Pizza Man got extra time off due to exceptionally bad winter weather at Oaklawn Park, where Brueggemann had been stabled for the late winter/early spring.
"He was so excited to be on the farm," said Carlos Gonzales, who manages Midwest Thoroughbreds' 170-acre Thunder Ranch near Anthony, Fla., north of Ocala. "I think it helped him all the way around."
The Pizza Man enjoyed about two and a half months of doing nothing but grazing. Then Gonzales started having him galloped on the farm's six-furlong training track, building him up over a month to where he could start breezing again. An aquatic training facility at Thunder Ranch—essentially an Equicizer built into a large pool so horses get the added resistance from walking through water—also helped restore The Pizza Man to racing condition.
"Everyone has said he is a completely different horse," Gonzales said. "Now he wants to train, keep going and going and going."
The Pizza Man prepped for the Turf by running Oct. 3 in the $1 million Shadwell Turf Mile Stakes (gr. IT) at Keeneland, where he closed like a freight train and just missed catching Grand Arch at the wire by a head.
Papiese said he thought The Pizza Man would win the Shadwell but was more than happy with the effort.
"He came out of the race well and really got plenty out of it," he said. "He is fit and galloping strong. He's a happy horse."
Midwest Thoroughbreds will be sending only its second World Championships starter to Keeneland. The Papieses celebrated a win last year when homebred Work All Week won the Xpressbet Breeders' Cup Sprint (gr. I) and later received the Eclipse Award as champion sprinter for the year. Work All Week was being aimed for another shot at the Sprint but had to be retired in early October due to a stress fracture in his right knee.
Should Midwest capture its second Breeders' Cup race or even finish well in the Turf, The Pizza Man won't be entitled yet to his annual refresher from racing. He has one more commitment: the Nov. 29 US$5.2 million Japan Cup (Jpn-I), which is run at the same 12 furlongs on the turf at Tokyo Racecourse. It would be The Pizza Man's seventh start at that distance since July 2014.
"We cut the deal after the Arlington Million, but the horse comes first. If he is sound and 100% and happy, he's going," Papiese said. "The money is great, but the idea of representing the United States is pretty heavy. What an honor to represent all the horsemen and the country; it would just be very special to do that."
First, The Pizza Man has to get past Golden Horn or Big Blue Kitten, Slumber , and grade I-placed Shining Copper, whom the gelding faced in the Arlington Million.
"Our approach is to focus on the horse and not worry about the things we can't change," Papiese said. "I feel great about how he's doing. He's becoming a much better racehorse who has not run his best race yet."
This story originally appeared in the Oct. 24 issue of The Blood-Horse. Order your copy today.
THE PIZZA MAN gets in right on time @keenelandracing @BreedersCup #Turf pic.twitter.com/6EAD0MyXS4

— Michael Adolphson (@AdolphsonRacing) October 28, 2015