The saying, "out of sight, out of mind," apparently is not always so. During the first session of the Keeneland September yearling sale, much of the buzz as far as sires was concerned was not about commercial superstars Tapit and War Front , or about the first-crop sires headed by Frankel, but about the possibility Empire Maker was about to return to the U.S. after five seasons in Japan.
This wasn't the first time that such rumblings had been heard, but given Empire Maker has yet to be represented by a single stakes winner out of 145 starters from his first Japanese-bred crop, 3-year-olds of 2015, and that Empire Maker's son, Pioneerof the Nile , is the sire of Triple Crown winner American Pharoah , it's no surprise this time the rumors were well-founded, and Empire Maker will hold court at Gainesway Farm in 2016.
More surprising was the announcement, back in November 2010, that 10-year-old Empire Maker, the leading third-crop sire of 2009, had been sold by his owner, Prince Khalid Abdullah's Juddmonte Farms, to the Japan Bloodstock Breeders' Association.
The most exciting prospect of his generation when he retired, Empire Maker had made a very solid start, and the previous year, his son Pioneerof the Nile had taken second in the Kentucky Derby Presented by Yum! Brands (gr. I). As an aside, it's worth reflecting that had anything halted Mine That Bird's remarkable rail run, Pioneerof the Nile would have emerged triumphant, and Empire Maker would almost certainly have remained in Kentucky rather than journeying to the island of Hokkaido. That not withstanding, when looking back on the career of Empire Maker from his birth at Juddmonte to the time of his departure, it's still remarkable he was so hastily exported.
After an eight-race career highlighted by his win in the 2003 Belmont Stakes (gr. I), ending Funny Cide's bid for the Triple Crown, Empire Maker was retired to Juddmonte to stand at an initial fee of $100,000.Empire Maker had everything a breeder could dream of. In addition to his race-record and family, he was the leading son of the recently deceased Kentucky Derby winner Unbridled—already represented by an outstanding stallion son in Unbridled's Song—and he was as imposing an individual as one could wish.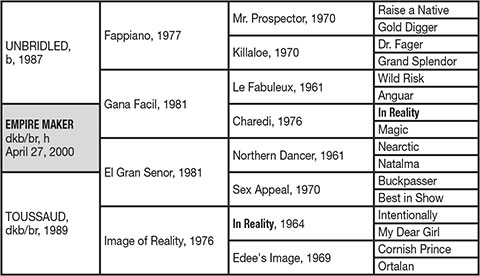 Empire Maker's third crop was just completing its 3-year-old season when the announcement of his sale was made. His first crop produced 10 stakes winners, including grade I winners Acoma, Mushka, Country Star, Icon Project, and grade II winner Battle Plan. From his second crop came not only Pioneerof the Nile—who won four graded stakes, including the CashCall Futurity (gr. I) and Santa Anita Derby (gr. I)— but graded winners Magical Feeling, Eagle Poise, Country Flavor, French group winner Charity Belle, and four other stakes winners. Empire Maker's third crop contained eight stakes winners and was headed by Black-Eyed Susan Stakes (gr. II) winner Acting Happy, and graded scorers Soaring Empire , Federalist (in Japan), and It's So You.
Looking at that list, one has to wonder why Juddmonte would part with a horse who had appeared to be a top sire and who had covered 139 mares at a fee of $75,000 in the most recent season. If, however, we look at Empire Maker's record at the time the announcement of his sale was made, and then dig a little deeper into the statistics, we might be able to hazard a guess.
At that point there had been 18 stakes winners from Empire Maker's first three crops of 3-year-olds and up, five of them grade I, and another four graded. Looking at the records, it would appear that Juddmonte, one of the world's powerhouse breeding operations, was responsible for 43 of 209 foals in those crops. Despite, however, having bred nearly a quarter of the sire's output, Juddmonte had been rewarded by just two of the 18 stakes winners—Turn Away, who took the Top Secret Stakes at Belmont, and who had been twice graded stakes-placed; and the English listed-winning and graded stakes-placed filly Principal Role.
One only has to look at the names of the home mares bred to Empire Maker to realize Juddmonte had committed the cream of its broodmare band to him, but that look also shows many of the mares in that band had something of a turf and/or European tinge to their pedigrees. Empire Maker himself is out of a wonderful turf mare, and he has a number of turf stakes winners, although only one of his grade I winners has earned that distinction on the grass. But the stock in trade of the Unbridled line, including through Empire Maker and on to his grandson, American Pharoah, is the ability to sustain stride length and momentum. This works wonderfully for racing on dirt in North America but is far less effective on turf, and particularly in Europe—where a number of the Juddmonte-bred Empire Makers started their careers—and where the emphasis is on acceleration in the closing stages of a race.
With such a scant return on investment of resources, it perhaps becomes less a puzzle as to why Juddmonte was prepared to say "sayonara" to Empire Maker. Of course, as every breeder knows, "send a stallion to Japan…" and Empire Maker proved to be no exception. His fourth crop—then 2—had yielded just six winners at the time Empire Maker's farewell was announced. Eventually, however, six claimed black-type honors, headed by the marvelous Royal Delta, the champion 3-year-old filly of 2011 and champion older female of 2012 and 2013, and Madison Stakes (gr. I) scorer Last Full Measure. There were 12 stakes winners in Empire Maker's fifth crop, including Bodemeister , who took the Arkansas Derby (gr. I) by 9 1/2 lengths and who produced two thrilling displays of front-running to take second to I'll Have Another in the Kentucky Derby and Preakness Stakes (gr. I), and other grade I winners In Lingerie and Grace Hall.
The best of the quartet of stakes winners from Empire Maker's sixth crop is the Juddmonte-bred Emollient (who has a distinctly dirt pedigree, as her dam is by Touch Gold, out of an A.P. Indy mare), successful in the Central Bank Ashland Stakes (gr. I), Juddmonte Spinster Stakes (gr. I), American Oaks (gr. IT), and Rodeo Drive Stakes (gr. IT).
Juddmonte is also breeder of the best of the six stakes winners in Empire Maker's seventh and final U.S. crop to date: Brooch (out of a daughter of Dansili), a group II and group III winner in Ireland. Although it generally went unnoticed, Empire Maker was the leading sire of 2012 by North American earnings.
Many of the reasons that breeders mourned Empire Maker's departure to Japan are the same reasons they are excited by his return. In the mold of his sire, he's a proven, consistent source of classic-distance dirt performers, a commodity that is in shorter supply these days. He gets top-class colts and fillies, and with Pioneerof the Nile's bright start, he has the potential to be regarded as a "sire of sires." Empire Maker also frequently gets a physical type that has appeal in the sales ring.
Empire Maker has also returned to what appears somewhat of a transitional time in the U.S. stallion colony. In recent years we have lost such sires as A.P. Indy, Smart Strike, Unbridled's Song, Street Cry, Dynaformer, Indian Charlie, and El Prado. Empire Maker, who is only a year older than Tapit, and two years older than War Front—the two current commercial headliners—is younger than Distorted Humor , Awesome Again , Giant's Causeway , Malibu Moon , Tiznow , Speightstown , and Medaglia d'Oro , which gives him the potential to be a mainstay as we wait for the next generation to arise.
With Unbridled's Song still awaiting a legitimate heir (although his champion 3-year-old Will Take Charge and grade I winners Emcee, Graydar , and Cross Traffic are still awaiting their first runners), Empire Maker looks increasingly like being the horse who will extend the quintessentially U.S. classic dirt branch of Mr. Prospector that comes down through Fappiano and Unbridled (something of course that he may already be well on his way to achieving via Pioneerof the Nile and American Pharoah).
It doesn't hurt either that Empire Maker has established that he crosses well with several major current sire lines. One of the reasons we were so disappointed to see him leave was that he'd become a great option for A.P. Indy mares.
Four of his black-type winners are out of A.P. Indy-line mares, most notably Royal Delta, and A.P. Indy also appears as sire of the second dams of Emollient and Bodemeister. He has just two stakes winners out of Storm Cat mares, but those two are Bodemeister and In Lingerie, while graded-winning and grade I-placed Magical Feeling and stakes-winning and grade I-placed Charm the Maker are out of mares by sons of Storm Cat, with American Pharoah being a product of an extended Empire Maker/Storm Cat cross.
Sharp-eyed readers will have noted that two of the aforementioned affinities will set Empire Maker up perfectly to cross with mares by his new stud-companion, Tapit (a grandson of A.P. Indy), and with daughters of War Front (by Danzig). Those with even sharper eyes will also observe that respectively these crosses will give a 2x4 duplication to Unbridled (in the case of Tapit) or a 3x5 cross of Fappiano. How that plays out will be one of the many fascinating aspects to the Emperor's return.