By Anne Peters
In August, Maryland-based training great King Leatherbury was inducted into the National Museum of Racing's Hall of Fame in Saratoga Springs, N.Y. Although his string is a fraction of what it used to be, the stable star, 9-year-old Ben's Cat, is a Maryland legend.
About 15 years ago, after giving a talk on pedigrees at a Maryland Horse Breeders' seminar, Leatherbury asked me to come up with some breeding ideas for a pair of mares from a family he had cultivated over the years. In 1982 he bought the mare Dronette, a daughter of Drone, who produced a pair of Maryland-bred champions—and graded stakes winners—for Leatherbury: Notches Trace, by Lord Gaylord; and Thirty Eight Go Go, by Thirty Eight Paces. Her last two foals were full sisters to Thirty Eight Go Go, stakes-placed Twofox and Endette, who only placed at the races. Endette had already produced the stakes winner Due, by Rinka Das.
For the full sisters I recommended Malibu Moon, a young sire who had just entered stud at Country Life Farm in Maryland. Several years later I got another call from Leatherbury, saying that since I had helped him breed "that good horse" of his, he had some questions for breeding back the next season.
"That good horse" was Ah Day, Endette's 2003 son by Malibu Moon, who raced 8 years, with 44 starts, 14 wins, and $921,574 in earnings. A winner at 2, Ah Day ran through the age of 9, winning or placing in 19 stakes. His biggest win was in the 2009 Toboggan Stakes (gr. III) at 6. Calling him a good horse was a bit of an understatement.
Leatherbury's dilemma was that Malibu Moon had left Maryland for greener pastures and a higher stud fee in Kentucky. Leatherbury wondered if it would make sense to use Parker's Storm Cat, Malibu Moon's half brother by Storm Cat, who had replaced him at Country Life in 2004.
Although they were by different sires, most of the reasons for the original mating suggestion were still in place. One of the key strains I thought important to find for both mares was Secretariat, to cross with his half brother Sir Gaylord, whose son Drone was the sire of Dronette. Leatherbury had already been successful doubling Sir Gaylord 2x3 in the mating that produced Notches Trace. In Malibu Moon, the desired cross was found in A.P. Indy's dam, Weekend Surprise, a daughter of Secretariat who also happened to have a cross of Sir Gaylord. In Parker's Storm Cat, his sire Storm Cat was likewise out of a daughter of Secretariat. Thirty Eight Paces had also done well with Secretariat and his sire Bold Ruler, so Secretariat seemed to hit that note as well.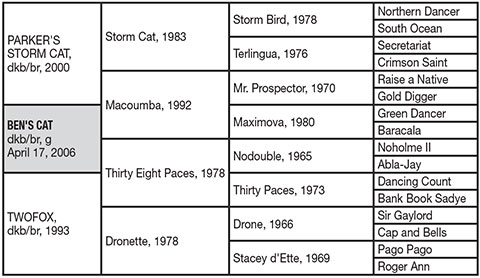 As it turned out, Parker's Storm Cat was no Malibu Moon, but Leatherbury came out ahead nonetheless. Both Endette and Twofox produced foals by Parker's Storm Cat in 2006. Endette's was a filly named Nin, who was unplaced in one start, but Twofox produced a nearly black colt, later gelded, named Ben's Cat.
Still thriving at 9, Ben's Cat has run six years, made 51 starts with 30 wins, and has earned $2,470,405. He's won or placed in 36 stakes, and his most recent win, the Mister Diz Stakes at Pimlico last month, marked his sixth score in the event, which he has won every year since 2010. He's also won two renewals of the Turf Monster Handicap (gr. IIIT) at Parx and three runnings of the Parx Dash Handicap (twice as a gr. IIIT).
Sired by half brothers and out of full sisters, Ah Day and Ben's Cat share three of their four grandparents, and the differences between them may have a lot to do with that quarter they don't share.
Malibu Moon was a rare item, an early maturing A.P. Indy, winning his second start at 2 in a five-furlong maiden race at Hollywood Park at the end of May. He's noted for siring middle-distance winners on dirt. In his prime Ah Day was a good dirt router, although he settled into being a more consistent six-furlong specialist as he aged.
Parker's Storm Cat's only win was as a 3-year-old, in a five-furlong turf maiden at Del Mar. Although his son Ben's Cat has won on dirt and over a route more than once, his forte is also a turf sprint.
Ben's Cat continues to make racing fun for King Leatherbury and for the many fans that love to see him come out on race day and give his all. Long may they both run.