Trainers Take the Stage
Since the horses can't talk, their connections had to speak for them at Tuesday night's annual
Derby Trainers Dinner
at Louisville's convention center. The usual suspects were in attendance: co-conspirators (a.k.a. co-hosts) Chris Lincoln and Paul Rogers, plus Churchill Downs management (Alex Waldrop, Tom Meeker, Karl Schmitt), Bob and Beverly Lewis, Bob Baffert, etc. And per usual, the dinner was lacking the one guy who still manages to get a mention at the event each year: D. Wayne Lukas. Usually he's berated in absentia by Lincoln, since he has started a horse in the last 20 runnings of the race, but never attends the dinner. This year Lincoln went a little easy on the master, since his absence will be extended through Derby Day. "I consider this a separation," Lincoln joked, "and not even a legal one." However, in attendance were representatives of 17 horses thought to be running Saturday. Assuming they all make it through the post draw without a change of heart, eight of those trainers would be saddling their first Derby starters.One of those first-timers is
Steve Asmussen
, who will saddle Fifty Stars. While quiet onstage, Asmussen's horses have made noise across the Midwest and South as he has picked up stakes wins in any number of states. His brother, Cash, recently rejoined the family's horse breaking and training operation near Laredo, Texas. Lincoln explained why Steve left the fold. "Folks, if you lived in Laredo, you'd get out of there as fast as you can too."Two folks in attendance took the brunt of Lincoln's name calling. The first to be dubbed a "rat bastard" was Bobby Hurley, co-owner of Songandaprayer. The second was Keats' trainer
Niall O'Callaghan
.After insulting him, Lincoln offered Hurley Kentucky immunity for 'the shot,' the winning basket made by Christian Laettner to put Hurley's Duke Blue Devils atop Kentucky for the NCAA National Championship in 1992. However, he accused Hurley of pooling his money from Duke fans to make the $1 million purchase of Songandaprayer.Irishman O'Callaghan was a good sport with Lincoln, although he cleverly avoided answering the one question the host asked repeatedly: will Keats go in the Derby? That answer will come later. In the meantime, Niall admitted why he was holding out so long..."Free tickets," he said. He also joked he would keep the decision at bay until he got another box seat on Derby day. Lincoln, for once frustrated by asking a question three times without a response, called for help from the crowd. "There's only one way to get an Irishman off the stage...who will buy him a drink?"
Dollar Bill
trainer Dallas Stewart had a good reply to Lincoln when he brought up the colt's Website. "You might convince me Dollar Bill can talk, but not that he can type.""He has a very big keyboard," Stewart said.On jockey Pat Day's partnership with the horse, and his training this week, Stewart said "he's running like he's possessed right now....(and then remembering who his jockey is) with the Lord."
Howard Battle
, Keeneland racing secretary, handicapper, and equine artist, was honored at the event with the Keene Daingerfield Award. Earlier Tuesday night the Kentucky Horsemen's Benevolent and Protective Association (HBPA) honored
Joe Hirsch
at their annual Horsemen's Reception at the Kentucky Derby Museum.
Bigg Dream Comes True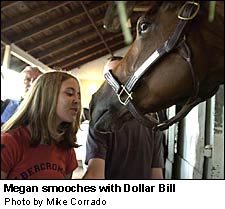 Day was continuing to enhance his status as one of the nicest guys in racing on Wednesday morning. He has invited
Megan Bigg
to be his guest at Saturday's Kentucky Derby, and introduced her to the backside of the track on Wednesday. Bigg, a 16-year-old resident of Louisville, has had a kidney transplant and survived a type of cancer which resulted from the steroids she took to adjust to the new kidney. She is currently in remission, but her mother, Monica Reed, said they are still guarded about her condition because doctors cannot explain why Megan's cancer cleared up suddenly and without explanation.Megan's invitation came about with the assistance of Louisville's
Dream Factory
, which works with seriously ill children. Megan, her mother, and their dream granter, Marty Martone, will be special guests of Day and Churchill Downs for the Derby. The jockey introduced Megan to his Derby horse, Dollar Bill, and the three-some hit it off. Megan mugged with the horse and even got him to wear, albeit briefly, one of the baseball caps bearing his name. She also added one to Day's head later, so he had one backwards and forwards, or coming and going, as he said. Megan said she was really a fan of Day's, since he spent time at Kosair Children's Hospital while she was there, but now she is a racing fan as well. After the horse talk subsided, Megan and Pat found they have another common bond: a strong faith in God.Churchill has a
VIP box
near the finish line reserved for such special folk. Alison Durst, who works in the track's community affairs division, said in addition to Biggs, a 100-year-old racing fan will celebrate her birthday on Saturday as the guest of the track.
Vivian Fox
plans to bring her 83-year-old daughter with her to mark the occasion.
Enjoy the View
Artist
Peter Williams
was among the railbirds Wednesday, but he didn't focus on a Derby favorite. Williams, who divides his time between homes in Louisville and New Zealand, is an equine artist who typically does his work on-site. He said he arrived around 7 a.m. Wednesday, and by 9:30 a.m. he had a gorgeous workout scene already on canvas. Williams also paints from time-to-time in the paddocks at racetracks like Keeneland and Saratoga.Williams managed to hold multiple conversations with onlookers while adding adept strokes to his canvas. He said it takes "40 years and three hours" to produce his works. He also said he often gets unsolicited criticism from passersby. Sometimes, he said he gets a different view on his work by taking it home and looking at it backwards, in the mirror. Wednesday's work didn't look like it needed much improvement.
Heard
...Stewart Soloman, a magazine distributor in the Boston area, has a special reason to root for favorite Point Given. Soloman and his wife were at the Derby in 1995 after a tough time in their marriage. They had been trying, unsuccessfully, to get pregnant, and even separated for a time due to the stress. On that trip to watch Thunder Gulch win the Roses they conceived their son
Jared Louis Soloman
. The name was chosen in honor of Louisville when they decided Jared Thunder or Jared Gulch just didn't capture the occasion appropriately.