Breeders' Cup Retrospective: That Mandella Fella and Other Thoughts
by Steve Haskin
Date Posted: 10/28/2003 12:30:32 AM
Last Updated: 10/30/2003 11:17:37 AM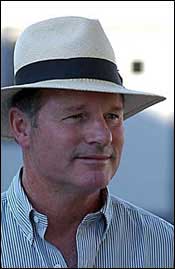 Record-setting trainer Richard Mandella
Photo: Anne M. Eberhardt

As Dick Mandella walked along the Santa Anita apron Sunday morning to watch one of his horses work, he took one look at the blazing sky caused by the devastating fires some 30 miles away and said in jest, "People are gonna think I'm responsible for those fires."Mandella's comment was in reference to his almost spiritualistic day and overrall record of six Breeders' Cup victories and two undercard stakes wins in the last two Santa Anita Breeders' Cups. Each time, massive fires broke out nearby. Anyone who knows the always humble Mandella realizes his comment was poking fun at the King Richard title and other praises bestowed upon him, and not about receiving unworldly powers from any fire gods. He knows darn well that it was all about good timing, good horses, good rides, and, oh yes, a bit of good training. And, of course, good luck.Back at his barn after what many perceive to be the most remarkable single-day training feat of all time, Mandella was almost giddy. Not just over his remarkable achievements, but to have it all topped off with his son Gary winning the final race on the card, and doing it for the Wertheimers, the owners of Juvenile Fillies (gr. I) winner Halfbridled, as well as 1993 Breeders' Cup Turf (gr. I) winner Kotashaan.There has been a running joke around Mandella's barn, concerning a patch of grass he had planted just near the barn entrance. Grass is something rare on the Santa Anita backstretch, and Mandella guarded it as if were sacred ground. He had also planted fresh grazing grass for his horses, which has already been pretty much chowed down. When Halfbridled's jockey Julie Krone came back to the barn and kidded Mandella about his patch of grass, he flopped down on his back, spread out his arms and began pulling out blades of grass and flinging them in the air.It was the perfect image to end a perfect day. And it couldn't have happened to a nicer guy. To borrow the title of the Dodge-sponsored Classic (gr. I), let us all remember the 2003 World Thoroughbred Championships as the Breeders' Cup – Powered by Mandella.******************New York trainers beware. If you're going to send a horse to Santa Anita for future Breeders' Cup races, better prep him anywhere but Belmont Park. In the three Breeders' Cups held at Santa Anita, the record of horses who made their previous start at Belmont is 0-for-40. And 32 of those horses finished out of the money in the Breeders' Cup. The question is why? Belmont horses have fared well at other Breeders' Cup sites, including Hollywood Park, so it's not a California thing. It could be the change from a sandy track to a clay-based track, combined with going from one turn to two turns. But no one really can say. In any event, it is something to ponder.*******************Although they lost any chance at Horse of the Year, how about a round of applause for Medaglia d'Oro and Congaree, two brilliant horses who hooked up in a suicidal speed duel right from the start of the Classic and never quit. Both horses battled every inch of the way and should be commended for their achievement. Congaree came back with gashes on his flank, caused by his jockey Pat Valenzuela's whip. The flank is a sensitive area and the one spot where a horse is most vulnerable to cuts from the whip.If Congaree didn't come in on Medaglia d'Oro at the start, forcing Jerry Bailey to take on his rival earlier than he wanted for fear of being squeezed back, the Classic might well have turned out differently. That's not to say the outcome wouldn't have been the same, but with Congaree on the lead and Medaglia d'Oro stalking, instead of fighting with him, the pace likely would have been a bit softer and each horse would have had more left for the finish. But in the end, it was the true mile and a quarter horse who won, and the rest is pure speculation.********************Before anyone vilifies Bobby Frankel for his shutout on Breeders' Cup Day, consider the new trend that is developing. Is the Breeders' Cup compromising an entire year's achievement? The nine Breeders' Cup winners went into the day having made an average 4.2 starts all year. Dick Mandella's four winners, for example, made a grand total of 10 starts (Pleasantly Perfect and Action This Day 2 starts each, and Johar and Halfbridled 3 starts each). The majority of Frankel's horses had been battle-hardened from full campaigns in top-class company. By comparison, Mandella's four winners had run in a total of two grade I stakes this year. Excluding Midas Eyes, who was in over his head off a very long layoff, Frankel sent out seven horses who had run in a total of 26 grade I stakes. One of Frankel's lightly campaigned horses, Medaglia d'Oro, was coming off a nine-week layoff. Although Frankel's response to that is, "Big deal," he's now tried it twice with the horse, and he's finished second each time as the favorite. Would a prep (let's say in the Goodwood) have helped Medaglia d'Oro in the final quarter mile? Once again, it is something to think about if you're a trainer looking to run in the Breeders' Cup Classic off a layoff.********************The award for the most underrated achievement goes to Aidan O'Brien, who finished first, second, and third in the Breeders' Cup for the third year in a row.In 2001, he won the Juvenile with Johannesburg, was second in the Turf with Milan, and third in the Mile with Bach. In 2002, he won the Turf with High Chaparral, was second in the Mile with Rock of Gibraltar, and third in the Juvenile with Hold That Tiger. And this year, he won the Turf again with High Chaparral, and finished second and third, respectively, in the Filly & Mare Turf with L'Ancresse and Yesterday. He also picked up $120,000 for Hold That Tiger's fifth-place finish in the Classic. In 2000, he was second in the Classic with Giant's Causeway. He should be applauded for his support of the Breeders' Cup, as should Michael Stoute, who was scoring his third victory, with Islington in ther Filly & Mare Turf, to go along with a second and three thirds.For those who were hoping to see Hold That Tiger return to America for this year's Kentucky Derby (gr. I), although it has no bearing on what would have happened back in May, it is interesting to point out that Hold That Tiger did finish a dozen lengths ahead of Derby winner Funny Cide.**********************For the little guy, how about owner Jeffrey Sengara and trainer Ted West, who had their second runner-up performance (Budroyale in the '99 Classic and Bluesthestandard in the '03 Sprint) with former claimers? Budroyale (a former $32,000 claimer) and Bluestherstandard (a former $10,000 claimer), were claimed a combined eight times in their career, with Sengara plucking them each out of $50,000 claiming races. **********************By winning the Turf with Johar, the Thoroughbred Corp was scoring its fourth Breeders' Cup victory with four different trainers (Alex Hassinger, Anees; Jewel Princess, Wally Dollase; Spain, D., Wayne Lukas; and Dick Mandella, Johar). They also finished second in Breeders' Cup races with Point Given and Kafwain (Bob Baffert), and Royal Anthem (Bill Mott), as well as with Sharp Cat (Lukas).**********************The day's other hero was Alex Solis, who has been all class throughout his career, despite the criticism over the years that he can't win the big one. Solis is one of the most dedicated family men in the business, believing that family and being a good husband and father are all that matter. He once said, "At the end of your last day, what happened in the past doesn't matter. The only thing that will be in your heart are the things that really do matter, like your family." To watch Solis accept the inaugural Bill Shoemaker Award, with his family at his side, was one of the highlights of this year's Breeders' Cup.



Copyright © 2015 The Blood-Horse, Inc. All Rights Reserved.