Mandella Sets Record As Pleasantly Perfect Takes Classic
by Dan Liebman
Date Posted: 10/25/2003 6:05:47 PM
Last Updated: 10/26/2003 1:55:13 PM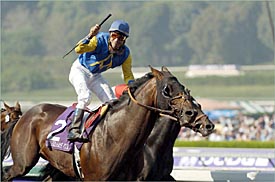 Pleasantly Perfect's win in Classic sets record for trainer Richard Mandella.
Photo: Mike Corrado

Richard Mandella won his fourth race on the Breeders' Cup World Thoroughbred Championship card, and Alex Solis continued a celebration that began Friday when notching his 4,000th win, as Pleasantly Perfect won the $4 million Breeders' Cup Classic – Powered by Dodge (gr. I) at Santa Anita.Official attendance for the Breeders' Cup World Thoroughbred Championship was 51,648.Mandella became the first trainer to win four Breeders' Cup races in an afternoon. He won the Juvenile Fillies (gr. I) with Halfbridled, the Bessemer Trust Juvenile (gr. I) with Action This Day, and took the John Deere Turf (gr. IT) when his Johar dead-heated with High Chaparral.Mandella won four races the last time the Breeders' Cup was held at Santa Anita in 1993, but that included two stakes on the undercard. "I never thought lightning would strike twice, but it struck harder," Mandella said. "I don't know how to describe it," he said. "It's like I said at the press conference when we had the preentries, the day I won four here last time, if I would have known I was going to do it, I could have really enjoyed it and had a great day with it. But I was in shock all day and by the time I came out of the shock and figured out what I did, everybody had gone home. And I'm still in shock here. So I don't know. I didn't believe this could happen again. But it happened bigger and better." Solis had two wins (he was aboard Johar), a second and a third the day following his win No. 4,000.Pleasantly Perfect won by 1 1/2 lengths, and Medaglia d'Oro was three-quarters of a length ahead of Dynever.Fourth was Congaree, who was followed by Hold That Tiger, Perfect Drift, Evening Attire, Ten Most Wanted, Funny Cide and last year's winner, Volponi.Pleasantly Perfect was making just his second start off a layoff. He was on the shelf from March 1 to Oct. 4, when he won the Goodwood Breeders' Cup Stakes (gr. II). Solis bided his time on the 5-year-old son of Pleasant Colony who earned $2,080,000 for owner Gerald Ford's Diamond A Racing.The lightly raced horse won for the sixth time in 13 starts with winnings of $2,949,880."He's a really good horse," Mandella beamed. "He came a long way. The little rest helped him." As expected, Congaree, ridden by Patrick Valenzuela, and Medaglia d'Oro, with Jerry Bailey aboard, made the early pace, taking the field through quick early fractions of :22.79, :46.35, and 1:10.22. In the clubhouse turn, Funny Cide bore out, carrying Ten Most Wanted and Perfect Drift with him. Both horses lost considerable ground as a result.Solis had Pleasantly Perfect pleasantly placed as the field turned for home. When he unleashed his kick, he was much the best at the finish. Medaglia d'Oro ran tough to hold second after contesting the pace. They went a mile in 1:34.22 and the final time for the 10 furlongs was 1:59.88."He really broke sharp. He was relaxed," Solis said. "And every time I put my hand on him, he was ready." Bailey wasn't too disappointed in the result, but trainer Bobby Frankel declined comment, with apologies."I knew with Congaree on the outside, if things didn't go perfectly it could be a speed duel, and that is exactly what it was," Bailey said. "If I broke good, I was going to let him run enough to spread the race out and then take back and give my horse a breather, but it didn't come up like that. I couldn't be happier with the way he ran. He never quit fighting. It looked like Congaree had him put him away and he came back. I just hoped that nobody was coning (from behind)."Pleasantly Perfect, who was bred in Kentucky by Robin Scully's Clovelly Farm, paid $30.40, $9.60, and $6.60. Medaglia d'Oro returned $4.40 and $3.60. Dynever got third and was worth $7.40.Dynever, with Corey Nakatani in the irons, was still last after three-quarters of a mile, turning in a nice rally to finish third."The trip was great," Nakatani said. "He came out perfect, settled, and made a run. He was running with the winner, and the winner just kicked in slightly better than he did. But he (winner) is an older horse and this horse is just three. He's just going to get better and better.""He really ran well," Baffert said of Congaree. "He fought all the way and just got tired. I was hoping he would relax, but I think when he bumped with Medaglia d'Oro coming out of the gate, it got him running. I knew if they got in a speed duel, it was going to hurt us. I was hoping Jerry (Bailey on Medaglia d'Oro) would let us go, but he knows our horse well, so he wasn't about to do that."Gary Stevens, aboard the third choice Perfect Drift, and Pat Day, riding second favorite Ten Most Wanted, felt they were compromised by Funny Cide's action going into the clubhouse turn."There was a big melee out of the gate," Stevens said. "He's a big, strong horse and he escaped out of that. Going into the first turn, Funny Cide came up inside of me and he was real rank. He just kept knocking me out and knocking me out. I was six wide and finally I just eased back. He's a hell of a horse to put up with what he did and still run on like he did."Day noted, "In the first turn, five-sixteenths of a mile into the race, we were moving nicely but Funny Cide took out on Perfect Drift, pushing him out and we had to snag up on his (Perfect Drift's) heels. I tried to overcorrect him, but he is a big long striding horse and not real light on his feet. He can't do that and get back into it."Julie Krone, who rode the Derby/Preakness winner, was nonplussed. "That stuff on the turn happens a hundred times. In the stretch, I didn't have any horse for a finish."(Chart, Equibase)



Copyright © 2015 The Blood-Horse, Inc. All Rights Reserved.