Battle Lines Are Drawn for Classic: Congaree, Medaglia Side by Side
by Steve Haskin
Date Posted: 10/22/2003 4:37:06 PM
Last Updated: 10/30/2003 11:37:13 AM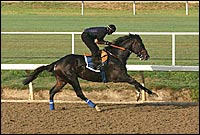 Medaglia d'Oro will start next to Congaree in the Classic.
Photo: Anne M. Eberhardt

The stage is set for an exciting start to the Breeders' Cup Classic – Powered by Dodge (gr. I), as Medaglia d'Oro and Congaree, drew side by side, in posts eight and nine, respectively.Both colts have similar running styles and are expected to dictate the running of the race, along with Kentucky Derby (gr. I) and Preakness (gr. I) winner Funny Cide, who breaks from post four. With the late-running Ten Most Wanted breaking from the outside, in post 10, it looks as if Jerry Bailey on Medaglia d'Oro and Pat Valenzuela on Congaree will be eyeing each other closely in the run to the first turn."I think it's a great post," Medaglia d'Oro's trainer Bobby Frankel said. "Congaree breaks sharply and (Medaglia d'Oro) can follow him around. My horse doesn't get rank, and Jerry can ride him out of there. I'm happy with all my horses' posts. Everything is going perfectly so far...maybe too perfectly. I'll be very happy to win one race."Frankel originally was going to bring Medaglia d'Oro and the rest of his Breeders' Cup horses to Santa Anita from Hollywood Park on Friday, but decided to send them Thursday in order to school them.Medaglia d'Oro was made the 3-1 morning line favorite for the Classic, with Perfect Drift next at 7-2, followed by Ten Most Wanted at 4-1, and Congaree a generous 6-1. The son of Arazi has gone off as the favorite in 14 of his last 15 starts."He's never been 6-1 in his life," Baffert said. "We finally get a price on that horse. The post is fine. I just didn't want the one or the 10. After what he's been through, I'm just happy to have gotten him this far and to be here."One trainer who was delighted with his post was Wally Dollase, trainer of Ten Most Wanted. "I love it," Dollase said. "He gets very anxious and antsy in the gate, and this way he won't be in there very long. He'll be relaxed when he breaks, and he'll have something to run at. He had a bad experience in the gate when one of the handlers grabbed his ear, and these horses don't forget things like that. "I realize he's going to lose some ground on the first turn, but I'm not concerned about that as much as getting him to relax. He should be in the garden spot on the outside."Evening Attire, who likely will be running last in the early stages, breaks from the rail, with Pleasantly Perfect, another come-from-behind horse, in post two, and last year's classic Volponi in post three. Although Volponi has tactical speed when the jockey wants it, it should be Funny Cide who gets to the rail going into the clubhouse turn.In other Classic developments, Hold That Tiger went to track for the first time, accompanied by trainer Aidan O'Brien on the pony. The son of Storm Cat had a light gallop, and didn't sweat up that badly considering the heat. He has filled out and grown from the 2-year-old who showed up for last year's Bessemer Trust Breeders' Cup Juvenile (gr. I). In his return to America in early September, he finished a sharp second to Mineshaft in the Woodward Stakes (gr. I).O'Brien admitted he "messed up," in his training of the colt this winter, changing his training methods, and says he hopes he's "gotten it right this time." Most people expected Hold That Tiger to return to America for the Kentucky Derby (gr. I), but O'Brien felt he was their best prospect for the English Two Thousand Guineas (Eng-I), and elected to keep him home. Hold That Tiger finished a dismal 17th in the Guineas as the 4-1 favorite.Also on the track for the first time since arriving from New York was Meadowlands Cup (gr. II) runner-up Dynever, who came out for his gallop at 6:30 for trainer Chris Clement. This talented 3-year-old will be a big price in the Classic, never having run against this kind of competition, but is coming to hand for Clement, and with his strong late kick, he could be a factor.Three other New York-based horses -- Funny Cide, Volponi, and Evening Attire -- are expected to arrive this evening, with Perfect Drift coming in tomorrow evening.



Copyright © 2015 The Blood-Horse, Inc. All Rights Reserved.