Tendon Injury Knocks Azeri Out of Breeders' Cup, May End Career
by Steve Haskin
Date Posted: 10/20/2003 11:48:32 PM
Last Updated: 10/24/2003 9:52:36 AM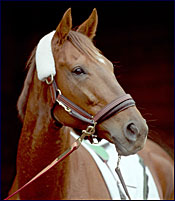 Azeri, may be retired due to injury.
Photo: Barbara D. Livingston

Azeri, who was declared out of the Breeders' Cup Distaff – Presented by Nextel (gr. I) on Monday morning, has an injured tendon, trainer Laura de Seroux said later in the day.Because of the injury, de Seroux has recommended to owner Michael Paulson that last year's Horse of the Year be retired. If she is done racing, Azeri goes out with 14 wins in 16 starts and earnings of $3,044,820. She has won eight grade I races."We knew something had to be wrong with her," de Seroux said from her San Luis Rey Downs office. "You don't go from being a willing wonderful filly to one who refuses to train. This morning when I got the barn, we found the reason."The 5-year-old daughter of Jade Hunter was found after scans to have acute tendonitis of her left front leg."It was very subtle, and normally no one would even find it, but I felt some heat in the leg. Thank God we didn't continue to run her because she has the beginnings of a bowed tendon," de Seroux said.An announcement by Paulson regarding her Breeders' Cup status was released Sunday night. Paulson manages Azeri's racing career for the Allen Paulson Living Trust. The winner of last year's Distaff was bred by Michael Paulson's late father.De Seroux said that Azeri will leave for Kentucky Thursday morning."I'm happy for her," the trainer said. "She now goes on to the next phase of her life."



Copyright © 2015 The Blood-Horse, Inc. All Rights Reserved.