Perfect Drift, 'Lady, Tiger Hunt Work in Kentucky
Date Posted: 10/18/2003 10:25:19 PM
Last Updated: 10/19/2003 4:31:34 PM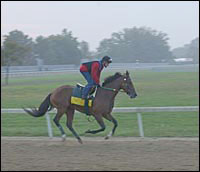 Perfect Drift, continues to work toward Breeders' Cup Classic.
Photo: CDSN/Churchill Downs

Stonecrest Farm's Breeders' Cup Classic (gr. I) contender Perfect Drift, Select Stable's Distaff (gr. I) hope Take Charge Lady, and Team Valor's Juvenile (gr. I) hopeful Tiger Hunt each worked five furlongs in dense fog at Churchill Downs Saturday morning in their last training moves before they fly to California to compete in the Breeders' Cup at Oak Tree at Santa Anita Oct. 25.Perfect Drift - Trainer Murray Johnson's 4-year-old Dynaformer gelding breezed a sharp five furlongs in 1:00 over a "fast" surface at the seven-furlong Trackside Louisville training center. The fog made it impossible to see the entire work from a single vantage on the track. Johnson, who was aboard his stable pony, watched Perfect Drift break off at the 5/8ths pole and then galloped around the first turn to see the Stephen Foster Handicap (gr. I) winner finish up under jockey Joe Deegan."He looked good going off and looked strong finishing," said Johnson. "He was just perfect.""I thought he worked super," said Deegan. "He went off nice. I actually was planning on going a little bit slower, but I had a real good hold of him down the backside and at the eighth pole I just bent over him and he scooted that last eighth of a mile. He really got into it, so he's mentally and physically where he needs to be."Deegan has been Perfect Drift's workout partner through most of the gelding's career and he likes what he has seen and felt in the gelding's training for the Classic."I think he's as good now as he ever has been," Deegan said. "He's a happy horse going into it, so with some luck he's the horse to beat."Johnson said Perfect Drift will have a strong gallop on Wednesday before he boards a Thursday flight to Santa Anita. Jockey Gary Stevens will be in the saddle when the Stonecrest homebred makes second bid for the $4 million Classic."Everything looks good," said Johnson. "His weight is good and his color is good. We've just got to have a good trip out there and then a good racing trip." Perfect Drift will carry a career record of 9-3-1 in 17 races and earnings of $2,221,368 into the Classic. He is 5-0-0 in seven starts this year and unbeaten on the dirt with a roster of stakes wins that includes the Foster, Kentucky Cup Classic (gr. II), Hawthorne Gold Cup (gr. II) and Washington Park Handicap (gr. II).Take Charge Lady – The 4-year-old daughter of Dehere, who is owned by the Select Stable of Jerry and Feye Bach, breezed a sharp five furlongs in :59 2/5 at foggy Churchill Downs for trainer Ken McPeek in preparation for the Breeders' Cup Distaff (gr. I). Jockey Brice Blanc was in the saddle for the work, the fastest of only three recorded training moves on the entire morning at Churchill Downs. Track clockers stationed at various points around the one-mile track timed the works by Breeders' Cup contenders."I just saw her break off, but she looked great," said McPeek."She worked super – 59-and-a couple (of fifths) is a great work for her. We were thinking around a minute, but I'm really, really pleased with her. It was a good work, she's doing good and seems to have come back good out of the work, so we're going to keep our fingers crossed."Take Charge Lady's most recent win, a second consecutive victory in the Spinster (gr. I) at Keeneland, pushed her career record to 11-7-0 in 20 races and lifted her earnings to $2,470,351. She has a record of 2-3-0 in five races this year, with one of those setbacks being a narrow loss to reigning "Horse of the Year" and Distaff rival Azeri in the Apple Blossom (gr. I) at Oaklawn Park. The only races in which she has finished worse than second in her three years of racing came in Breeders' Cup events: a sixth-place finish in the Juvenile Fillies (gr. I) at Belmont Park in 2001 and a sixth-place finish behind Azeri in last year's Distaff at Arlington Park. Tiger Hunt – Jockey Pat Day, who is the all-time Breeders' Cup leader in earnings by a jockey, was in the irons for the first time aboard the Elliott Walden-trained son of Kris S. as he worked five furlongs in company with his 4-year-old stablemate Quest Star. Tiger Hunt covered five furlongs over "fast" footing in 1:01 and Quest Star, ridden by Louise Hatfield, completed the distance is 1:01 2/5. Larry Melancon had ridden Tiger Hunt in his first three races, including a win in the Cradle Stakes at River Downs and a recent runner-up finish to Eurosilver in the Lane's End Breeders' Futurity (gr. II) at Keeneland. His new pilot got his formal introduction to his Breeders' Cup Juvenile mount in Saturday's work, but not before Day had talked with Melancon on Friday evening to get his impressions of the colt."I liked him, but I liked him before I got on him just off of what Larry Melancon had to say about him," said Day. "Larry's a good judge of horseflesh and he's been quite high on this colt all along ... (Tiger Hunt is) very professional and went about his business in a handy fashion. He does everything on cue and I liked him."Day said it was difficult to see much of the track through the thick blanket of fog, but he didn't have to see very much to be happy with Tiger Hunt's effort."Quest Star was in front of us and I tracked him around to the head of the stretch, and then kind of made a race of it down to the wire," he said. "You couldn't see very far, but I could see far enough to see where he was at and certainly saw where the poles were on the racetrack, but the fog was pretty thick out there."Walden watched the work from the grandstand, where all he could see was Tiger Hunt's strong finish against an older and experienced workmate. "Quest Star is a very genuine horse – a very good horse, a grade II winner," said Walden. "Tiger Hunt sat off of him a little bit and they finished up very well ... I couldn't see the backside, but what I saw down the lane I liked."Tiger Hunt will take a record of 2-1-0 in three races and earnings of $227,320 into the Juvenile. Walden has yet to win a Breeders' Cup race in five tries and Tiger Hunt will be his first starter in the Juvenile.



Copyright © 2015 The Blood-Horse, Inc. All Rights Reserved.