This article appeared in the March 8, 2003 issue of
The Blood-Horse
Nina Hagen hardly sits still for a second. Like many farm owners she is the boss, hired hand, receptionist, and syndicate manager. At 5 feet 1 inch tall, this former gymnast vaults from fielding phone calls to breeding mares with equal ease. Her business and her favorite hobby share her backyard, where a son of Deputy Minister stands just inches from a garden box bursting with vibrant green lettuce and thriving herb bushes. Hagen has woven all of her loves--dogs, horses, gardening, cooking, decorating, and family--into the 100 acres she and her husband, Ron, share at El Dorado Farms near Enumclaw, Washington. At the risk of sounding like one of those "Successories" posters you can find in any mall, Hagen speaks in superlatives and gushes nuggets of wisdom: "I'm not afraid of hard work and I'm always willing to learn...Doing what we say we do and being who we say we are got us here...Quality, pure and simple." But the fact Hagen has gone from standing one stallion in 1992 to seven today gives evidence that she believes and follows through on what she is saying. Hagen grew up in a farm-oriented family, but not one familiar with horses. "They didn't know where I came from as far as the horses go," she said. Her maternal grandfather, Tip "Nino" LaCamera, came to the United States from Sicily. His first job, as a coal miner, netted $25 per month. He sent $22 of that to the homeland and survived on salami and bread. Later, he had one of the first stalls at the now-famous Pike Place Market in downtown Seattle. He visited area farmers, bought their produce, and brought it into town to sell. After the Depression (when he was known to give families extra fruit for their children) he moved into banking and worked his way up to serve on the board of Guarantee National Bank. "He is one of the greatest men I've ever had the pleasure of meeting," said Hagen, with awe and pride in her voice. "He treated people the way he wanted to be treated and worked very hard. Whenever we ate at his house I remember him giving the meatiest pieces of food to his grandchildren. He was just a good man all the way around." Hagen's father hailed from Norway, and also had a strong work ethic. He was a commercial fisherman, and later also worked in produce. Hagen, who whips up gourmet meals while looking out the window at her horses, got her cooking ability in part from her mother, Arlene, whose homestyle tomato sauce will soon be marketed by Nina's brother, Randall Berg, as part of the Mama LaCamera sauce line. Hagen started working with horses while in her 20s. By chance her employer had two stallions--one Arabian, one Quarter Horse. When he suffered an injury, she stepped in.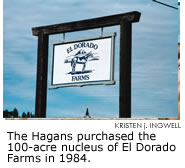 "These mares had to be bred so I just started handling the stallions and it was second nature," she said. "It never bothered me to handle stallions. I had never planned to, but I got along with them really well. I don't arm wrestle them. They're great with a gentle touch. I haven't found one yet I haven't gotten along with." Hagen met her husband when she was running a boarding operation for pleasure horses. They celebrated that common bond with their wedding ceremony in 1982--on horseback. "The whole wedding party, bridesmaids and groomsmen, were on horseback," she said. "What fun! It was in a housing area where everyone has horses, so we did the ceremony in the arena, then rode the horses to the Pine Lake Recreation Center for the reception. All the tack shops loved us. There weren't that many in 1982, and all 250 of our guests bought boots, belts, jeans, shirts, neckerchiefs, and hats for this one occasion."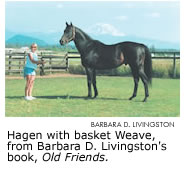 Together the Hagens went into Quarter Horse racing for one year. According to Nina Hagen, it didn't take long to figure out the paybacks just weren't there, so they switched to Thoroughbreds. In 1984, they bought the 100 acres that are El Dorado today. They also lease nearby property for overflow and coordinate boarding and breeding schedules with five other farms in the area. Still a horse lover, Ron Hagen founded Design Air Limited in Kent, Wash., a heating, ventilation, and air conditioning firm he operates. When he's home at night and on the weekends, particularly during foaling season, he pitches in, but Nina Hagen heads up the day-to-day work at El Dorado, along with five full-time employees and two part-time people. At its capacity, El Dorado is home to as many as 160 horses, with 30 mares there year-round. About 15 of those are owned by the Hagens.
Continued...