Horses, and gardens, appear to flourish in Enumclaw. The area has attracted a number of other Thoroughbred operations, and boasts a stellar view of Mount Rainier. "The land works, it really does," said Hagen, who manages to tend rose bushes, hydrangeas, and an abundant salad garden in her free time. "You can't get anything more majestic than Mount Rainier in your backyard. I don't take anything for granted here. I am so blessed. I wouldn't want to be anywhere else." Washington's location, and its uncertain future during the gap between the closing of Longacres in 1994 and the opening of Emerald Downs in 1996, created a supportive Thoroughbred community. As the owner of one of the largest stallion stations in the state, Hagen comes in contact with many other breeders. "It's a tight-knit community here in Washington and we all try to help each other out," said Chris Webber, who with his wife, Nancy, operates Webber Crest Farm near Monroe. "Having the stallions in Washington really helps the entire Northwest area because there are so many pros and cons of sending mares back East. El Dorado provides good quality studs at a local level."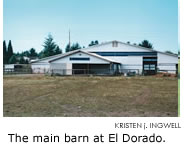 Mary Lou Griffin's Griffin Place is very close to Enumclaw in Monroe. Griffin and her husband, Terry, are members of some of El Dorado's stallion syndicates, and Mary Lou manages Tribunal. "I think they've assembled a stellar group of stallions," said Mary Lou Griffin. "We've brought in a couple horses that were proven stallions and now some young stallions. We're real grateful they're here." Although Hagen never set out to focus on stallions, their role in her operation's success is clear. "You just find your niche," she said. Her niche includes finding the right horses, finding the right ownership situation, and personally training the horses to transition from athlete to stud horse. Hagen said a dozen times a year she hears about available stallions, but any new residents at El Dorado have to meet her criteria. "I have to make sure we're bringing in the type of stallion that will work in the state. We really research this to bring home a home run every time we bring in a new stallion." Hagen's first stallion was Ginny and Wally Wight's Staff Riot, who was at El Dorado until 1997. Her newest is Tribunal, the type of horse that has been on her "wish list" for a while. Hagen had been seeking a son of either Seattle Slew or Deputy Minister to add to the farm's roster, so when Mark Wiltshire of Ribot Farm and Mary Lou Griffin found out this son of Deputy Minister was available, Hagen was eager to make it happen.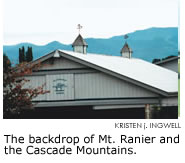 "He has conformation, pedigree, and he was a $1.8-million yearling," said Hagen. "They came to me and said, 'What do you think?' I said, 'What's to think? Can we get him?' " Tribunal is out of Six Crowns (Secretariat--Chris Evert), raced for Bob and Beverly Lewis, and placed in the 2001 Santa Anita Handicap (gr. I). He will cover around 60 mares this season. A longtime resident of El Dorado is 22-year-old Basket Weave, an older horse Hagen manages carefully. Nine of the stallion's 14 stakes winners were conceived at El Dorado. Hagen proudly quotes the senior citizen's fertility figures--37 of 49 mares bred last year got in foal (75%). She attributes the success in that area to reproductive veterinarian Bob Campbell. Campbell, who lives just five minutes from the farm, makes extra trips to the farm to double-check ovulation so mares get in foal on the first trip. "We're not a day-money farm by any means," said Hagen. "We're trying to get you in, pregnant, and out in 45 days. "My main thing is we're the easiest breeding shed to get into; we bend over backwards to make it work for everybody. I will not miss a mare. I am willing to breed any time they're willing to haul. I'm even willing to put off my farm mares to make it more convenient. Then I don't back up mares later on (in the season)." "Nina's always very easy to work with," said Webber. "She really does her very best to get your mare in foal and her attitude is great. She has a can-do attitude, which is most important when you have a mare who is tough to get in foal."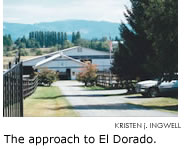 Four of the seven stallions at El Dorado moved to Washington in the last four years. Cahill Road, a full brother to Unbridled, came in 2000, as did Flying With Eagles, a son of the recently deceased Skywalker who raced for Washington residents David and Jill Heerensperger. Cahill Road made only six starts, but counted the 1991 Wood Memorial Invitational Stakes (gr. I) among his wins. His first Washington-conceived foals hit the ground in 2001. Flying With Eagles won six and placed in 12 more of his 33 starts from ages two through six. In 1997, he won the In Excess Stakes at Santa Anita and the Tacoma Handicap at Emerald Downs. His first foals are 2-year-olds. The other new kid on the block is Liberty Gold, who stood his first season in 2002. The son of Crafty Prospector won the 2001 Aqueduct Handicap (gr. III) and nine more of his 44 starts for John Peace. In 2000, he equaled the track record at Churchill Downs for 71Ž2 furlongs. Also at El Dorado are Peterhof, a 24-year-old son of The Minstrel, and Free At Last, Canada's champion 2-year-old male in 1991. Last year, Peterhof had one of his biggest wins with Lookn Mighty Fine, who won the Las Madrinas Handicap at Fairplex. The 6-year-old was bred in Idaho and is still in training. Understandably, Free At Last appeals to Canadian breeders, and El Dorado's location is about three hours south of Langley, a British Columbia breeding center. The stallion's five top money earners--Grey Tobe Free, King Jeremy, I'm Free, Angies Kin, and Mizzo--all had their richest victories at Hastings Park in Vancouver. Hagen upgrades her broodmare band each year with an addition or two from sales in Kentucky, and typically sends her open mares to the Bluegrass for breeding. She said she also buys a weanling or two at sales outside Washington for pinhooking. She believes in the Washington breeding program and serves on the board of directors for the Washington Thoroughbred Breeders Association. "I support the sport 100% with what I can afford to bring into the state," she said. One of the best foals to come off El Dorado was produced by a Washington-bred mare. Sabertooth, who was recently named Washington's horse of the year for 2002, won Washington's richest race last year, the Longacres Mile Handicap (gr. III). He also captured the Washington Championship Handicap. Robert Sparling bred the gelding and boarded his dam, Exit's Baby, at El Dorado. When he decided to focus on racing, Hagen purchased the mare privately. She is currently in foal to Katowice and is scheduled to be bred to Tribunal. Hagen plans to make her Free At Last yearling one of the approximately 50 horses she will consign to auction in 2003. Another stakes producer at the farm is Escopazzo. Her son Formal Escape won the Jan. 25 Collegian Stakes at Suffolk Downs to become Formal Gold's first stakes winner. With mares like Exit's Baby in residence, Hagen said her best homebred is "yet to come."