Kenneth and Sarah Ramsey's homebred Kitten's Joy won for the fifth time in a row and remained undefeated on grass when he took the Crown Royal American Turf Stakes (gr. IIIT) by 2 1/2 lengths April 30. Bailey was aboard. Trained by Dale Romans, the 3-year-old son of
El Prado
is scheduled to head overseas for the June 15 St. James's Palace Stakes (Eng-I). Ken Ramsey, who enjoys handicapping, said he made the biggest bet of his life prior to the Crown Royal, investing $10,020 on various types of wagers involving the race. Kitten's Joy's time for the 1 1/16 miles was 1:43.31. He was the 11-10 favorite.
KITTEN'S JOYCROWN ROYAL AMERICAN TURF STAKES
(gr. IIIT), Churchill Downs, April 30, $100,000 added, value of race $113,800, 3-year-olds, 8 1/2 furlongs (turf), 1:43.31 (course record, 1:40.82), course good.
KITTEN'S JOY
(ch c, 123 lb) $70,556
El Prado (Ire)--Kitten's First, by Lear Fan
B/O--Kenneth L. and Sarah K. Ramsey, Ky.; T--Dale L. Romans
Prince Arch
(b c, 123 lb) $22,760
Arch--Princess Kris (GB), by Kris
B--Pine Lake Bloodstock, Ky.; O--Raymond H. Cottrell Sr.
Capo
(dkb/br c, 117 lb) $11,380
Capote--Linda Coqueta, by Rubiano
B--Hargus and Sandra Sexton and Mark Mullen, Ky.; O--Eaglestone Farm
Margins:
21/2, 1/2, 21/4. Others: Brass Hat 117 ($5,690), El Prado Rob 117 ($3,414), Level Playingfield 119, Grand Heritage 123, Knox 117, Archie B 115. Winning jockey, Jerry Bailey.Kitten's Joy extended his winning streak to five races when he captured the Crown Royal American Turf Stakes (gr. IIIT) on April 30 at Churchill Downs. He also remained undefeated on grass. The 3-year-old colt broke his maiden when he made his turf debut last October at Belmont Park, taking a nine-furlong event by 41/2 lengths. He then scored by a head over Bogangles in an 81/2-furlong allowance race at Churchill Downs in November. This year, prior to the Crown Royal, Kitten's Joy captured the Tropical Park Derby (gr. IIIT) by 41/2 lengths at Calder Race Course and the Palm Beach Stakes (gr. IIIT) by 13/4 lengths at Gulfstream Park.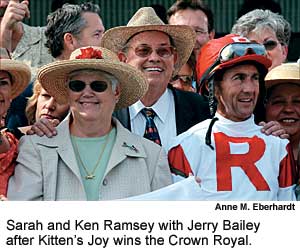 Kitten's Joy is a homebred who races for Ken and Sarah Ramsey, the owners of Ramsey Farm near Nicholasville, Ky. They purchased the dam of the Crown Royal winner, Kitten's First, for $41,000 from El Nino Farm at the 1993 Ocala Breeders' Sales Co. March sale of 2-year-olds in training. The previous year, Brereton C. Jones, as agent, had sold Kitten's First to Richard Neill for $17,000 at the Keeneland September yearling auction. Kitten's First raced for Sarah Ramsey, but the daughter of Lear Fan broke her hip in only her second career start while competing in the 1993 Junior Champion Stakes at Monmouth Park and never ran again.Danger Ahead (by Head Play), the fourth dam of Kitten's Joy, won the Molly Pitcher Handicap in 1950 and the Regret Handicap in 1951. She also finished third in the 1948 Astoria Stakes. One Lane (by Prince John), the third dam of Kitten's Joy, scored in four of her 24 career races. Her offspring included 1977 Mother Goose Stakes (gr. I) winner Road Princess (by Gallant Man) and 1973 Breeders' Futurity (gr. III) winner Provante (by Prove It). Road Princess, whose performances included a runner-up finish in the 1977 Coaching Club American Oaks (gr. I), produced grade II winner Reign Road (by Sovereign Dancer) and added-money winner Copa de Ore (by Java Gold).El Prado is the sire of Kitten's Joy and 47 other stakes winners. The stallion's seven added-money winners this year include Medaglia d'Oro (gr. I), Timo (gr. IIIT), and Mi Pradera (PR-III). El Prado also is the sire of Shaconage, who scored in the Argent Mortgage Stakes (gr. IIIT) at Churchill the day following Kitten's Joy's Crown Royal victory. A group I winner in Ireland, El Prado stands as the property of a partnership at Frank Stronach's Adena Springs Kentucky near Midway for a live foal fee of $75,000.
--D.B.B.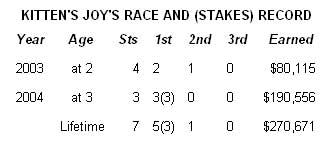 Sire: EL PRADO (Ire)
, gr, 1989. Raced 2 yrs in Eng, Fr, and Ire, 9 sts, 4 wins, $236,987. Champion 2yo colt in Ire. Won National S (Ire-I), Juddmonte E.B.F. Beresford S (Ire-II), John J. Long Memorial Railway S (Ire-III); 2nd E.B.F. Anglesey S (Ire-III).
Lifetime:
8 crops, 514 foals, 399 rnrs (78%), 303 wnrs (59%), 98 2yo wnrs (19%), 48 sw (9%), 2.17 AEI, 1.76 CI, 274 sale yrlgs, avg $53,817, 1.1 TNA.
In 2004:
7 sw, 29 2yos, 0 2yo rnrs.
1st dam:
Kitten's First, b, 1991. Bred by Charles H. Deters (Ky.). Raced 1 yr, 2 sts, 1 win, $14,412. Dam of 4 named foals, 3 rnrs, 3 wnrs, 2 sw. ($17,000, 1992 keesep yrlg; $41,000, 1993 obsmar 2yo).
1995
:
JUSTENUFFHEART
, b f, by Broad Brush. Raced 4 yrs, 27 sts, 8 wins, $373,229. Won Frances A. Genter H (T), Marie P. DeBartolo Oaks (T); 2nd Calder Oaks (T); 3rd The Very One H (gr. IIIT), Bayou Breeders' Cup H (T), Edgewood S (T), Summertime Promise S (T), Hialeah Breeders' Cup H (T), Althea S.
1996
: Dead foal.
1997
: Worldly Treasure, b g, by Ghazi. Raced 5 yrs in Eng, Ire, and NA, 35 sts, 5 wins, $51,555.
1998
: Dead foal.
1999
: Striking Image, dkb/br f, by Red Ransom. Unraced.
2000
: Dead foal.
2001
:
KITTEN'S JOY
, ch c, by El Prado (Ire).
At 3:
Won Crown Royal American Turf S (gr. IIIT), Tropical Park Derby (gr. IIIT), Palm Beach S (gr. IIIT).
2003
: Dkb/br f, by Catienus.
Broodmare sire: LEAR FAN
, b, 1981. Sire of 190 dams of 682 foals, 447 rnrs (66%), 266 wnrs (39%), 100 2yo wnrs (15%), 1.52 AEI, 1.61 CI; 43 sw.
2nd dam:
That's My Hon, ch, 1983. Bred by Crescent-Jarrow (Ky.). Raced 2 yrs, 11 sts, 0 wins, $16,160. Dam of
DOWN THE AISLE
(c, Runaway Groom; $1,007,988, Won United Nations H, gr. IT, Bougainvillea H, gr. IIIT, Kentucky Cup Turf H; 2nd Canadian International S, gr. IT, Niagara Breeders' Cup S, gr. IIIT, Louisville H; 3rd Early Times Turf Classic S, gr. IT, King Edward Breeders' Cup H, Can-IIT, Brooklyn H, gr. II, Hialeah Turf Cup H, gr. IIT).