As the National Thoroughbred Racing Association Wagering Systems Task Force prepares to hear recommendations on ways to address the "handle up, purses down" situation, operators of high-volume betting shops believe they might be a target and suggest that, as generators of up to 15% of annual handle in North America, they should be directly involved in the process.The task force, which met for the first time in March, has grown to 36 members. Participants--industry representatives and consultants--have been asked to sign confidentiality agreements because of anti-trust and intellectual property rights issues, NTRA officials said.During various industry meetings and conventions within the past year, high-volume betting shops have been under the microscope. Though the task force wasn't formed to solely deal with the issue of rebating, some involved with the shops claim a combination of misinformation and perceived hostility has portrayed them in an unfair light.In the spring issue of the
Owners' Circle
newsletter published by the Thoroughbred Owners of California, chairman Ron Charles, a member of the NTRA task force, said the panel "seemed receptive to serious consideration" of an approach by the TOC to reverse the purse trend.The approach wasn't discussed, but the chairman's letter said TOC made it clear to the task force it is "determined not to allow rebaters to hijack the industry, particularly in light of what has developed into a real and serious threat to our control over handle and signal pricing. Unless the economic model is drastically changed, rebaters will erode the industry's ability to control its own destiny."Those comments, as well as the very make-up of the task force, have generated skepticism. Said Laura D'Angelo, a Lexington attorney who represents Racing and Gaming Services, one of the largest high-volume shops in terms of annual handle: "The NTRA task force is a model of unbalanced participation obviously chosen to arrive at a pre-determined outcome."NTRA commissioner Tim Smith called the task force "even more broad-based" than one put together in the wake of the Breeders' Cup Ultra Pick 6 fraud of 2002. In defense of the current task force, Smith said tote company representatives weren't asked to join the Pick 6 task force even though they had a stake in the proceedings."I don't think they considered it unfair or a witch-hunt," said Smith, who couldn't discuss specifics because of the confidentiality agreement. "I can say the economic benefits to large players have been vigorously advocated by representatives of the NTRA Players' Panel that are part of the task force."NTRA deputy commissioner Greg Avioli said May 18 no recommendations have been presented to the task force, which will have its next meeting June 29. He said fact-finding--the studying hundreds of pages of material--continues. Avioli said Jim Quinn and Maury Wolff, two members of the Players' Panel, represent the rebate shops' perspective."We're still in the fact-finding stage," Avioli said.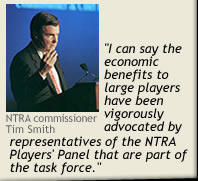 Drew Couto, a consultant for the TOC, said the organization has been proactive in regard to high-volume shops and even visited many of them in an effort to glean information. He said a proposal on how to improve the industry's pricing model is being vetted out by a lawyer for presentation to the task force.Couto said the current pricing model is "inappropriate for an industry that includes independent rebate entities." He also said use of technology such as computer-assisted batch betting must be addressed by the industry."We're concerned about preserving public confidence in the system and preserving the integrity of the pari-mutuel system," Couto said. "We are and have been well over a year and a half engaged in exploring new models that accomplish all those goals, better serve the interests of the industry, and provide opportunities for third-party businesses that want to be part of the industry."Because of the confidentiality agreement, Couto couldn't discuss specifics. Other task force members also declined to comment in regard to figures or proposals.Other task force members are Avioli, Smith, Ken Kirchner, Ragan Montemayor, and D.G. Van Clief Jr. of the NTRA; Paul Berube and Curtis Linnell of the Thoroughbred Racing Protective Bureau; Ira Block of New York City Off-Track Betting Corp.; Gary Carpenter of the American Quarter Horse Association; Tom Casaregola of the New York State Racing and Wagering Board; Richard Cirillo and Kevin Sullivan of King & Spaulding; Robert Flynn of the New York Thoroughbred Horsemen's Association; Lou Guth and Tom Joscelyn of NERA Economic Consulting; Michael Hauser of Alston & Bird; Geoff Hess of Giuliani Partners; Maggie Johnson of Keeneland; Frank Lamb of the North American Pari-Mutuel Regulators Association; Robert Manfuso of the Thoroughbred Owners and Breeders Association; Alan Marzelli of The Jockey Club; Jim McAlpine of Magna Entertainment Corp.; Chris McErlean of Meadowlands; Bill Nader of the New York Racing Association; Ron Nichol of the Canadian Pari-Mutuel Agency; Lonny Powell of the Association of Racing Commissioners International; Doug Ramsey of the TV Games Network; Rebecca Reed and Karl Schmitt Jr. of Churchill Downs Inc.; John Roark of the National Horsemen's Benevolent and Protective Association; Chris Scherf of the Thoroughbred Racing Associations; and David Willmot of Woodbine Entertainment Group.
Big Business
Kirk Brooks, who heads St. Kitts-based RGS, said he wasn't invited to sit on the task force but did have the opportunity to send documentation. In 2003, RGS handled $692 million, and through host fees produced $15 million for racetracks and $15 million for purses, he said."I really wish the meetings would be in a more open setting to discuss the problems and the solutions," Brooks said. "I would like to examine the facts, not hypothetical things brought up by industry analysts. They keep coming up with numbers that aren't reality. All I want to do is sit down with these people and discuss facts."By having closed-door meetings without participation from both sides, I don't see how you can get an objective view. All I want is for racing to have an open mind. Not all (shops) do business in the way RGS does, and not every one needs to be endorsed."Lou Tavano, who heads International Racing Group, known in the industry as Holiday Beach of Curacao, said he requested a seat on the task force but got no response. He also said he offered his help when the task force was formed in the wake of the Pick 6 fraud and wasn't contacted.Tavano, whose operation handled about $150 million last year, said Holiday Beach and RGS have been mischaracterized within the industry given the fact "offshore" has become a negative buzzword."I believe we are bringing money to the table and paying money to tracks that otherwise wouldn't flow to the tracks," Tavano said. "If we went out of business, our players wouldn't go back to the track and bet through the windows. Actually, we're taking wagering handle away from places that wouldn't contribute anything to the tracks."If we were at the tracks taking customers away, I could see why tracks would have a problem with it. It makes no sense they'd want to eliminate us. On top of that, as opposed to the TVGs and Youbets of the world, we pay a premium for the signal. I think we have the support of the big players in the industry. The ones signing contracts with us must see a benefit to it."Just about every major signal is available through RGS and Holiday Beach, which are said to pay up to 6.5% in host fees for signals. The New York Racing Association does business with high-volume shops, and would like to offer rebates to on-track customers but can't because of state law."I've always believed in rebates," NYRA chairman Barry Schwartz said. "I don't think rebate shops are the problem. The problem is our structure--what we're charging for signals, and the takeout. If takeout rates were more reasonable, places wouldn't need rebates."Schwartz said if rebate shops were forced out of business, "that handle would go away. We're not planning to make any changes. They're good customers."Total Thoroughbred handle in the United States and Canada last year was $15.17 billion, up less than 1% from 2002. The figure doesn't include billions of dollars wagered on Standardbred and Greyhound racing. High-volume betting shops--basically account wagering services--are believed to produce $1.5 billion to $2 billion a year in handle.Thoroughbred purses, meanwhile, dropped 1.86% to $1.05 billion from $1.07 billion in 2002. The purse payout was 7% of the total handle figure.
Pricing Gets Look
The rebating window was opened more than 20 years ago when simulcasting began. Racetracks paid each other about 3% to swap signals, and that percentage remains the standard today. With an average takeout rate of 20%, wagering providers that don't have to pay costs associated with live racing are left with money that now goes back to players in the form of rebates.Using the South Florida model, where the tracks and horsemen split revenue equally, pari-mutuel revenue splits break down as such:With a blended takeout rate of 20% and a state tax of 0.5%, the tracks would get 9.75% of each dollar bet, and horsemen 9.75%, from on-track business.If the signals go to a high-volume shop that pays a host fee of 5%, the tracks would get 2.5% and horsemen 2.5%. The shop would keep 15% and give money to players in the form of rebates. The amount varies, but some shops are said to pay as much as 10%-15%.For signals sent to other tracks, the receiver would pay a host fee of 3.5%, so the sending track would get 1.75% and horsemen 1.75%. The receiver, which pays the costs of live racing, would keep 16.5%.Domestic account-wagering services generally pay standard host fees and also return a percentage of revenue to horsemen through source-market fees. The TV Games Network is believed to return the most revenue to tracks and horsemen via a source-market fee of more than 10%. Given a 20% takeout rate, 3% host fee, and taxes, TVG keeps roughly 5% of each dollar wagered to operate its business.Some online wagering companies have jumped on the rebate bandwagon. Soon after Magna Entertainment Corp. restricted access to signals from tracks it owns early this year, account-wagering services such as AmericaTab regularly offered 7% cash incentives on selected signals in an effort to retain customers.Some racetrack operators have claimed foul and said they don't have that luxury. Others admit the industry created the situation and must find ways to deal with it fairly. And the debate continues over whether high-volume shops produce new dollars or simply cater to players that used to wager on track.At the joint convention of the Thoroughbred Racing Associations and Harness Tracks of America in early March, Willmot of WEG said "opportunistic third-party operators" have lured customers away from racetracks. "Why allow four or five (percentage) points to go to a third party? It's a self-defeating distribution and pricing model," he said.Brooks said 90% of the money wagered through RGS is new money, with 50% bet by people not previously involved in pari-mutuel systems. He also said RGS has contributed about $100 million in revenue to racing over the past seven years via host fees."We pay the highest track rates on average of anyone out there," Brooks said. "I don't understand the question that we contribute little if anything to racing. Tracks split fees with horsemen to keep horsemen alive. That's what RGS does--split revenue with players to keep the players alive."Brooks said RGS has about 130 customers that "fit the mold" for the operation. He said many are drawn to RGS because of its ability to provide high-level customer service in a secure wagering environment. Brooks, like Tavano, believes rebate shops are being unfairly grouped under the "offshore" label, which has become synonymous with bookmaking. He noted RGS, though based in the Carribean, employs a pari-mutuel hub located in Lewiston, Maine.
Technology a factor
Concerns over computer-assisted "arbitrage" batch wagering--bets made at the last minute via a program that suggests combinations to maximize return--have led to claims by industry officials that some players are taking money out of the pools to the detriment of those that don't have the same capabilities. The systems have been linked to high-volume shops.The notion, however, that winners who employ a legal system should be penalized doesn't sit well with some bettors. They consider a technological edge the same as having better handicapping or money-management skills than other players."The belief that winners are bad because they take money out of the pockets of losers just drives me nuts," said Dave Cuscuna, a member of the Players' Panel and a regular pick six bettor who does some business with high-volume shops. "The standpoint is that winners are bad. They want everyone to walk into the track and lose 20 cents on the dollar."Cuscuna said many other players bet more than him, but he has become an advocate for bettors because of what he calls the industry's "illogic and hypocrisy." He cited racetrack companies that drive business to online wagering services they operate, and thus return less revenue to purses because horsemen get more from an on-track bet."It just drives me nuts," Cuscuna said. "It makes no sense. Anytime a customer walks away with a dollar in his pocket, the industry feels like it has left money on the table."A 2003 report by Linnell, hired by the TRPB to serve as a consultant, is a lightning rod. The study, released during the International Simulcast Conference, selected a random day on which bettors at high-volume shops are said to have "won" 12%. Brooks contends that, over a seven-year period, RGS customers have "lost" an average of 8% through the system.Brooks said some players may be coming out ahead, "but I don't think there has been a meet where we've been straight up against a racetrack."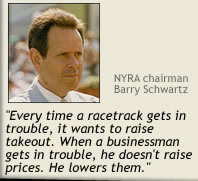 A few tracks, including Tampa Bay Downs and Oaklawn Park, cut off rebate shops during their meets earlier this year to protect casual on-track customers from computer-batch bettors who allegedly harvest pools. Cuscuna questioned that premise."I'm still going to be more successful than the person who comes out once a week," Cuscuna said. "I spend a lot of time on (handicapping and wagering strategies). I'm better at it. Why should I have to apologize for it? I don't understand. If you shut the (mutuel) windows in the Turf Club, would it make everyone in the grandstand bet more money?"Said Brooks: "Post a sign at the admission gates (of racetracks) that says: 'No winners welcome. If you have an IQ over 100, don't come in. We want morons only.'"Couto of the TOC said the industry doesn't want to send a message it believes winning is bad. He said the TOC and others are concerned that average players are at a major disadvantage because the dumping of large sums of money into pools at the last minute skews odds and shakes the public's confidence in the system."He's not talking about average players," Couto said of Brooks. "He's talking about machine players who couldn't give a rip about the race. They're not playing the game. They're not handicappers."
Takeout in the mix
Schwartz, the NYRA chairman, believes the root of the problem lies with what he called "excessive takeout." As an example, he cited Hialeah Park, which had the highest blended takeout rate in the country before it closed several years ago."Every time a racetrack gets in trouble, it wants to raise takeout," Schwartz said. "When a businessman gets in trouble, he doesn't raise prices. He lowers them. Show me another business in the world that doesn't listen to its customers. You can't take 20% for any length of time and have the players last."Off-track betting corporations in New York have fought NYRA on rebates and takeout reductions, but Schwartz said he has heard "rumblings" OTB operators in the state are leaning toward rebates as a way to spur business."With everybody seeing what's going on, they're seeing that, in order to compete, they have to offer rebates," Schwartz said.The takeout issue is complicated, particularly when receiving tracks, or importers, are brought into the mix. In the fall of 2001, when Keeneland lowered its takeout rate to 16% for all wagers, tracks in the Mid-Atlantic Cooperative objected and pulled the signal. They argued host fees must be increased to offset takeout reductions in order to keep importers from losing revenue. Keeneland reversed itself for its next meet in the spring of 2002.The pricing model may be doomed to pit racetracks against their customers, but the task force isn't specifically looking at takeout rates. Smith said issues on the table are the shift from on-track wagering to off-track wagering, account wagering, rebating, signal leakage and piracy, illegal bookmaking, and betting exchanges, with a goal of finding out why handle is up and purses are down."It's a trend, but it's not simply rebating that's contributing to this pattern," Smith said. "I think most knowledgeable observers would acknowledge that."Of the task force study, Smith said: "There really hasn't been a comprehensive and broad-based attempt to look at these fundamental issues. The NTRA was created to tackle problems that extend beyond one industry segment and affect everybody."