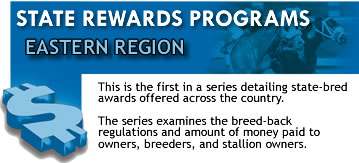 Four years ago, the mare Belle's Good Cide was sent from Bill Casner and Kenny Troutt's WinStar Farm near Versailles, Ky., to Joe and Ann McMahon's McMahon of Saratoga Thoroughbreds near Saratoga Springs, N.Y. Casner and Troutt had just purchased the former Prestonwood Farm and all its stock from brothers Art, Jack, and the late J.R. Preston, and decided to send some of the mares to New York to foal as a way to take advantage of the New York State Thoroughbred Breeding and Development Fund. Just a few months after leaving her old Kentucky home, the mare produced a ridgling colt from the first crop of Prestonwood-turned-WinStar stallion Distorted Humor. That chestnut ridgling grew up to become Funny Cide--the first New York-bred to win the Kentucky Derby (gr. I). Since Funny Cide's run for the Triple Crown in 2003, the NYSTBDF has been in the spotlight. Last year, New York breeders received $6,532,919 in award money.

Breeders in New York receive a 20% bonus of the winner's share of the purse in all races contested in the state if the foal is by a New York stallion. If the foal is by an out-of-state stallion, the award is 10% of the winner's share. All breeders' awards are capped at $10,000 per race. Owners of New York-breds receive a 20% premium of the winner's purse if the horse is by a New York stallion and 10% if by an out-of-state stallion. Stallion owners get a 7% bonus. Funny Cide's racing exploits did more than just expose existing Thoroughbred owners and breeders to the potential of the Empire State. The state legislature approved a video lottery bill earmarking a portion of slot machine revenues to purses and the Thoroughbred Breeding and Development Fund. The future of VLTs at New York Racing Association tracks is currently tied up in court. "There is speculation that one day maidens could be running for $70,000 to $80,000 at Aqueduct," said Martin Kinsella, executive director of the NYSTBDF. "The New York fund has grown and become popular because of a series of things. Some things we've done and some things we've had fall in our lap. The future of VLTs at Aqueduct is causing a lot of excitement. And Funny Cide didn't hurt things." But not every state breeding program has a Funny Cide or slot machines to fall back on. Maryland has seen the amount of its awards programs decrease over a three-year period. The decreases in owner, breeder, and stallion owner awards can be blamed on everything from a decrease in handle to the lack of expanded gaming. "We're suffering," said Cricket Goodall, executive director of the Maryland Horse Breeders' Association. "We're not at the point of being non-competitive, but we're soon to be non-competitive when Pennsylvania slots go online." In 2003, Maryland awarded $1,276,614 to breeders compared to $1,600,713 in 2001. "It's really worrisome," Goodall said. "We've seen the awards amounts decrease and the number of foals bred in Maryland decrease. There are still people wanting to breed to Maryland stallions but they are taking their mares to foal in other states where the breeders' programs are better. We have had a good couple of years, but unless we can get on equal footing with surrounding states it could get really bad." Computation of owner, breeder, and stallion awards in Maryland is made at the conclusion of each race meeting. The percentages paid depends on the total mutuel handle and the number of Maryland-breds who earn bonuses. Maryland does offer the restricted Maryland Million Stakes program that is open to any horse of racing age sired by a Maryland-based stallion. The Maryland Fund provides purse money for the Maryland Million stakes races. Goodall said a breeder can breed to a Maryland stallion--which makes the foal eligible for the Maryland Million stakes program--and send the mare to Pennsylvania to foal and have her bred back to a Pennsylvania stallion as a way to take advantage of that state's lucrative breeders program. You can send the foal to reside in Delaware for 90 days to be eligible for a bonus from that state. Delaware doesn't have a breeders program but does offer awards for horses finishing in the top three at Delaware Park that were domiciled there for 90 or more days before Dec. 31 of their yearling year. There are currently more than 300 horses enrolled in the program. "It's a very good deal and it complements the surrounding programs very well without us having to compete with the other states," said Barbara Brown, administrator of the Delaware-certified program. "In the future we would like to see restricted races for Del-certified horses at Delaware Park, but this program is young and we are happy with what we've got going on right now." The Delaware-certification program, which began two years ago, allows the owner of the horse and the certifier--parallel to the breeder in other states--to receive a 10% bonus of the purse if the horse finishes in the top three in any race at Delaware Park. The owner bonus is added to the purse amount and the certifier award is presented at the end of the meet. "It just comes down to a question of dollars and cents," Goodall said. "And who can blame breeders for moving to where the money is located? But we have some very loyal breeders in this state that have been around for a while and who love to breed and race in Maryland." The issue of expanded gaming has been tossed around the Maryland legislature for a couple of years with no resolution. "If Maryland were to get slots tomorrow," Goodall said, "we would be on par with where Pennsylvania is today." Pennsylvania, birthplace of 2004 dual classic winner Smarty Jones, is a state that's currently on the rise. The Pennsylvania Horse Breeders Association is expecting the largest foal crop in the history of the state when the foals of 2004 are registered. In 2003 1,100 foals were registered, and 1,200 are expected in 2004. "We've definitely seen the program grow over the past couple of years," said Mark McDermott, executive director of the PHBA. "With the addition of slot machines we expect to see substantial growth over the next two years."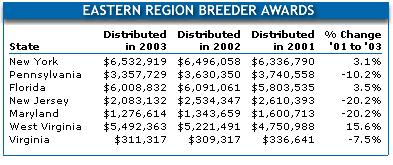 The Pennsylvania legislature approved a bill in early July allowing expanded gaming at 14 locations in the state, with 12% of the total revenue designated to the racehorse industry development fund. Eighty percent of that amount will go toward purses and 16% to the breed development fund, with 4% going to other designated programs. Pennsylvania breeders currently receive an award whenever a horse finishes in the top three in any race in the state. For Pa-breds sired by in-state stallions, the award amounts to 30% of the earned purse. For those sired by out-of-state stallions, the award is 20%. Stallion owners receive an award equal to 10% of the purse share earned.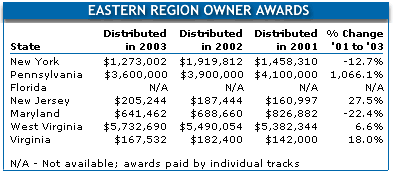 "Heading down south, the foal crop in Florida is continuing to grow but the total dollar amount of awards presented to state breeders is decreasing. In 2001, there were 4,198 registered foals compared to 4,212 registered foals last year. Florida breeders received $6,008,832 last year compared with $6,091,061 in 2002. The foal crop is increasing a little bit every year but it does fluctuate from time-to-time," said Dick Hancock, executive director of the Florida Thoroughbred Breeders' and Owners' Association. "Right now I think we have some of the best first-crop sires out there and because of that, many of them will be relocated to Kentucky, which will take some of the mares away." Stallion owners receive a 20% bonus of the winning purse in open stakes races and breeders receive a 15% bonus. Both awards have a $15,000 cap.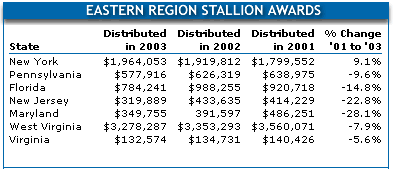 In addition to breeders' and stallion owners' awards, registered Florida-breds can earn owners' awards. Florida owners' awards are paid out by the individual tracks to the owner of Florida-bred winners of certain races up to $40,000 added. The payment is based on a percentage of the gross purse and is financed through a portion of the takeout on the pari-mutuel handle. While the foal crop is growing in Florida, Hancock said, the state needs to increase its purse structure in order to compete with other states. "I think like any other state, we are lagging behind in purses," Hancock said. "We have to remain competitive and we've got a lot to do."