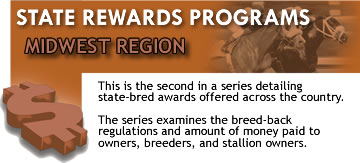 The Thoroughbred breeding industry has turned into a case of those who have expanded gaming and those who do not. The states that do are watching their breeding and racing programs flourish and those that don't are watching their history fade away. "It's time for people to realize that it's not business as usual anymore," said Dennis Heebink, president of the Ohio Thoroughbred Owners and Breeders Association. "We're dying. Our purses are declining, and our foal crop is dropping dramatically."

Last year Ohio breeders received $524,523 in bonus awards money compared to $604,337 in 2001. Stallion owners received $119,204 in 2003 compared with $136,684 in 2001. Ohio breeders receive an amount equal to 10% of the winner's share of the purse for finishing in the top three of all stakes or allowance races in the state. The amount is 5% for claiming or starter races. Stallion owners receive 5% in allowance or stakes races and 3% in claiming or starter races. "It's a bleak situation," Heebink said. "The pie keeps shrinking and we keep trying to redistribute it. Until we find a way to increase it, our future doesn't look good." The registered foal crop in Ohio has decreased dramatically over the same three-year period. The Jockey Club reported 667 Ohio-bred foals were registered in 2001. That number fell to 616 in 2002, and as of Aug. 16, the number is down to 552 for 2003, representing 1.8% of all North American-bred foals. "We're losing farms that are not being replaced," Heebink said. "A lot of the farms are moving over to Pennsylvania and people are finding that it isn't worth the struggle to stay involved." While Ohio breeders are struggling, neighboring Indiana is holding steady despite a recent decision to cut the amount of award money returned to owners and breeders. Less money was paid out to Indiana breeders in 2003 because the program was forced to scale back due to the decline in riverboat casino admission tax the program received, and the fact a second track, Indiana Downs, opened near Shelbyville in April 2003. Until recently the program paid owners of winning Indiana-breds 25% of the winner's share of the gross purse. The program now pays the winning owner 20% of the winner's share of the base purse. The Indiana Breed Development Fund receives 65 cents for every admission on an Indiana riverboat. Of that amount, 20% goes into the breed development fund and is divided, with 48% going to the Thoroughbreds, 48% Standardbreds, and 4% Quarter Horses. "We started very high and have found that we are cutting back," said Jackie Brown of the Indiana Racing Commission. "We've had to scale back because the riverboat revenue was down and we now have two tracks, providing more opportunities to race but it's cutting into our awards money." Indiana breeders received $1,082,752 last year compared with $1,037,625 in 2001 and $1,076,500 in 2002. The Indiana Breed Development Fund doesn't just reward owners for winning at Hoosier Park or Indiana Downs. Indiana-breds winning outside the state when an Indiana track is not running are eligible to receive 10% of the winner's share of the purse for all races greater than a $7,500 claiming race. While owners, breeders, and stallion owners in Indiana are forced to split the amount of awards money due to increased racing dates, horsemen in Kansas are lacking in racing opportunities despite a healthy breeders' program. The Woodlands Race Track meet runs from Sept. 20-Oct. 31 and there are two county fair meets during the summer months. Kansas breeders received $115,811 in 2001 compared to $118,222 in 2003 and $126,641 in 2002. The owners of Kansas stallions siring winning Kansas-bred horses in 2001 received $28,950 compared with $31,570 in 2002. That amount dropped to $29,555 last year. "Most of the bigger operations are taking their horses out of the state," said David Assman, president of the Kansas Thoroughbred Breeders' Association. "They're going to Illinois and Iowa where the programs are a little better. Our program is good, but the limited number of racing days and the money available is a little unfortunate." In 2003, Illinois breeders received $1,332,088 and stallion owners received $259,137. Iowa breeders received $507,198 and stallion owners received $48,930. In open races, Illinois breeders are awarded 11.5% of the winner's share of the base purse. In races restricted to Illinois-registered horses, the breeders' award is divided among the first four finishers. The winner gets 60%, second 20%, third 15%, and fourth 5%. Stallions brought into Illinois in 1995 and subsequent years are not eligible to receive bonus awards. "We're in pretty good shape right now," said John Bauman, president of the Illinois Thoroughbred Breeders' Association. "But if we could get that stallion rule changed and find more money to increase purses, we would be in even better shape." Iowa breeders receive an award equaling 12% of the winner's share of the purse won by an Iowa-bred Thoroughbred. Stallion bonus awards are determined by a point system giving stallion owners six points for a stakes win, three points for an allowance win, and one point for a win in a claiming race. The points are totaled at the end of the year and awards are distributed based on a percentage formula that changes each year depending on the number of state-bred winners and the total handle. "The Iowa program has gotten bigger over the years," said Morris Boswell, bureau chief for the Iowa Horse and Dog Breeding Program. "The biggest change is the quality of horses that are moving into the state."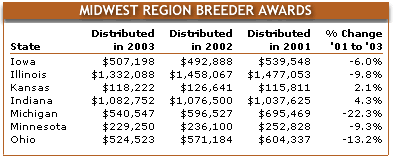 Slot machines at Prairie Meadows help fuel a healthy purse fund in Iowa, which in turn increases the amount of money owners and breeders receive. When expanded gaming was legalized at Prairie Meadows in 1995, the track and horsemen had an agreement that $2 million of casino revenue per year would be put toward increasing purses at the track until that figure reached $20 million. The track hit that amount in 2002. The following year, the track and horsemen agreed the total purse fund for the next three years would be $15 million. Legislation in Iowa was passed this spring allowing that 11% of gross casino revenue would be dedicated to purses. The legislation takes effect in 2005 with the horsemen seeing an increase in purses in 2006.
Kentucky Program
Kentucky is known as the Thoroughbred Capital of the World, but that title could be a little misleading in years to come. The state produces close to 30% of the North American foal crop, but lucrative breeders' rewards programs in other states are slowly luring breeders away from the Bluegrass to foal in states with breeders' rewards programs once their mares are covered by Kentucky stallions.

"Our breeding industry is doing quite well," said David Switzer, executive director of the Kentucky Thoroughbred Association. "But I am hearing rumblings of horses leaving Kentucky to foal in states where the breeders' programs are better, but it will be a couple of years before we know that for sure." Switzer cited states like Louisiana, New York, and Pennsylvania as to where Kentucky is losing its mares. The breeding program in Louisiana is supplemented by revenue generated from expanded gaming, and video lottery terminals are expected to go online in Pennsylvania in 2005. Expanded-gaming legislation at New York Racing Association tracks is currently tied up in court but the state does offer a healthy breeders fund.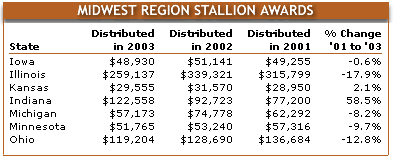 In 2002, The Jockey Club reported Kentucky represented 25.4% of the North American foal crop with 8,195 registered foals despite being hit with mare reproductive loss syndrome. As of Aug. 18, the 2003 count is 8,492 registered foals in Kentucky to represent 27% of all North American foals. Attempts to legalize expanded gaming in Kentucky have failed, but Switzer said the issue is getting closer to passing each session. "The amount of money it would take to fund a breeders' program in Kentucky would be a considerable amount more than it takes in other states," Switzer said. "I don't see any other way to fund the breeding program other than expanded gaming." While Kentucky holds out for a breeders' rewards program, it does reward owners of Kentucky-bred horses with the Kentucky Thoroughbred Development Fund (KTDF).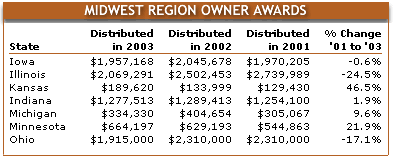 The KTDF is open to horses of racing age that were both bred in Kentucky and sired by a Kentucky stallion that stood in the state for the entire breeding season the year the horse was conceived. KTDF money is used to boost purses for maiden special-weight and allowance events and, in most cases, stakes with purses of $50,000 or less. The Kentucky Fund is based on revenue generated from inter-track wagering, live racing, and whole card simulcasting at each racetrack. The amount offered and the amount paid out differ because not every horse that won a KTDF supplemented race was eligible to receive the bonus. While Switzer is confident in the KTDF program, he also said Kentucky could lose its stronghold on the breeding industry if something isn't done to keep the state on equal footing with other states.
Pete Spanos and Amy Whitfield contributed to this story.