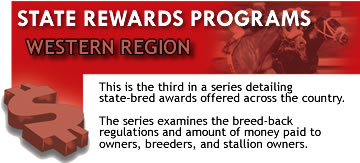 When Tiznow won the 2000 Breeders' Cup Classic (gr. I), his owner and breeder, the late Cecilia Straub-Rubens, did more than celebrate the fact her homebred runner became the first California-bred to win a Breeders' Cup race. In addition to collecting the winner's share of the $4-million purse ($2,438,800), she collected a check from the California Thoroughbred Breeders Association (CTBA) as a reward for her homebred winning a graded stakes outside the state. Tiznow was a shining example of the Cal-bred program, and was rewarded for his efforts in the form of breeder and stallion owner awards. The son of California stallion Cee's Tizzy, out of Cee's Song, by Seattle Song, went on to become the first back-to-back winner of the Breeders' Cup Classic after defending his title in 2001. Tiznow was named the 2000 Horse of the Year, becoming the first Cal-bred to earn that honor since Swaps in 1956. He was also named 2001 champion older horse. "The goal of this (breeders program) is to encourage agriculture and to breed better horses," said Doug Burge, executive vice president and general manager of the CTBA. "We want to put more foals on the ground and to stress quality. Simply, we want to breed better horses." Last year, the CTBA handed out a total of $12,718,618 in owner, breeder, and stallion awards.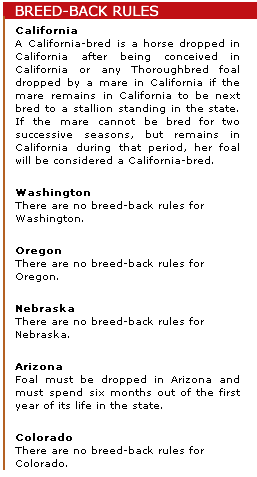 Of that amount, $1,479,205 was paid in owner awards. Cal-breds winning allowance races and high-end claiming races in the state receive an extra 20% bonus of the purse from the CTBA. The bonuses are paid within 72 hours, just like regular purse monies. They are advertised as part of the purse, and shared by trainers and jockeys. With the cooperation of the Thoroughbred Owners of California (TOC), that bonus has been increased to 30% for finishing first through fifth in allowance races and overnight stakes. In addition to making it more feasible to earn money with Cal-breds, the method also emphasizes quality because money is only paid in high-end open races. The California program also provides numerous opportunities for state-breds to compete in stakes races. Legislation requires that 10% of the racetracks' total stakes dollars be set aside for restricted stakes. "We have more than 60 (restricted state-bred) races with total purses in excess of $6 million," Burge said. "It's probably the most lucrative restricted stakes program in the country with purses ranging from $100,000 to $250,000." Two major race days are devoted to California-breds--the California Cup in the fall at Oak Tree at Santa Anita, and the California Gold Rush each spring at Hollywood Park. Each carries total purse money of $1.3 million. In addition, Cal-breds can run on the Sunshine Millions cards at Santa Anita and Gulfstream Park in Florida and be eligible for bonus award money. Breeders and stallion owners of winners of Sunshine Million races in Florida are also eligible to receive award money from the CTBA. "That just made sense because you are encouraging the top Cal-breds to ship to Florida and compete against the top Florida-breds," Burge said. California breeders and stallion owners are rewarded when horses they bred finish in the top three in any race in the state and in any graded stakes in the United States. California breeders received $8,416,331 last year, and stallion owners received $2,823,082. The stallion awards are given to aid the retention of top California-based stallions and help attract new stallions to the state.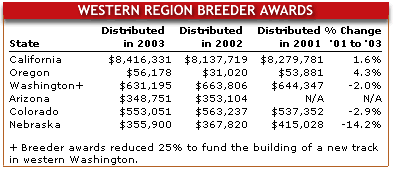 "Obviously, the point of the program is to encourage the breeding and racing of horses in California," Burge said. "But winning a graded stakes anywhere is a tremendous accomplishment and the breeders should be rewarded. When Cal-breds win outside of the state, it just showcases our program." The CTBA has been instrumental in several other racing decisions that have enhanced the value of owning and breeding Cal-breds. Starter allowance races have become a popular classification for horses that break their maidens for $40,000 or less. Also, the state instituted a rule whereby horses that win a first condition Cal-bred allowance race can come back and run at that same level in open company. Since the tracks were not writing Cal-bred non-winners-other-than two races, the step made sense. "From a breeder's standpoint, we want to give them every opportunity to put their horses out there and to make a profit," Burge said. Producing full fields in California remains a problem. Unable to attract horses from other parts of the country on a regular and sizeable basis, the state hopes its homegrown products are able to improve the number of starters per race. According to statistics from The Jockey Club, California ranked third in North American foal production in 2002, just behind Kentucky and Florida. The state produced 3,730 foals, representing 11.6% of the foal crop.
"California makes up about 11% of the North American foal crop and California-breds make up about 50% of the field in races. We're like an island unto itself. We have to be very self-supportive," Burge said. Another state that feels it must be self supportive when filling races is Washington. Although the state is down to only one racetrack, it does provide a healthy breeders' fund from a limited number of racing opportunities. Last year, owners of winning Washington-breds received $704,687 in bonus money, while breeders received $631,195. The Washington Thoroughbred Breeders' Association (WTBA) board elected to disburse monies held in escrow from the failed Cleopatra Downs meeting ($17,454) and Lilac City Racing Association ($43,756) into the breeder awards fund. Those totals were added to the amount distributed as owner and breeder awards in 2003. "Horses in Washington have really gained a reputation of being very competitive," said Ralph Vacca, general manager of the Washington Horse Racing Commission. "One reason for that is the open system. New mares and stallions can move into the state. We have a hard-core and professional community of breeders that take everything into account when breeding and racing." Washington breeder awards are funded from a percentage of the state's take-out from the mutuel handle at race meets. The breeder of record is awarded a percentage of the purse based on a formula of combining the total exotic wagering mutuel handle divided by the total purse amount of Washington-bred win purses for the previous year. That amount is multiplied by the total purses available for all horses in Washington the year before. Breeder awards at Emerald Downs were down 5% in 2003 compared to the amount awarded in 2002.

In 1993, following the sale of Longacres Race Course in 1990, legislation was passed that was designed to attract investors and encourage the building of a new racetrack in western Washington. Incorporated into the legislation was language that reduced owner awards by 50% and breeder awards by 25% for a period of five years. This was amended in 2001 and extended for up to 10 additional years. Owner awards are funded from a 1% takeout on the total mutuel handle and breeder awards are funded from a 1% takeout on all exotic forms of wagering. Foal production in Washington has leveled off in the past few years. According to statistics from The Jockey Club Fact Book, Washington represented 2.4% of the North American foal crop in 2002, producing 772 registered foals. That number was 867 in 2001. "There is a lot of competition for gaming dollars out there," Vacca said. "Just looking at our yearling sale, we are way ahead of where we should be; about 30% to 40% of all the horses sold here are to outside interests, meaning Washington-breds have a good reputation and people are willing to invest in our state."