Wild Weekend on Tap: Funny Cide Surrounded by Speed; Watch Out for Shug
by Steve Haskin
Date Posted: 7/31/2003 9:31:23 PM
Last Updated: 8/2/2003 5:43:50 PM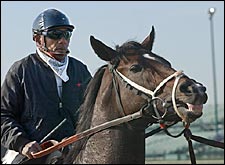 Sky Mesa among Funny Cide's speedy opponents this weekend.
Photo: Associated Press

There are so many possible scenarios in this weekend's big stakes, the Haskell, Whitney, and Jim Dandy, handicappers should be plenty busy over the next few days.With the threat of rain at Saratoga and Monmouth over the weekend, that will add yet another element to deal with. But the most intriguing is the post position draw for the $1 million Haskell Invitational.Under normal circumstances, the post 5 that Funny Cide drew in the field of 7 would be ideal. But a look at the lineup shows that the Kentucky Derby and Preakness winner has two speed horses – Kool Humor and Excessivepleasure -- directly on his outside, a speed horse – Max Forever – directly on his inside, and the quick Peace Rules breaking from the rail. Sky Mesa, another colt with good tactical speed, has post 2, and he and Peace Rules will have to break sharply to get good position going into the clubhouse turn. The last remaining horse is Wild and Wicked, and his trainer, Kenny McPeek, said he won't be farther back than third. But in this field, he could break sharply and still easily be running last.Assuming all those involved break well, Funny Cide could very well be the meat in a speed sandwich, with at least five of the seven starters stretched out across the track trying to vie for position. With Funny Cide, who was rank early in the Belmont Stakes, coming into the race fresh and sharp, it's unsure how rateable he'll be. So, does Jose Santos let him go and risk having two speed horses bearing down on him from the outside while he's trying to keep pace with the inside speed horses, or does Santos try to take a hold of him and risk winding up 6th or 7th going into the first turn?That's what makes the Haskell scenario so uncertain. Many times, races do not evolve the way they appear on paper, especially when you have multiple speed horses. But in this case, it's hard not to imagine a cavalry charge into that first turn.What adds even more intrigue to the race is not knowing for sure just how good Wild and Wicked and Sky Mesa are. Are they budding stars in the 3-year-old division? Are they ready to compete on the same level as Funny Cide and Peace Rules? Will the 5 pounds they're getting from Funny Cide have any bearing on the outcome at all? Kenny McPeek has flat out said that Wild and Wicked may the best horse he's ever had his hands on.But the bottom line is that superior horses normally find a way to win, so it all may be moot if Funny Cide is at his best and runs the way he did in the Derby and Preakness. The same can be said for Peace Rules. For now, this is his Travers, and you know Bobby Frankel has him cranked for a huge effort, despite the layoff. The more logical race this weekend is Saturday's Whitney, where Medaglia d'Oro will be favored as the 123-pound highweight off a 4-month layoff. Volponi, at 120, is razor sharp coming off excellent runner-up performances in the Brooklyn and Suburban and should be ready for another big effort. And an off track won't hurt either horse. But if you're betting this race, you're not going to find a better spot to wager on Saarland, who will be pulling 10 pounds from Medaglia d'Oro and 7 pounds from Volponi and Harlan's Holiday, who ran one of the best races of his career finishing second to Congaree in the recent Hollywood Gold Cup.Saarland, at those weights, should be very tough in here. Following two strong victories at a mile at Aqueduct, the son of Unbridled, trained by Shug McGaughey, had no chance to beat Najran in the Westchester, with the winner blazing the mile in 1:32 1/5. He came back and ran a huge race in the Met Mile, just falling a neck short of the brilliant Aldebaran in a quick 1:34. And remember, just in case the weather predictions come true, that race was run over a very sloppy track, as was his mile victory earlier in the year. In his last start, the Brooklyn, also in the slop, he wound up chasing the early pace set by eventual winner Iron Deputy and ran evenly late to finish third in a complete throw-out race. In the Met, he came from last, 13 lengths back, which is more his running style. With Proud Citizen apparently coming back into form after a fast-run allowance sprint at Churchill Downs, there should a lot of classy horses knocking heads on or near the lead in the Whitney, which should set things up nicely for Saarland. And don't be surprised to see Evening Attire regain his form of last fall, especially if the track does come up wet.McGaughey will be back in Sunday's Jim Dandy with the unknown Congrats, who will be making his stakes debut. This is not an easy spot for such a challenge, but McGaughey has been very high on this son of A.P. Indy for quite some time, and the colt's 5-length allowance score last time out with first-time Lasix stamps him as a horse to watch.Running against Empire Maker, however, is a major leap, and McGaughey will be more than happy if Congrats can finish in the money. With Strong Hope and During expected in the starting lineup, as well as the improving Tafaseel, Empire Maker should have a good strong pace to run at.



Copyright © 2015 The Blood-Horse, Inc. All Rights Reserved.